2020 Democrats send a message to Trump with State of the Union guests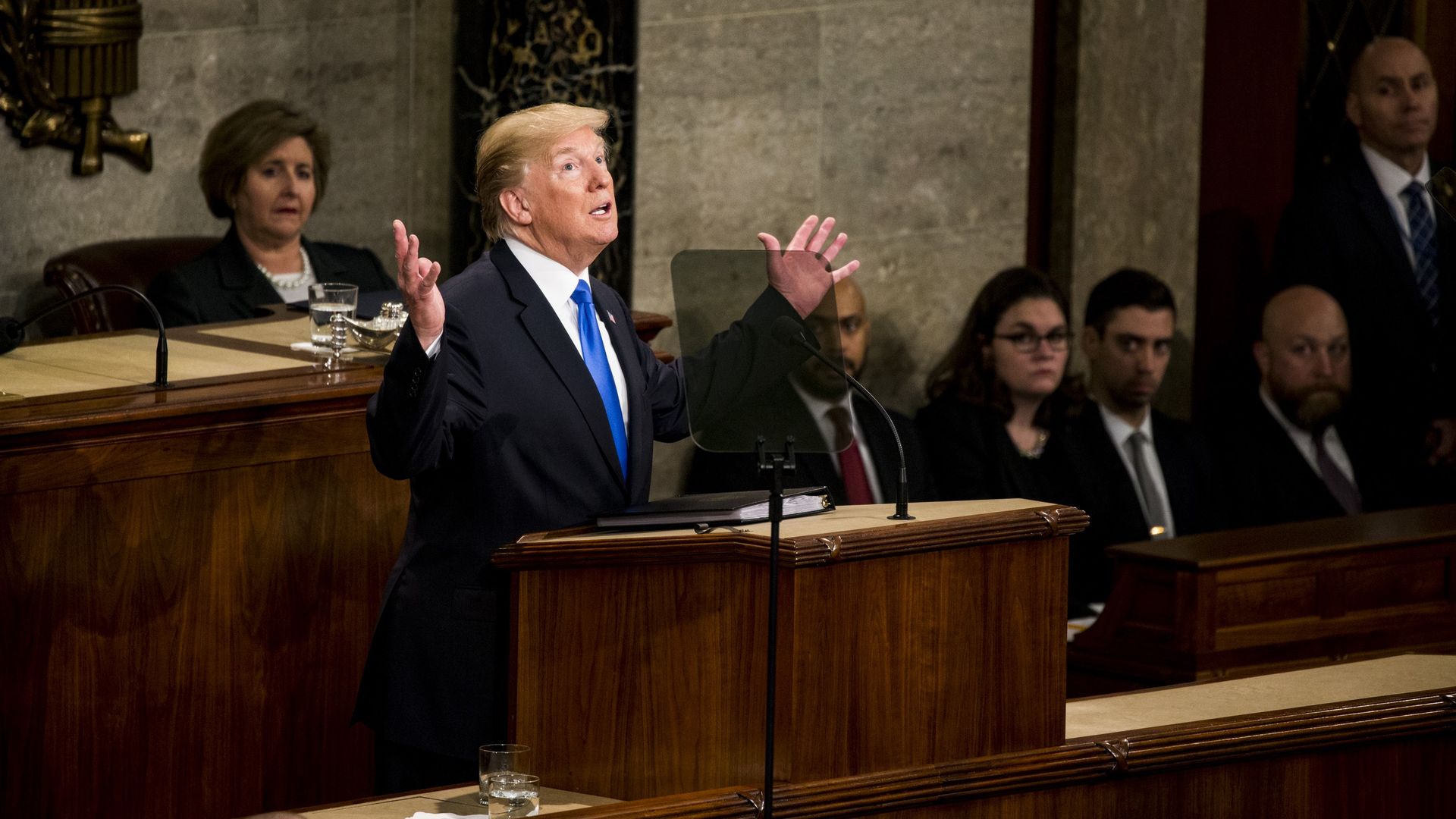 Senate Democrats who are running for president in 2020 have invited State of the Union guests who reflect some of their major policy issues and reinforce their contrast with President Trump.
Why it matters: State of the Union guests are a way for members of Congress to highlight a political point, and 2020 candidates can use this event to bolster their campaigns' policy platform with the people sitting next to them — even though they're not out on the trail. These Democrats are sending a clear message that they prioritize things like criminal justice reform, LGBTQ rights and economic stability.
Sen. Cory Booker (D-N.J.) invited a former prisoner from Chicago who was released last month after Trump signed the bipartisan criminal justice reform First Step Act in December. Booker was one of the original co-sponsors of the bill, and he's made criminal justice reform part of his focus in the Senate. His presidential platform includes comprehensive plans addressing the legalization of marijuana, better treatment for incarcerated mothers and workplace discrimination against those who have previously been incarcerated.
Sen. Kirsten Gillibrand (D-N.Y.) invited a transgender Navy lieutenant commander. Gillibrand is expected to introduce new legislation this week that would further protect transgender military members in the wake of the Supreme Court decision allowing Trump's ban on transgender troops serving in the military, per HuffPost.
Sen. Kamala Harris (D-Calif.) invited a woman who survived the Thomas Fire in California, but lost her home to the wildfire. Her guest is also an air traffic control specialist who was furloughed during the shutdown. Harris is keeping the focus on an issue that plagued her home state of California, an early primary state in 2020. Last month, she slammed Trump for "threatening to withhold money from survivors of a deadly natural disaster."
Sen. Elizabeth Warren (D-Mass.) invited a federal employee — from the Department of Housing and Urban Development — who was furloughed during the recent government shutdown. This reflects her message of economic equality and how "America's middle class is under attack." It also comes less than two weeks before the Feb. 15 deadline for another potential government shutdown.
Between the lines: There's a clear divide between the types of guests invited by Republican and Democratic members when it comes to the issue of immigration. The GOP largely invited law enforcement officials who work along the border or parents whose children have been killed by unauthorized immigrants. Democrats invited people like DACA recipients or undocumented workers who were recently fired from Trump's golf courses.
Go deeper: The full list of lawmakers' guests for the State of the Union
Go deeper