Australia just had its warmest month, with "unprecedented" extremes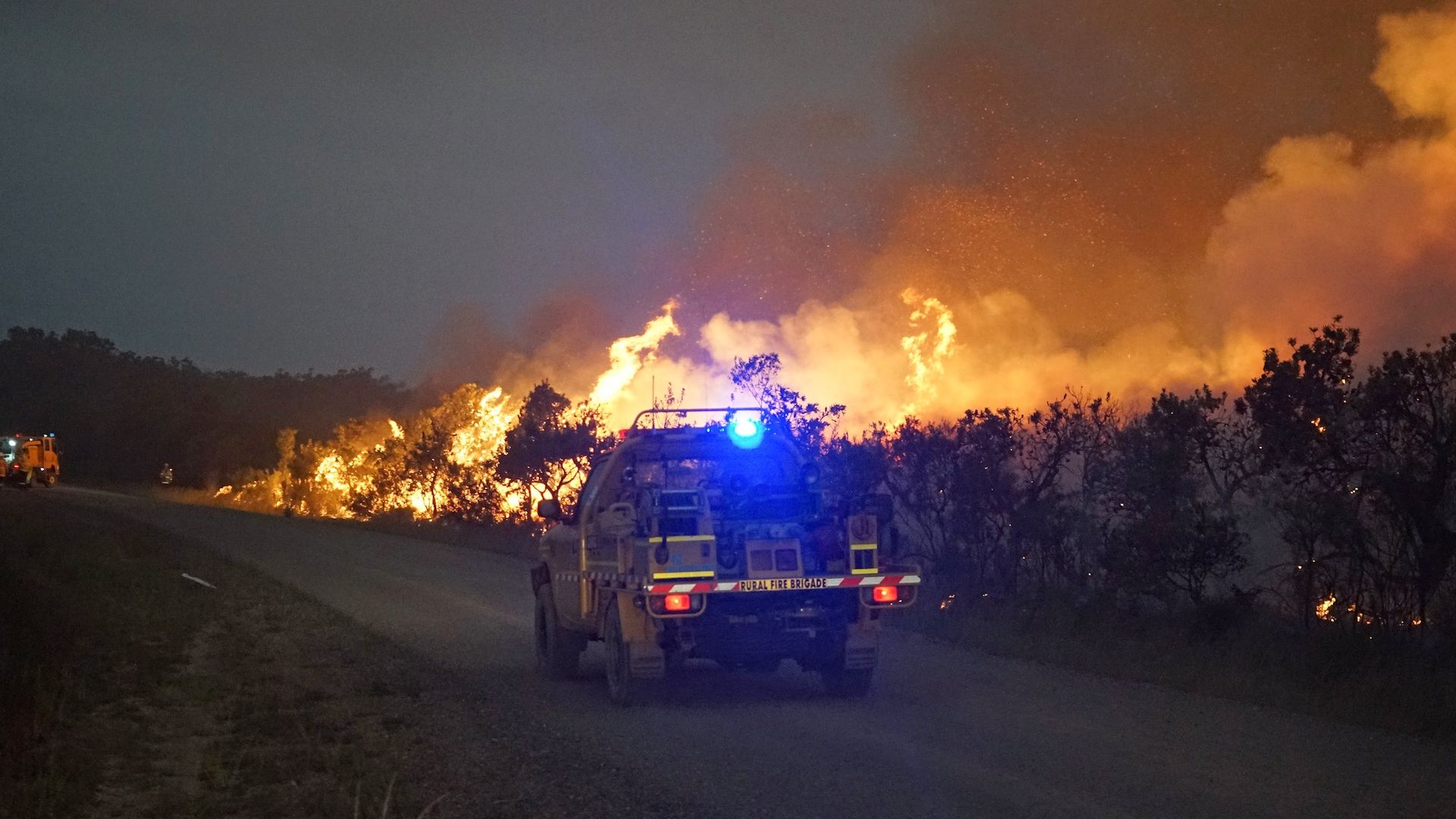 Australia has been stricken with long-lasting and widespread heat waves since November, and the record heat pushed the country's nationally averaged temperature for January to an all-time high since instrument records began there 110 years ago.
Why it matters: The heat waves, and ongoing severe flooding in northeastern Queensland, are the types of events climate scientists have tied to human-caused climate change. Heat waves and wildfires are projected to become more widespread and severe in Australia as the climate continues to warm.
"We saw heatwave conditions affect large parts of the country through most of the month, with records broken for both duration and also individual daily extremes," Bureau of Meteorology (BOM) senior meteorologist Andrew Watkins said in a statement.
"The warming trend which has seen Australian temperatures increase by more than 1 degree in the last 100 years also contributed to the unusually warm conditions," Watkins said.
By the numbers: With an average temperature that was 5.2°F (2.91°C) above the 1961–1990 average, this was the first time any month has topped 86°F (30°C), nationally.
It also beat the previous record-warmest January by nearly a full degree Celsius, an unusually large amount for such a milestone.
January was Australia's warmest month on record in terms of mean, maximum and minimum temperatures.
The 4 days from Jan. 12 to 15 were each among the top 10 hottest on record for the country as a whole, the BOM found.
Noona, located in New South Wales, set a record for the highest. minimum temperature ever recorded in Australia of 96.6°F (35.9°C) on Jan. 18. This means that for 24 hours, the temperature never dipped below that level.
"Both the scale and longevity of this persistent heat is unprecedented," the BOM stated. For example, the mean daily temperature for the country remained above the 1961-to-1990 average every day between Dec. 16, 2018 and at least Jan. 24, 2019, according to the BOM.
Port Augusta, in South Australia, reached 121.1°F (49.5 °C) on Jan. 24, a record for the site and the highest temperature recorded anywhere in Australia since 2013.
In Canberra, the country's capital, the high temperature reached or exceeded 104°F (40°C) for four straight days in mid-January.
The long-lasting heat and dry conditions have sparked wildfires and killed dozens of horses, camels and other animals.
Wildfires associated with the heat wave and dry conditions have burned hundreds of thousands of acres, particularly in Tasmania.
Between the lines: While detailed attribution studies have yet to be carried out on this ongoing event, the odds of extreme heat events have increased dramatically in recent years due to human-caused global warming.
For example, a study published in 2017 found that climate change has already increased the odds of record-breaking heat across more than 80% of the surface area of the globe for which reliable observations were available. That includes Australia.
Go deeper:
Go deeper