Trump's favorite compliment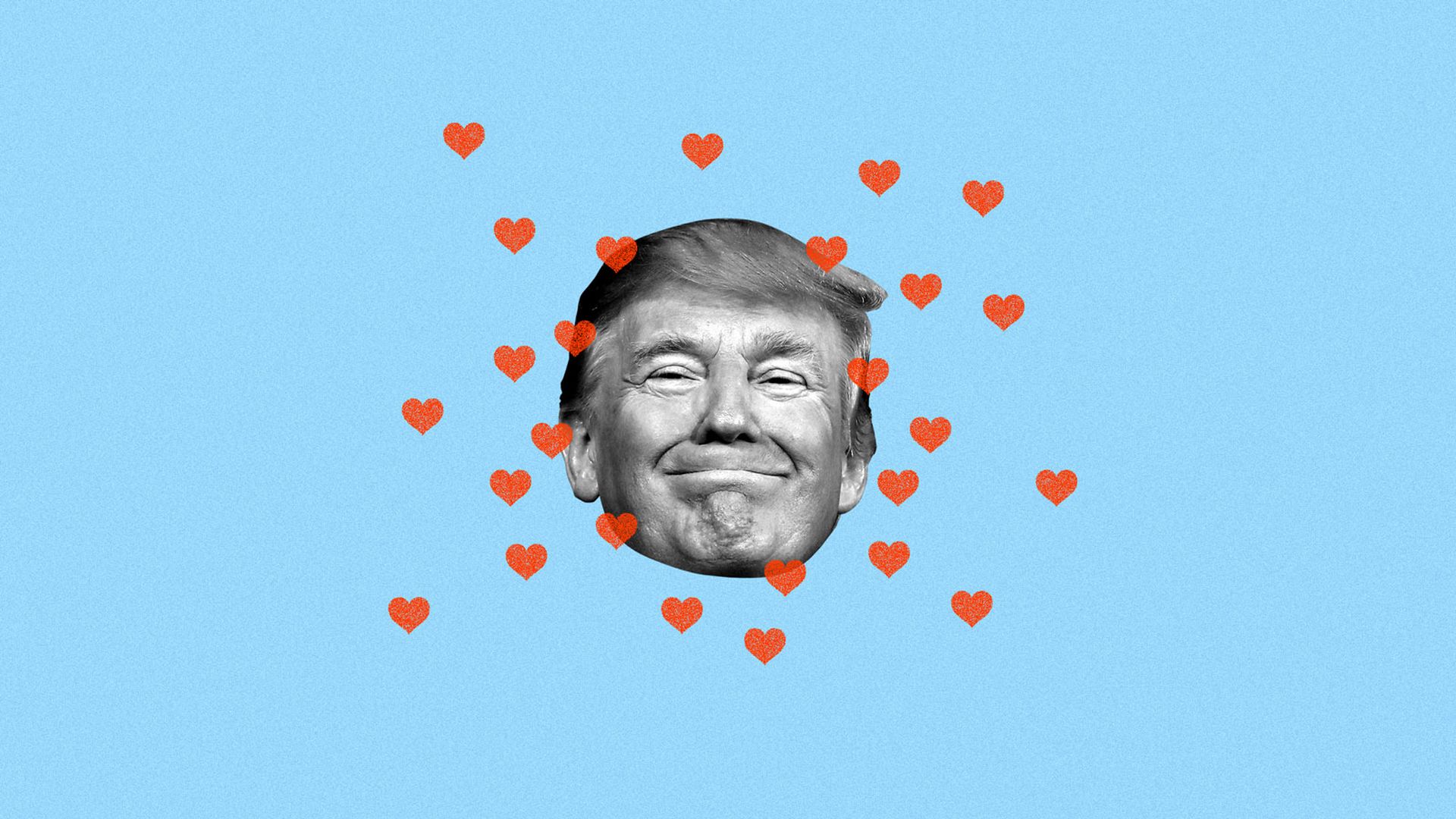 Kevin Warsh had prepared deeply for his interview with President Trump. It was the fall of 2017, and Trump had narrowed his search for the next chairman of the Federal Reserve down to four candidates. Warsh was one of them.
What happened: The former Federal Reserve governor arrived at the White House with a set of sharp points to make to Trump about monetary policy, according to a friend of his. But that's not quite how the conversation went. "You're a really handsome guy, aren't you?" Trump said, per the friend. "How old are you?"
Warsh was 47.
"Well, you look good for 47," Trump told Warsh. (Warsh did not respond to requests for comment.)
This was not a one-off. Trump often tells powerful men how handsome they are. It's one of his favorite compliments. At one global gathering, he told the husband of one female official that he was so handsome he was "glad I don't have to compete with you," according to a source who witnessed the exchange.
Sen. David Perdue has gotten the same treatment, per a source with direct knowledge. The source said the Georgia Republican told him that Trump said: "You're a really good looking man, you look the part. Those other guys [senators] don't know to dress." The president added, "Those bozos — it must be embarrassing to stand next to them on TV."
The source said Perdue found it hilarious.
At a trade meeting with members of Congress at the White House the week before last, Trump lifted up a board to show the room some charts. In doing so, he covered Rep. Robert Aderholt's face. He then joked to the congressman, "I don't want to cover you up. You're such a good-looking guy."
When Trump saw Ric Grenell, his ambassador to Germany, on TV once, he remarked "Oh, there's my beautiful Grenell," a source who has discussed Grenell with Trump previously told Axios. "'There he is again. Great looking guy.' He can't say two sentences about Grenell without saying how great of a looking guy he is."
During a Montana MAGA rally in October, Trump launched into a diatribe about the failed nomination of Ronny Jackson to head Veterans Affairs. Praising his former White House physician, he told the crowd what "a handsome, wonderful father" Jackson was.
At the White House celebration for the Clemson Tigers' National Championship win, Trump told the room: "Wow! Wow, what a group. Look at that quarterback. Oh, I want to be the agent of that tall, handsome quarterback. Six-foot-seven."
At a fundraising event last March, Trump bragged about making up information in a meeting with Canadian Prime Minister Justin Trudeau. "Nice guy, good-looking guy, comes in — 'Donald, we have no trade deficit.'"
During an October midterm campaign rally in Florida, Trump introduced Rep. Matt Gaetz as a "great, great talent. Young, handsome, going places, you talk about defending — he's fantastic, Matt Gaetz!"
The president also has a high view of his own looks.
On the campaign trail in April 2016, Trump addressed the crowd: "Do I look like a president? How handsome am I, right? How handsome?"
The confidence predates his political endeavors.
Go deeper: Insider leaks Trump's "Executive Time"-filled private schedules
Go deeper