How Trump's schedule compares to past presidents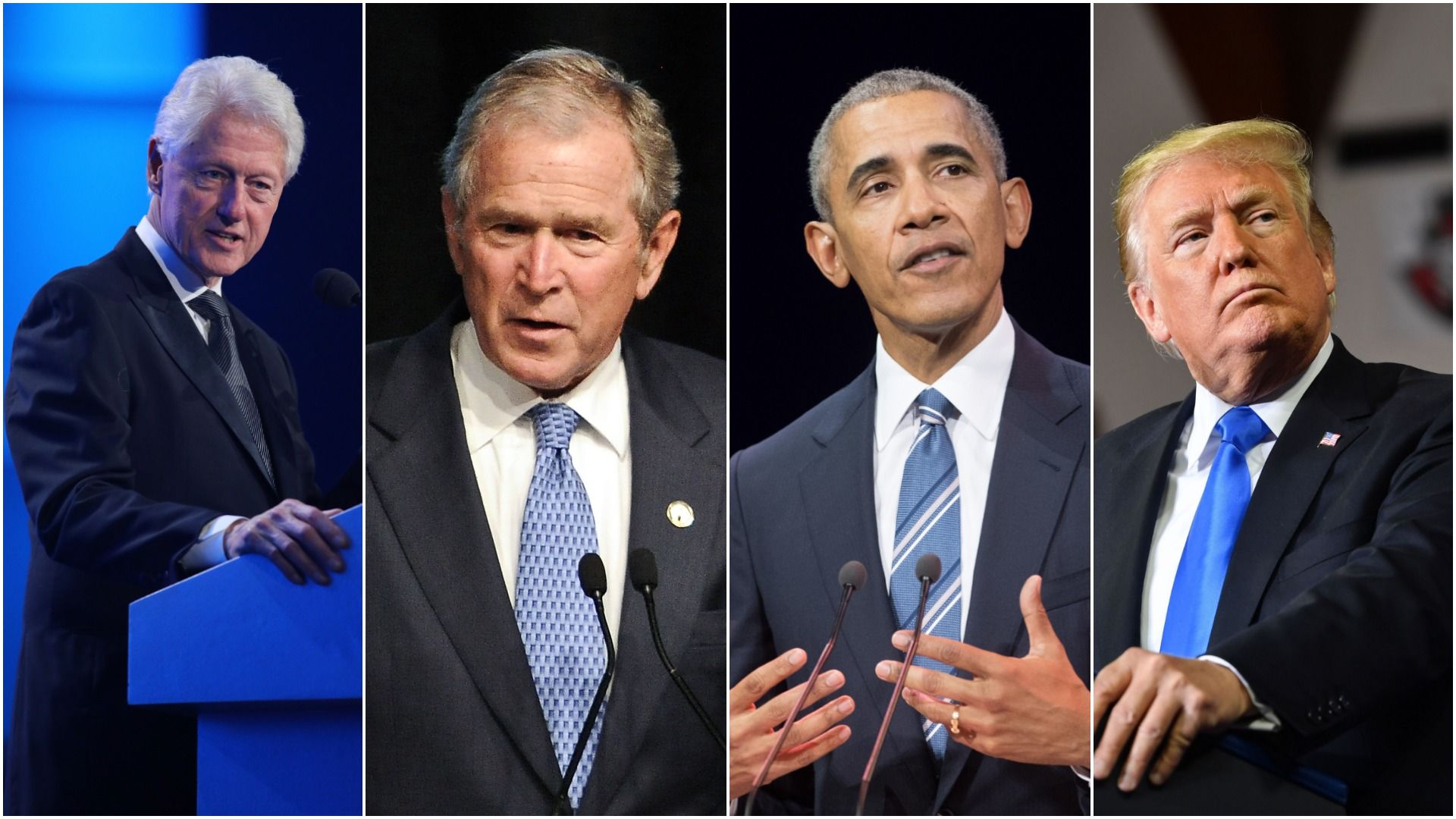 President Trump's time management — or lack thereof — is without recent historical precedent. To put our new reporting on his schedules in context, we spoke with former top aides to presidents Barack Obama, George W. Bush and Bill Clinton.
The big picture: The difference between Trump and his recent predecessors is eye-popping.
Trump has the least in common with George W. Bush.
Bush's calendar was tightly scheduled and booked out months ahead.
Bush would wake around 5:15 a.m.; have coffee with his wife, Laura; read the newspapers; and get to the Oval Office by 6:45 a.m., per a former top aide who spoke anonymously to avoid offending Trump.
Bush 43 was assiduously punctual. His schedulers broke his days into 10-minute increments, with the first meeting around 8:15 a.m., according to the former aide.
A 20-minute meeting would run over two increments; meetings started early and finished on time. If Bush wanted to continue a conversation with an outsider, his staff would schedule a follow-up meeting.
He sometimes watched sports in the residence, but rarely watched TV in the West Wing.
After Bush finished his workday, around 5:30 or 6 p.m., he'd do a workout on his stationary bike, finish dinner by 7:30 p.m., read his briefing materials in the Treaty Room, and be in bed reading a book by about 9 p.m., according to the former aide.
Barack Obama was similarly disciplined. But unlike Bush, he would sometimes stay up until 2 a.m. reading.
His daily private schedule would typically have 6 meetings, as well as intelligence and economic briefings, according to Alyssa Mastromonaco, his deputy chief of staff for operations.
Obama would usually get to the Oval Office around 9 a.m. and leave around 6 or 6:30 p.m. for dinner with the first lady and his daughters. He would have evening events around 3 nights a week and would travel domestically about 3 times a month, Mastromonaco said.
"There were unscheduled blocks of time, but they were a rare occurrence, and usually leading into bigger moments — foreign trips, State of the Union, etc.," she emailed.
Trump's approach to scheduling most resembles Bill Clinton's early days, according to presidential historian Chris Whipple.
Clinton was undisciplined, addicted to rope lines and chronically late — so much so that his deputy chief of staff Erskine Bowles conducted a "time and motion" study of the president to figure out where all the time went.
As Clinton's presidency matured, his days in the Oval Office typically began with a 9 a.m. meeting with his chief of staff followed by his intelligence briefing, according to aides from the Clinton White House.
Once in the Oval, Clinton typically spent the day there. Staff built time into his schedule for him to read policy briefings, meet with staff and make phone calls. He worked well into the evening, often with events, the aides said.
Mack McLarty, Clinton's first chief of staff, told us that although Clinton often deviated from his schedule, he started the day with a structure — usually with every hour full, with 1 to 3 p.m. to catch up on mail and calls.
Go deeper:
Go deeper