Conservatives accuse White House counsel of undermining Trump's judicial agenda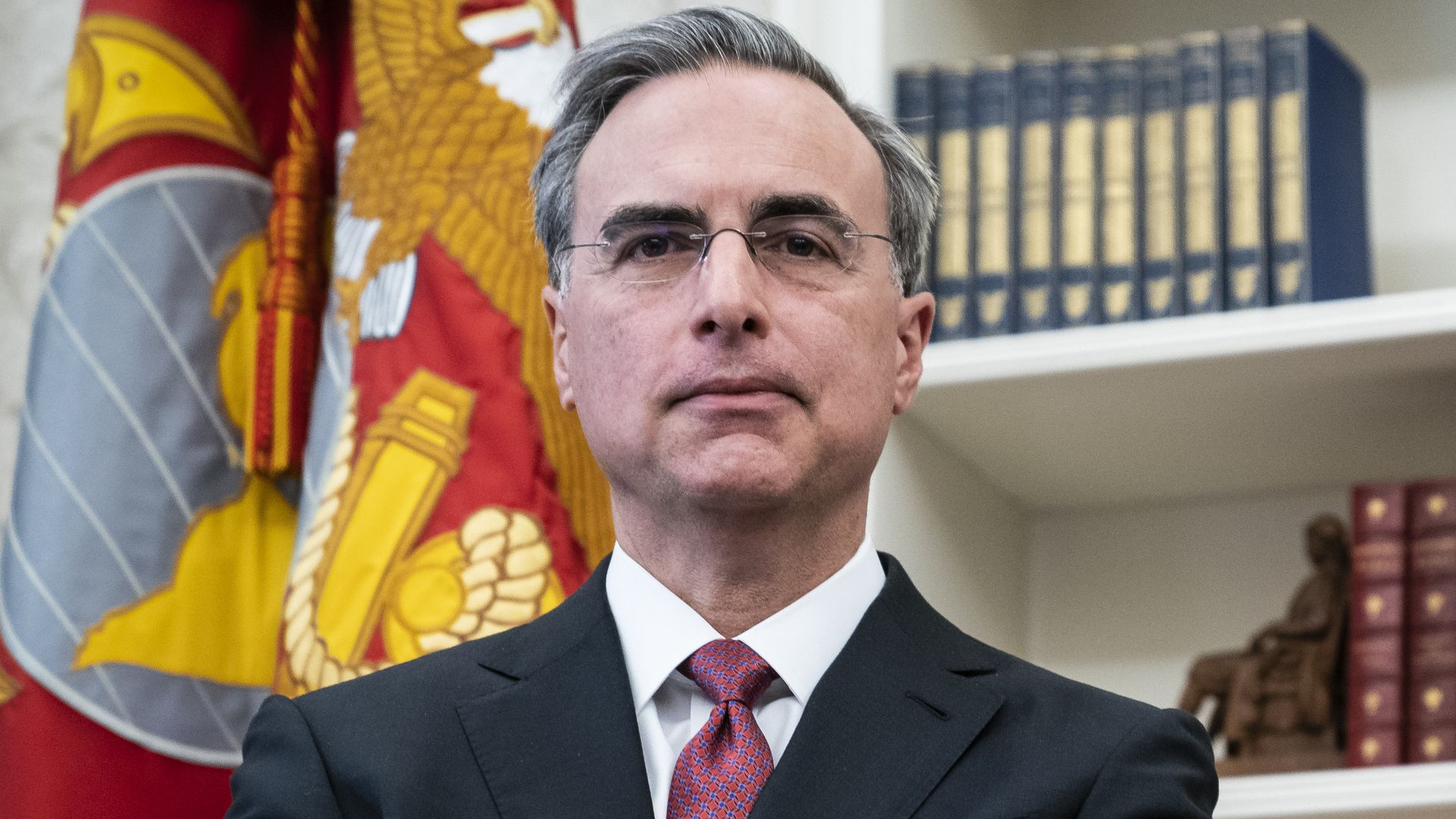 Several key figures within the conservative movement are condemning White House counsel Pat Cipollone following an op-ed from the Wall Street Journal's editorial board, which claims Cipollone is holding up three of President Trump's judicial nominations for the Ninth Circuit Court because of ongoing negotiations with Sens. Dianne Feinstein (D-Calif.) and Kamala Harris (D-Calif.).
The big picture: The growing criticism on the right is that Cipollone and other White House staff are trying to undermine what they consider one of the president's greatest achievements — packing the courts with conservatives — to appease liberal Democrats.
A GOP consultant texted me: "Negotiating with two senators who led the smear assault on Kavanaugh and Catholic nominees totally messes with the base on one of the most cherished achievements of Trump's first term ... talk about pulling the rug out from under the base."
Meanwhile, conservatives from radio host Erick Erickson to Tea Party Patriots co-founder Jenny Beth Martin and the Family Research Council's Ken Blackwell, among others, have respectively called Cipollone's alleged deal "insane," "hugely demoralizing" and "a huge mistake."
Why it matters: Trump loves to boast about appointing a record number of federal judges to the courts, an accomplishment that fires up his base and will be felt long after he's gone. Any slowing of this momentum — especially at the hands of Democrats — could hammer him politically.
Yes, but: Feinstein's office told Axios that the WSJ editorial is "riddled with errors," and specifically debunked the claim that Feinstein and Harris are demanding Trump "dump" 40-year-old nominee Patrick Bumatay for political reasons.
"In fact, he was never mentioned by the White House before he was nominated and has no judicial experience," Feinstein's press secretary Ashley Schapitl told Axios.
Schapitl also emailed Axios four letters that Feinstein and Harris sent to the White House (one to the president, one to former White House Counsel Don McGahn and two to Cipollone) about coordinating their efforts to fulfill California judicial vacancies. Two of the letters noted that the senators were looking to reach an agreement "similar to the one that the White House struck with [Illinois] Senators Durbin and Duckworth … in that case each party selected one candidate from the other party's list for the Circuit to fill two vacancies."
Feinstein also mentioned in an October statement that she had met with McGahn in 2017 to discuss the court's previous vacancies, but said the White House chose to move forward with certain nominees without consulting her.
The bottom line: Consulting with senators about judicial vacancies in their states is not a new practice, and it's a courtesy that even the Trump administration has previously extended. But given the divisiveness of modern day politics and the politicization of filling the courts, conservatives are increasingly looking at any coordination between the White House and Democrats as politically dangerous.
Update: Trump names judicial nominees to California's Ninth Circuit Court following pressure from conservatives.
Go deeper