Women take the lead in 2019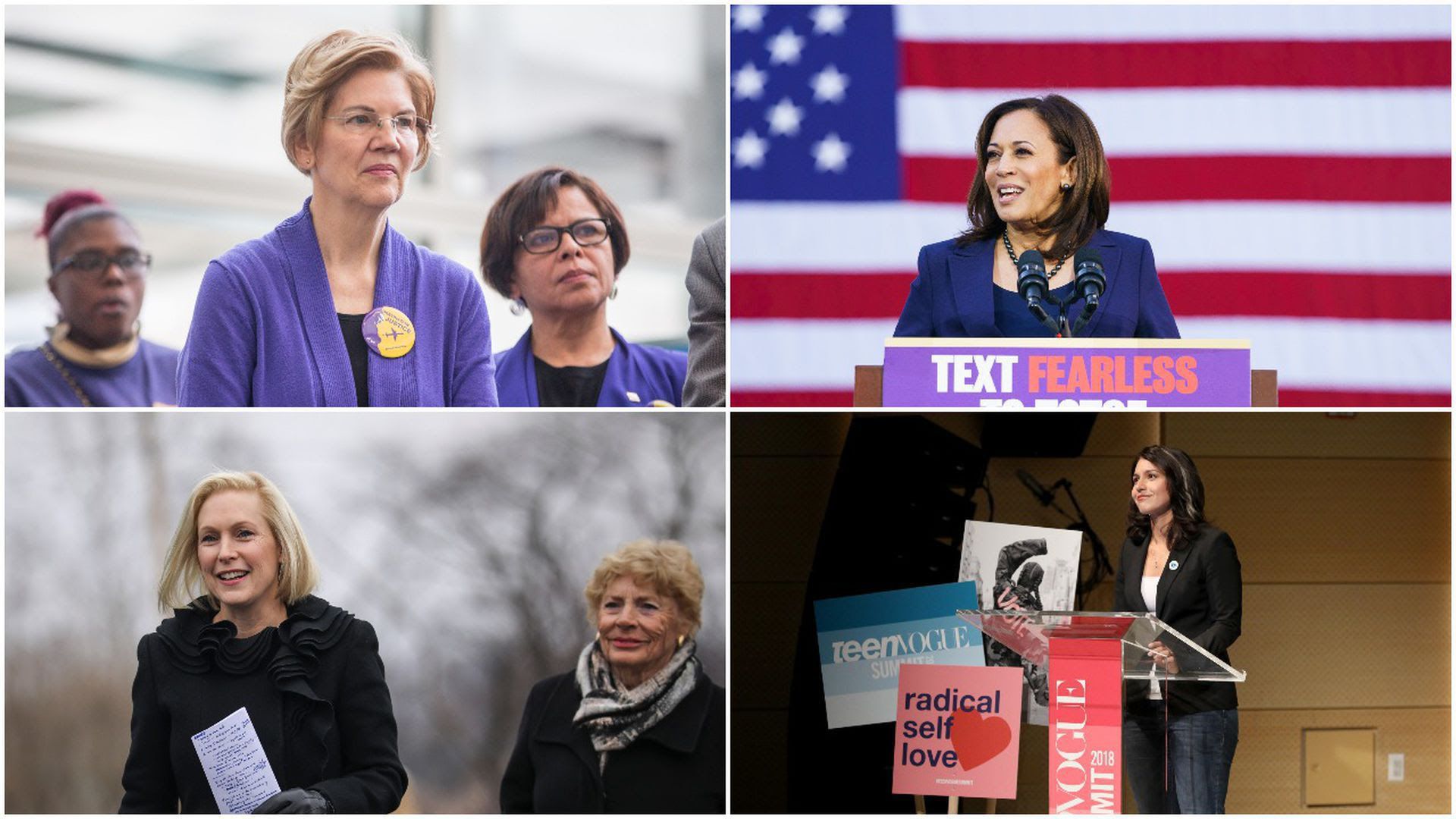 If the future is female, as the slogan dating back to the '70s suggests, the current state of the Democratic Party is well on its way.
Why it matters: This is the first time in history that being a woman, particularly for Democrats running in 2020, "is probably more a political asset than a liability," per the LA Times.
Driving the news:
House Speaker Nancy Pelosi is the most powerful Democrat in America, emerging as President Trump's main foil during the shutdown.
Sens. Kamala Harris, Elizabeth Warren, Kirsten Gillibrand and Tulsi Gabbard are running for the Democratic presidential nomination.
Georgia politician Stacey Abrams will be giving the State of the Union response to Trump next week.
Alexandria Ocasio-Cortez is the fastest-rising new member on Capitol Hill, using online authenticity to instantly gain an audience with her Democratic Socialist policy agenda.
Be smart: The 2018 midterms were an overwhelming sign of success and momentum behind female candidates and among female voters (59% supported Democrats), which could propel women in 2020.
Harris is the latest woman to enter the race, and she's made the clear and early case that she'll differentiate herself by focusing on her time as an attorney general and highlighting her connection with the black community.
Warren prefers "nerding out" on policy and hammering an economic message of class inequities by recalling her childhood.
Gillibrand separates herself "as a young mom," often "emphasizing her record on protecting women from sexual assault and her support for female candidates," per the LA Times. Don't forget her role in removing Al Franken from the Senate after his past instances of sexual misconduct were revealed.
Gabbard has focused on being a military veteran, telling CNN: "There is one main issue that is central to the rest, and that is the issue of war and peace."
P.S. Former Starbucks CEO and potential 2020 presidential contender Howard Schultz called Harris' support for eliminating private health insurance "not American" and Warren's "wealth tax" proposal "ridiculous."
Warren responds: "What's 'ridiculous' is billionaires who think they can buy the presidency to keep the system rigged for themselves while opportunity slips away for everyone else. The top 0.1%, who'd pay my #UltraMillionaireTax, own about the same wealth as 90% of America."
Go deeper