Koch operation casts wary eye on tech regulation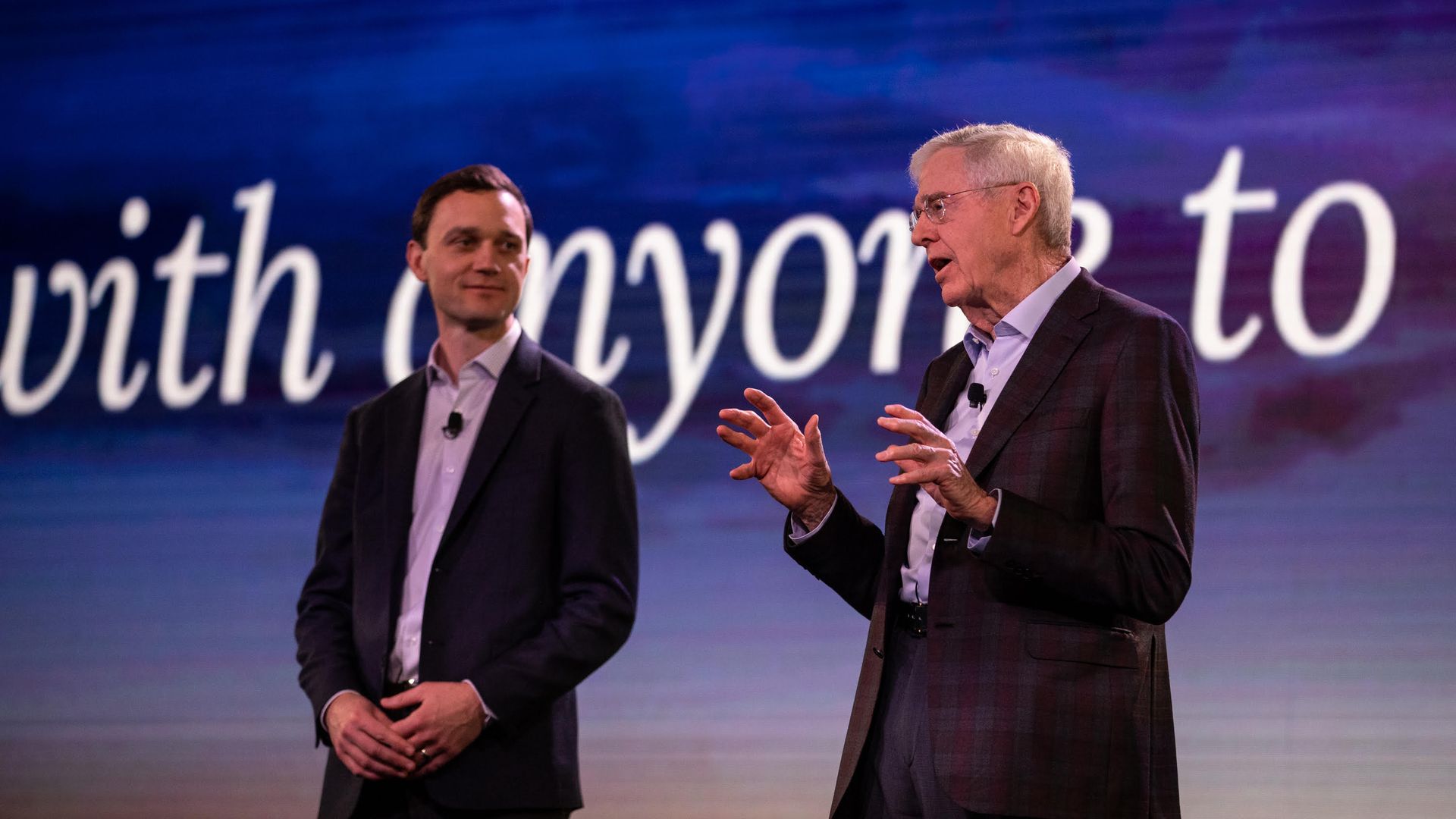 INDIAN WELLS, Calif. — The influence network led by billionaire Charles Koch is watching a growing push to regulate Big Tech firms with alarm.
The big picture: For the libertarian-oriented network of political and philanthropic groups, regulation is the enemy, and even though many others on the right bristle at what they see as anti-conservative bias by Big Tech platforms, the Koch crowd is not ready to cheer government intervention.
Why it matters: Although the Koch network has seen its influence wax and wane under President Trump, whom it did not back, it nonetheless possesses powerful tools to shape policy debates and influence elections.
Officials, scholars and donors with links to the network expressed unease with the idea that sweeping regulation will solve tech's problems — like platforms that facilitate the spread of malicious content or privacy practices that outrage users — and worried lawmakers aren't being precise enough.
"Take the example of privacy — what's the actual problem you're trying to solve?" Jesse Blumenthal, who leads the Charles Koch Foundation's tech policy work, said at the network's winter donor retreat in this country club town. People are proposing solutions instead of answering questions first, he added.
Art Pope, a retail magnate and prominent donor to the network's activities, said that while he believes social media companies are biased against conservatives, he thinks they should be regulated by "voluntary societal pressure" instead of governments.
A staffer at the political Americans for Prosperity wrote a recent op-ed warning about the potential for "heavy-handed" privacy regulation.
Charles Koch Foundation fellow Neil Chilson published a paper in December arguing that as "Congress grapples with the increasing digital legibility of our world, it should not attempt to freeze this evolution through legislation."
A Koch group put out a statement this summer condemning the potential regulation of Google search results after it was floated by an administration official.
Yes, but: The push to regulate the tech giants is fueled in part by Republicans who have bucked their party's traditional deregulatory stance out of frustration with the companies, including over the bias charges.
That frustration was evident even with Pope, who said he thought that Google and Facebook "tend to be biased on the liberal side, biased against conservative speakers, biased against conservative websites" and that the left is more "tech savvy, has more time to spend on YouTube, on Google, on Wikipedia to edit it against conservatives — file complaints that trigger a YouTube review of a video."
Details: Donors discussed tech issues at a 4-star resort here, which was closed to the public for the Koch event, and which has a predatory hawk employed to keep away other bothersome birds.
One session gave donors the opportunity to look at whether it's necessary to censor speech online and what the government's place is in regulating social media, according to materials they received.
Reporters agreed not to identify attendees without their permission as a condition of attending parts of the event.
The big picture: The Koch network has tried to reinvent itself as less bluntly partisan and more focused on building coalitions and pursuing philanthropy — an approach modeled in its tech work.
It supports projects like OpenStax, which creates open source textbooks and can be distributed digitally, on the grounds it can increase access to education.
It has collaborated with left-leaning groups on tech issues, like free speech online, where common ground exists.
It backs a venture capital firm, called Trust Ventures, that works with startups in highly regulated industries.
The language of Silicon Valley was present throughout the donor weekend, with network officials repeatedly describing the group as a "platform" for "social entrepreneurs."
But the network of donors has a "long way to go" when it comes to recruiting people in tech and other industries on the West Coast, said philanthropist Stacy Hock, a donor.
The bottom line: The network has significant capabilities — from research it supports to its formidable political operation — to influence the debate over tech.
Scholar John Samples, who led the session about online speech, said that "some of the investments that are being made by [the network] but also the people here would be helpful in bringing about the best possible solution online."
"I see this as the third way," he said, "a kind of libertarian-conservative outlook."
Go deeper