Bloomberg's TicToc expands beyond Twitter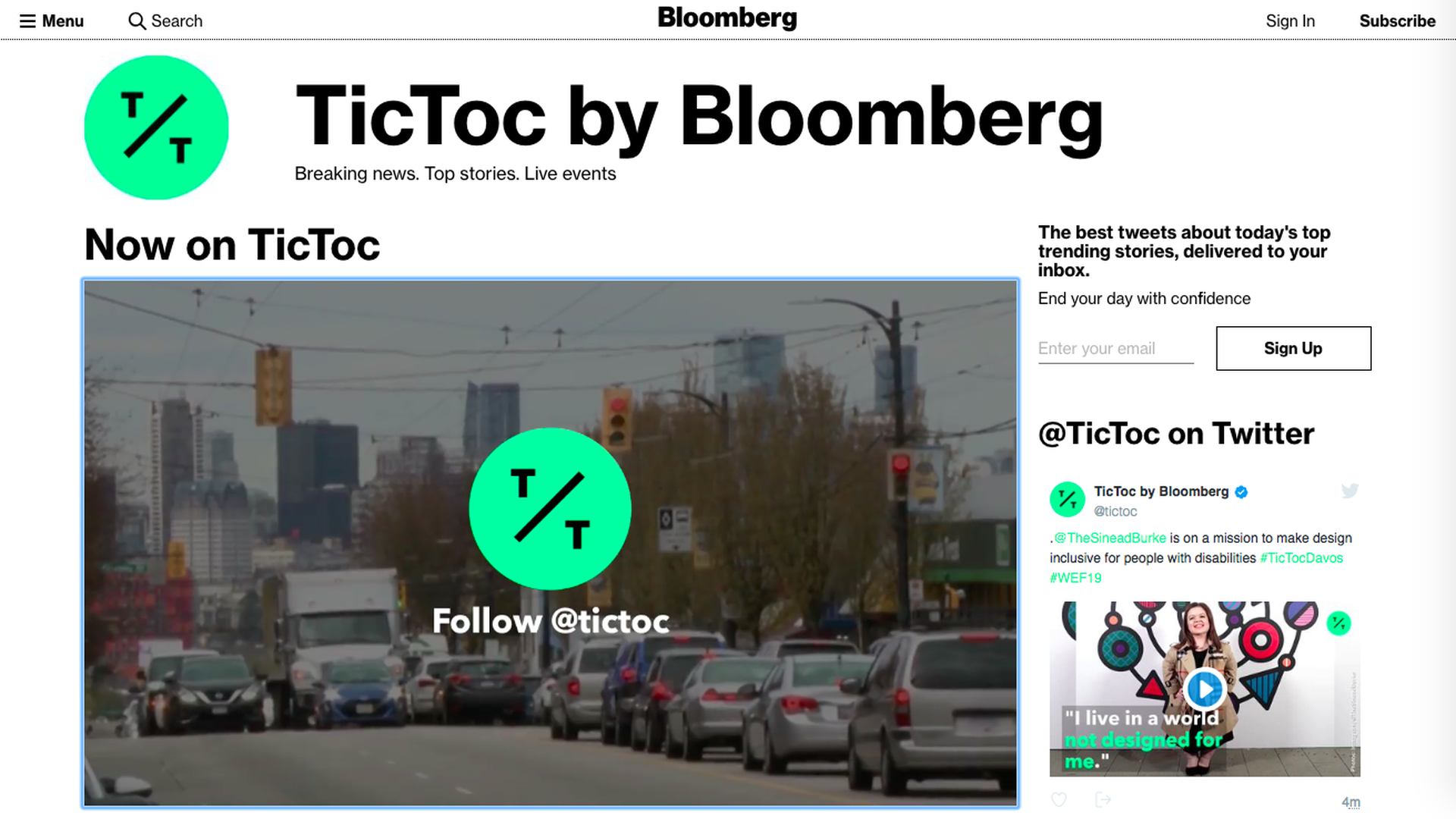 Bloomberg's TicToc, the 24/7 news network on Twitter, is launching an owned and operated digital video platform today, Axios has learned.
Why it matters: While Twitter is still core to TicToc, the launch serves as a big step for the venture to develop its own brand outside of the social platform.
Details: The new site, at www.TicToc.video, will be designed to function almost like a Spotify for news video. It's mobile-first and includes a feed-like interface that feels like a mobile app.
The videos, less than 1 minute each, can be experienced with or without sound and will use a variety of formats (like data, text and images) to tell news stories in a way that's compelling and efficient for a mobile news consumer who wants to be able to quickly scan videos for relevant information.
It's hoping that the next generation of news consumers that are drawn to its pithy format will discover its original content beyond their social feed directly on TicToc's site, now that it's developed some brand recognition.
The big picture: Brands that launched on social media are shifting to new platforms or channels offering a wider audience and an opportunity to experiment with new forms of monetization.
NBC expanded its Snapchat show "Stay Tuned" to Instagram and YouTube, last year. The show will air twice daily on Instagram Stories shortly after they post to Snapchat.
NowThis, which was born as a social media publisher mostly through Facebook, relaunched its website in 2018, after shuttering it in 2015 to go all-in on social platforms directly.
Vertical Networks, Elisabeth Murdoch's digital media company, started out producing shows for social media companies, like Snapchat and Facebook, before expanding to production for TV shows and books.
Our thought bubble: For some media brands born on social, audio or video platforms, standalone websites aren't always considered the primary point of monetization (like The Ringer). Instead, they've essentially become marketing vehicles.
Go deeper: Bloomberg expects eight figures for new Twitter network
Go deeper