"This is a very dangerous situation": Experts sound alarm on measles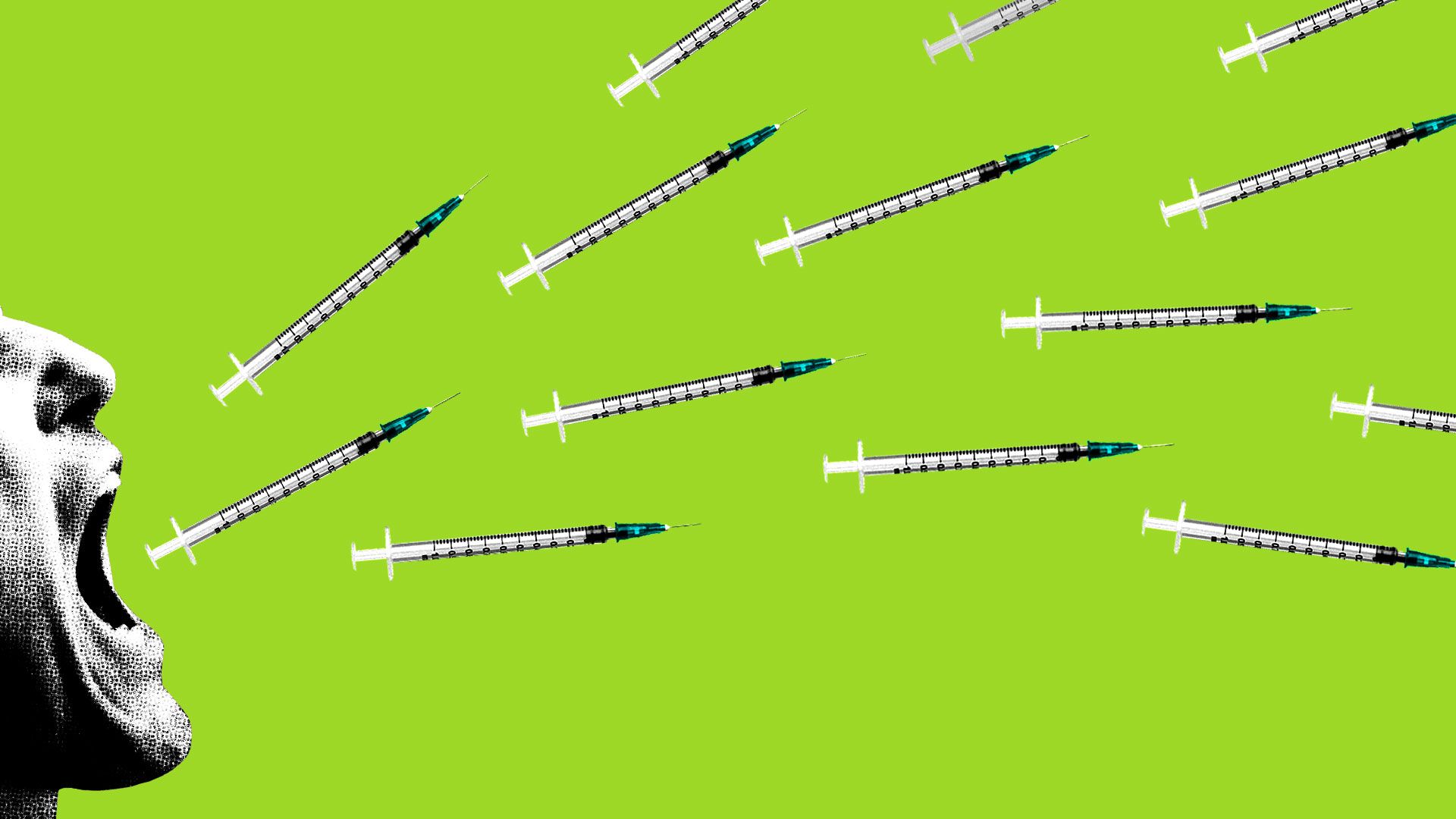 After having practically eradicated measles from the U.S. almost two decades ago, a growing anti-vaccination movement has led to a resurgence of cases, currently focused in the Pacific Northwest and New York.
Why it matters: Unless doctors and the public step up to counteract the vocal opposition to vaccines with evidence-based facts, there is a serious concern that infectious diseases like measles could return full force, public health officials and scientists tell Axios.
Driving the news: Washington state Gov. Jay Inslee declared a state of emergency Jan. 25 after multi-county cases caused a "public disaster." There were 36 cases reported on Monday.
The nearby city of Portland, Oregon, is also concerned, as there have been dozens of possible exposure locations, ranging from a Portland Trail Blazers game to a children's museum.
In 2018, there were 349 cases reported in 26 states and D.C., including outbreaks in New York and New Jersey where many were unvaccinated people in Orthodox Jewish communities.
Several of these outbreaks (defined as 3 or more cases) are continuing into 2019, including in NYC and Rockland County, New York.
Public health officials are concerned the pro-vaccination message isn't getting through, they tell Axios.
"When we see outbreaks of measles like this one, it's a reminder to parents that many diseases rarely seen in the United States can affect their unvaccinated children. In some cases, children with measles may go on to develop serious complications, like pneumonia."
— Nancy Messonnier, director, CDC's National Center for Immunization and Respiratory Diseases
"There's incorrect information about the safety of the MMR vaccine and its association with autism, which is 100% false. ... This is one of the most highly contagious diseases out there, but it's balanced against one of the most effective vaccines out there, [which is] 97% effective."
— Anthony Fauci, director, National Institute of Allergy and Infectious Diseases
Between the lines: Some of the main factors behind the anti-vaxxer movement are disbelief that measles is such a bad disease, anti-government sentiment, a misguided sense that the vaccine can be harmful, and lack of accessibility.
1. Disbelief in its seriousness.
"This is a very dangerous situation, and I don't think people fully appreciate how difficult and dangerous it is," Fauci says.
Pre-vaccine, measles was the cause of deafness, encephalitis or death for some children. People have forgotten how they "were clamoring" for a vaccine, he adds.
2. Anti-government and fear.
"Anti-vaccinism often goes hand in hand with suspicion of experts, government and Big Pharma and with conspiracy theories and skepticism about science generally," Helen Bedford, children's health professor at the University College London, tells Axios.
Part of this is due to fear the vaccine causes autism. This fear spiked when a small 1998 study linked the measles vaccine and autism (a study later found fraudulent and retracted), Fauci says.
For instance, Ukraine's current large outbreak (already 8,500 in 2019) is mainly due to unsubstantiated fears over safety, Bedford says.
3. Social media optimization.
"[Anti-vaxxers'] voice is loud and they have powerful influencers such as celebrities who attract media coverage. Messages can also spread in seconds around the world via social media (perhaps even faster than measles can spread!)," Bedford says.
4. Accessibility issues.
"Overall, it is factors such as difficulties accessing services that play an important role in under-immunization, as a result of large families, poverty [and] social disadvantage," Bedford adds.
What's next: Fauci says evidence-based science must be consistently promoted by clinicians and public health officials. Bedford agrees, "Science has demonstrated repeatedly that vaccines are highly effective and very safe. We don't say this loudly or frequently enough!"
Go deeper:
Go deeper