2020 Democrats are ready to talk about racial inequality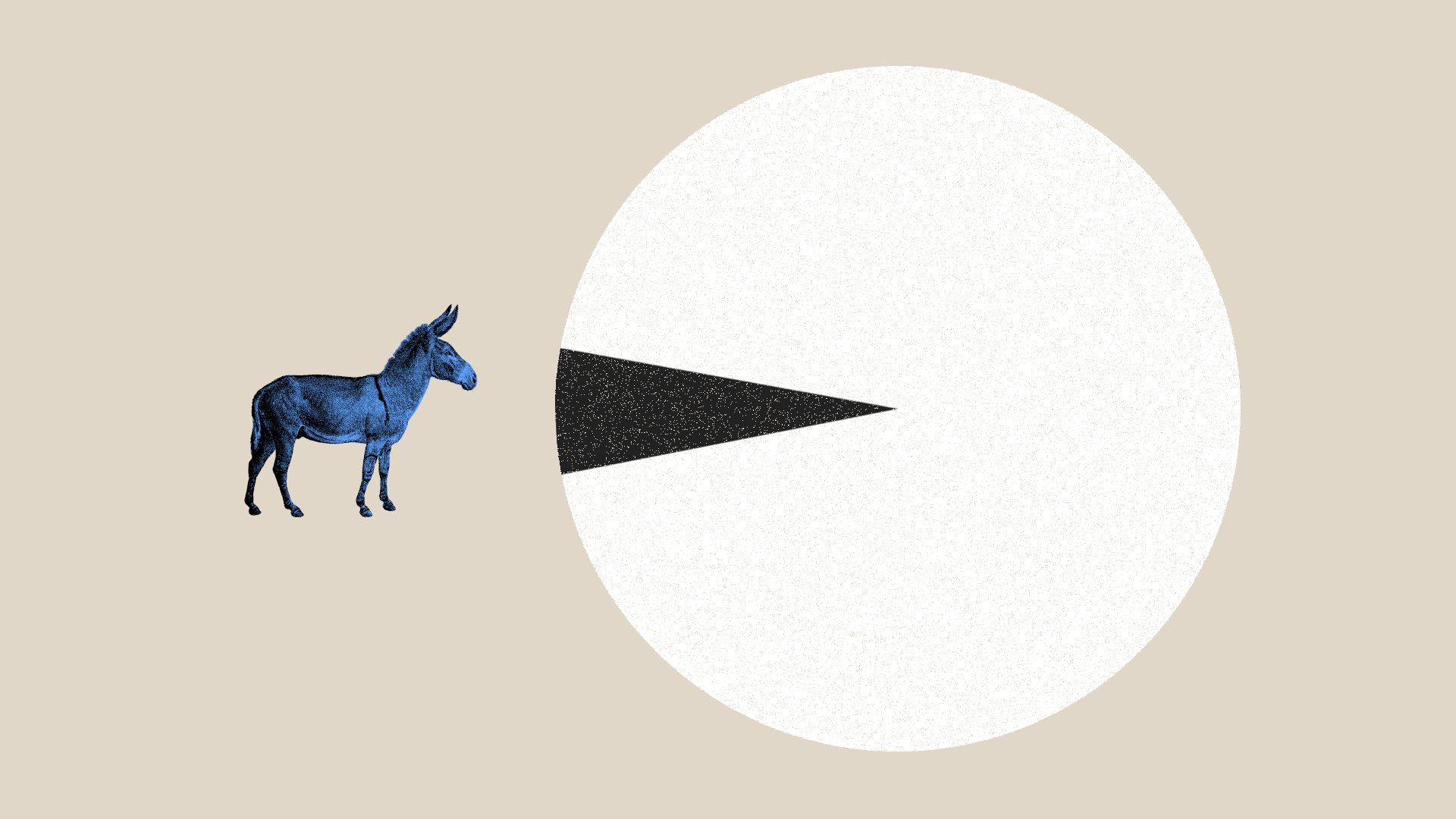 After the 2016 election, Democrats focused on winning back white working-class voters who supported Donald Trump. The 2020 target voter is already different.
Driving the news: Democrats running for president in 2020 — even some who haven't announced yet — have been meeting behind the scenes to make sure their economic policies and messages address racial inequities. It's a sign that they're more willing to acknowledge the decisive role voters of color have played in recent Democratic victories.
"They are concerned that they're not inclusive," said Darrick Hamilton, one economist who has met with Bernie Sanders, Kirsten Gillibrand, Kamala Harris and Cory Booker (as well as others in the Senate and the House) to discuss progressive policies with a focus on race.
Here's how the Democrats are talking about racial inequality:
Elizabeth Warren set the stage in her 4-minute announcement video on Dec. 31, when she said: "Families of color face a path that is steeper and rockier, a path made even harder by the impact of generations of discrimination."
Harris' campaign confirmed she consulted with Hamilton on the LIFT Act, a $2.8 trillion middle-class tax cut that would benefit African-Americans who are among the low end of income distributions. The proposal will be part of her 2020 platform. She announced her presidential campaign on Martin Luther King Jr. Day and traveled to South Carolina as her first stop.
Gillibrand's platform includes policies that would work to close the gap between people of color and white Americans — like legalizing marijuana, ending cash bail and reducing maternal mortality rates, which disproportionately affect African-American mothers. "White women like me must bear part of this burden" that people of color face, she said during a recent speech at Rev. Al Sharpton's National Action Network in New York.
Julián Castro's campaign hasn't outlined specific policies yet, but his housing platform will include increasing homeownership among communities of color, because owning a home is one of the best ways to pass on wealth from one generation to the next, a campaign spokesperson told Axios.
Sanders called Trump a "racist" in a recent speech in South Carolina and said "racial equality must be central to combating economic inequality." Compare that to 2016, when Sanders insisted "identity politics" was something Democrats needed to go "beyond."
Cory Booker has endorsed a baby bonds proposal, which would establish a trust account for each newborn. The policy has been revived by Hamilton recently and would likely be part of Booker's 2020 platform.
John Delaney participated in a roundtable discussion last June to talk about ways to close the racial wealth gap in Maryland and nationally.
Even Joe Biden recently expressed remorse for his tough-on-crime legislation against crack cocaine in the 1980s, which disproportionately affected African-Americans. "It was a big mistake that was made," he said.
The big picture: Racial and economic issues played an integral role in the 2016 and 2018 elections. But this is sort of the first time it's coming together as one cohesive message — because Democrats are recognizing that people of color are their most loyal voting bloc.
Just look at the numbers from the 2018 midterms: 76% of non-white voters supported House Democratic candidates, including 90% of black voters, according to exit polls.
Democrats, Hamilton concluded, are now "being less transactional" — meaning they're less willing to ignore the racial and gender implications of certain policies, even if that was previously seen as politically helpful in some elections.
"They need to establish a position and a plan on combatting racial injustice in a way we've never seen before from a presidential campaign. It's a job requirement now."
— Aimee Allison, founder of She the People, a national network of women of color in politics
The bottom line: Regardless of your race or gender, if you're running for president in 2020, you've got to be able to speak intersectional politics.
Go deeper