What we know and don't know about the players in the Stone indictment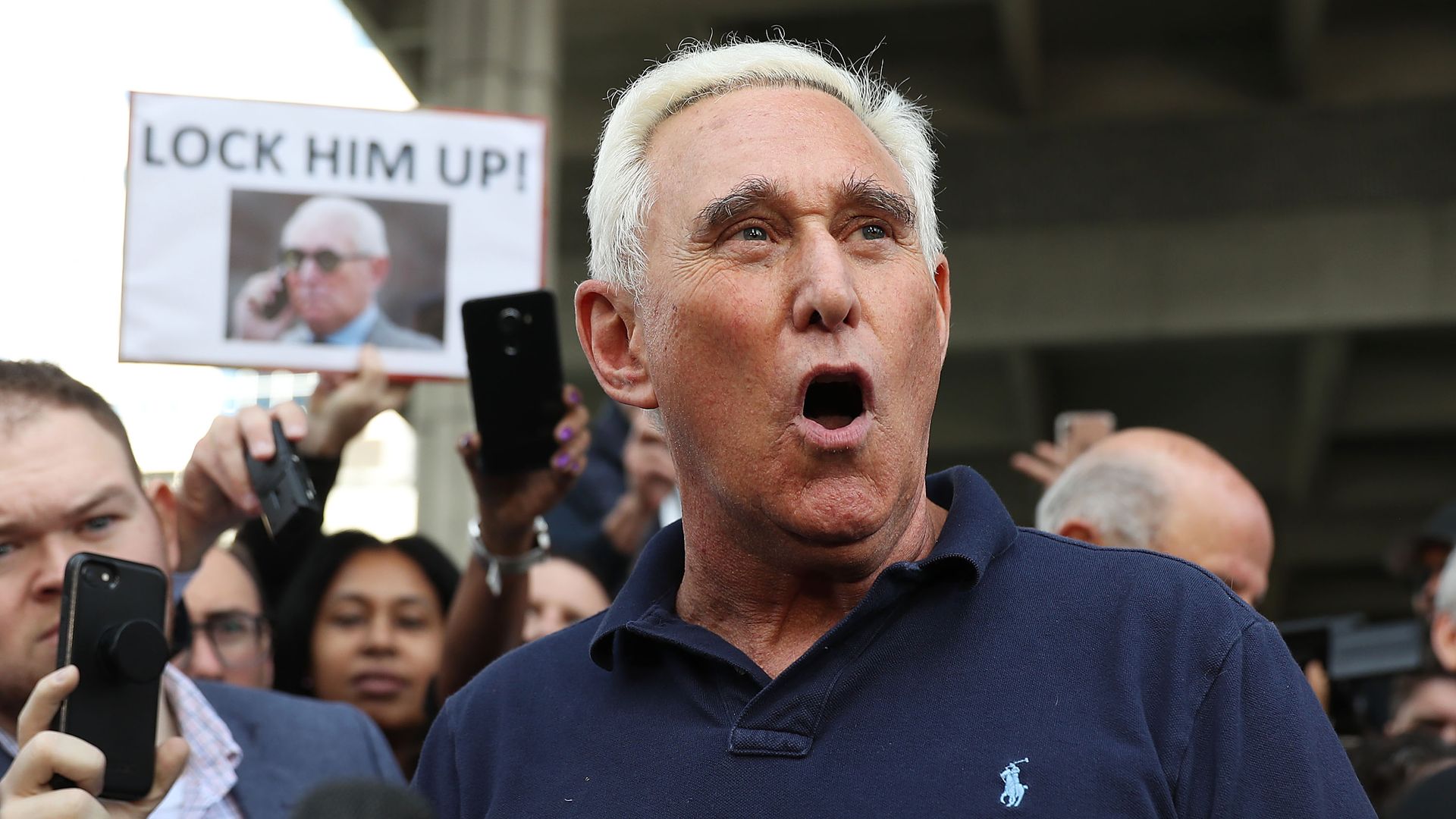 The indictment of Roger Stone has given us new insight into what special counsel Robert Mueller knows — and raised a lot of questions about the unnamed people and organizations listed in the indictment.
Between the lines: The biggest mystery focuses on the statement that "a senior Trump Campaign official was directed to contact Stone" about future Wikileaks dumps that would be damaging to Hillary Clinton. The vague passiveness of "was directed" has led to questions about whether it was President Trump who gave the order, as a reporter asked White House press secretary Sarah Sanders. But this falls under the category of things we just don't know yet.
Organization 1 refers to WikiLeaks, the organization led by Julian Assange. The indictment describes it as an organization which released "tens of thousands of documents stolen from the DNC and the personal email account of the chairman of the U.S. presidential campaign of Hillary Clinton."
A "reporter who had connections to a high-ranking Trump Campaign official," as described in the indictment, allegedly asked Stone about what WikiLeaks had on the Clinton campaign. The NYT reported at the end of last year that Breitbart political editor Matthew Boyle was involved in exchanges with Stone and former Trump aide Steve Bannon on the subject, and released emails some of which match the wording of the communications quoted in the indictment.
A "high-ranking Trump Campaign official" communicated with both the reporter and with Stone about the status of WikiLeaks' second release of emails. In the emails released by the New York Times, Steve Bannon was mentioned by both Stone and Boyle. Some of those emails were exactly quoted in the indictment, but for the withholding of Bannon and Assange's names.
Person 1 has been confirmed to be Jerome Corsi, a political commentator and author who is an associate of Trump and Stone. NBC News reported in November that Mueller had emails between Corsi and Stone discussing the timing for the WikiLeaks dump. Corsi has been in talks with the Mueller team for months, and in November rejected a plea deal.
Person 2 is described as "a radio host who had known STONE for more than a decade" and allegedly texted Stone about the timing of Wikileaks' release and the damage it would do to Hillary Clinton.
In November, NBC News released obtained text messages between comedian and radio show host Randy Credico and Stone regarding Assange's plans to release Clinton campaign emails. The wording of some of the texts released by NBC News match those quoted in the indictment.
The indictment also indicates that Person 2 had the head of Wikileaks on his show on August 25. Credico interviewed Julian Assange on that day.
Go deeper: Roger Stone arrested after indictment in Mueller probe
Go deeper