What the Roger Stone indictment tells us about the Trump campaign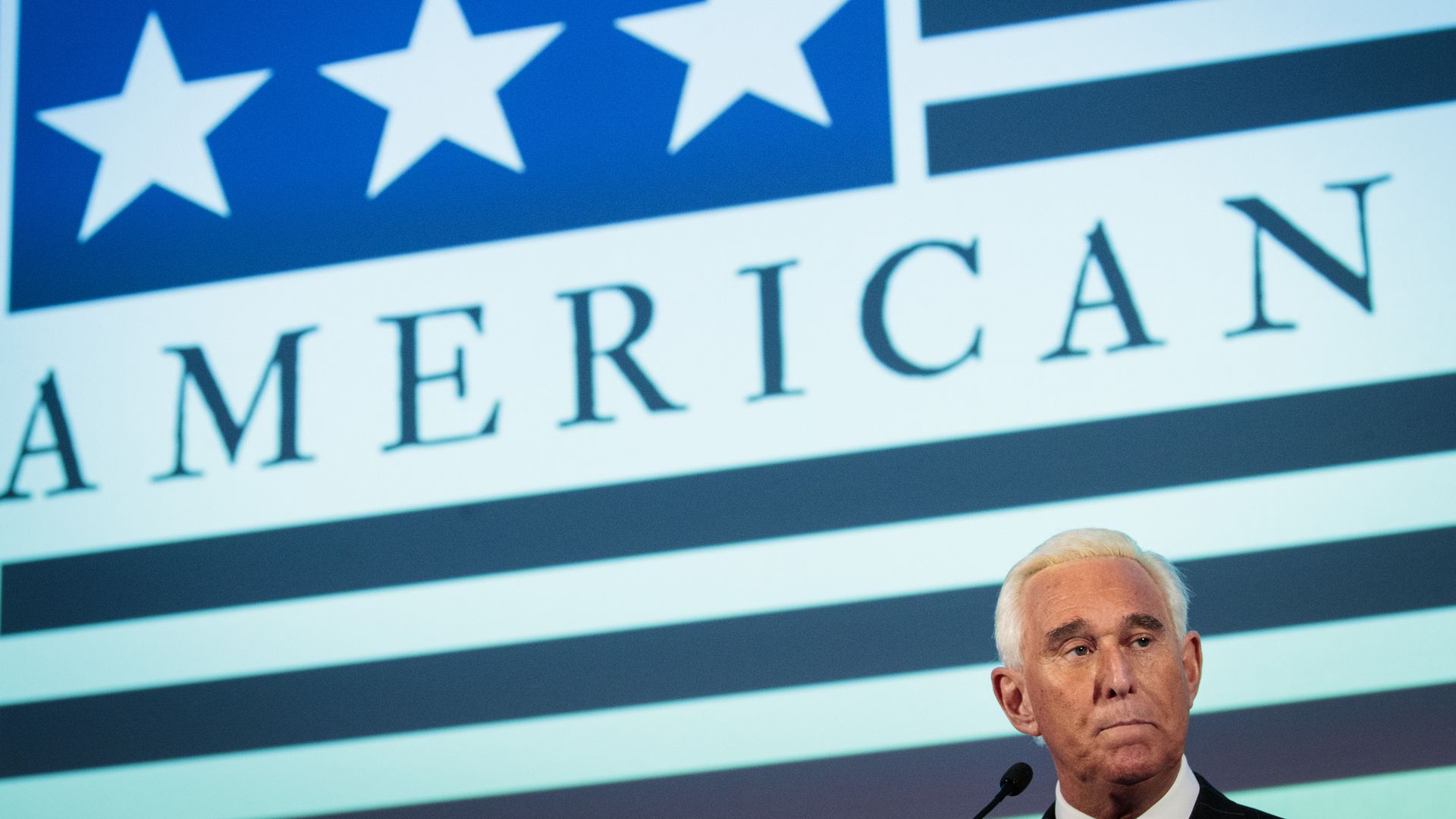 Roger Stone's indictment by the Mueller investigation reveals a series of alleged conversations between the Republican operative and Trump campaign officials regarding the timing and content of Wikileaks' email dumps during the 2016 campaign — which Stone allegedly lied about under oath.
Why it matters: Multiple Trump campaign officials — although we don't know who — were allegedly told by Stone ahead of time about WikiLeaks releases considered damaging to Hillary Clinton. One campaign official was even instructed to reach out to Stone about future releases following the DNC email release in July 2016.
Between the lines: Russia is notably absent from the indictment — the only time the words "Russia" or "Russian" are used is in noting the date the DNC announced they had been hacked by Russian government actors and to describe the various investigations into Russian interference in the 2016 election and potential collusion with the Trump campaign.
Key points of the indictment regarding the Trump campaign:
Stone allegedly told senior Trump campaign officials by June or July of 2016 that he had information about Wikileaks planning to leak information that would be damaging to Hillary Clinton. The DNC email leak happened on July 22.
After the DNC emails, a senior Trump campaign official was allegedly instructed to ask Stone about any future Wikileaks dumps or if Wikileaks had any other damaging information on Clinton's campaign. Stone then allegedly told them about potential future releases.
Stone then allegedly told the Trump campaign about potential future Wikileaks releases impacting the Clinton campaign.
Between late July and early August, Stone allegedly repeatedly emailed with an undisclosed political commentator, who would later be interviewed by investigators, to obtain information from Wikileaks' head Julian Assange about future leaks. It was shortly after that Stone publicly claimed to have spoken with Assange and to know the timing of the next leak.
Around Oct. 3, 2016, Stone allegedly wrote to "a supporter involved with the Trump Campaign" in regards to the expected Wikileaks dump: "Spoke to my friend in London last night. The payload is still coming."
After the release of Podesta's emails in October, an associate of "the high-ranking Trump Campaign official" allegedly sent Stone a text which read, "well done."
Stone allegedly lied to House investigators about his communications with Wikileaks and Trump officials. He also attempted to persuade an undisclosed witness, described as "a radio host who had known Stone for more than a decade" to withhold information from the investigations, per the indictment.
Go deeper: Read the full Roger Stone indictment by the Mueller investigation
Go deeper