New U.S. sanctions a limited move against Iran proxy groups in Syria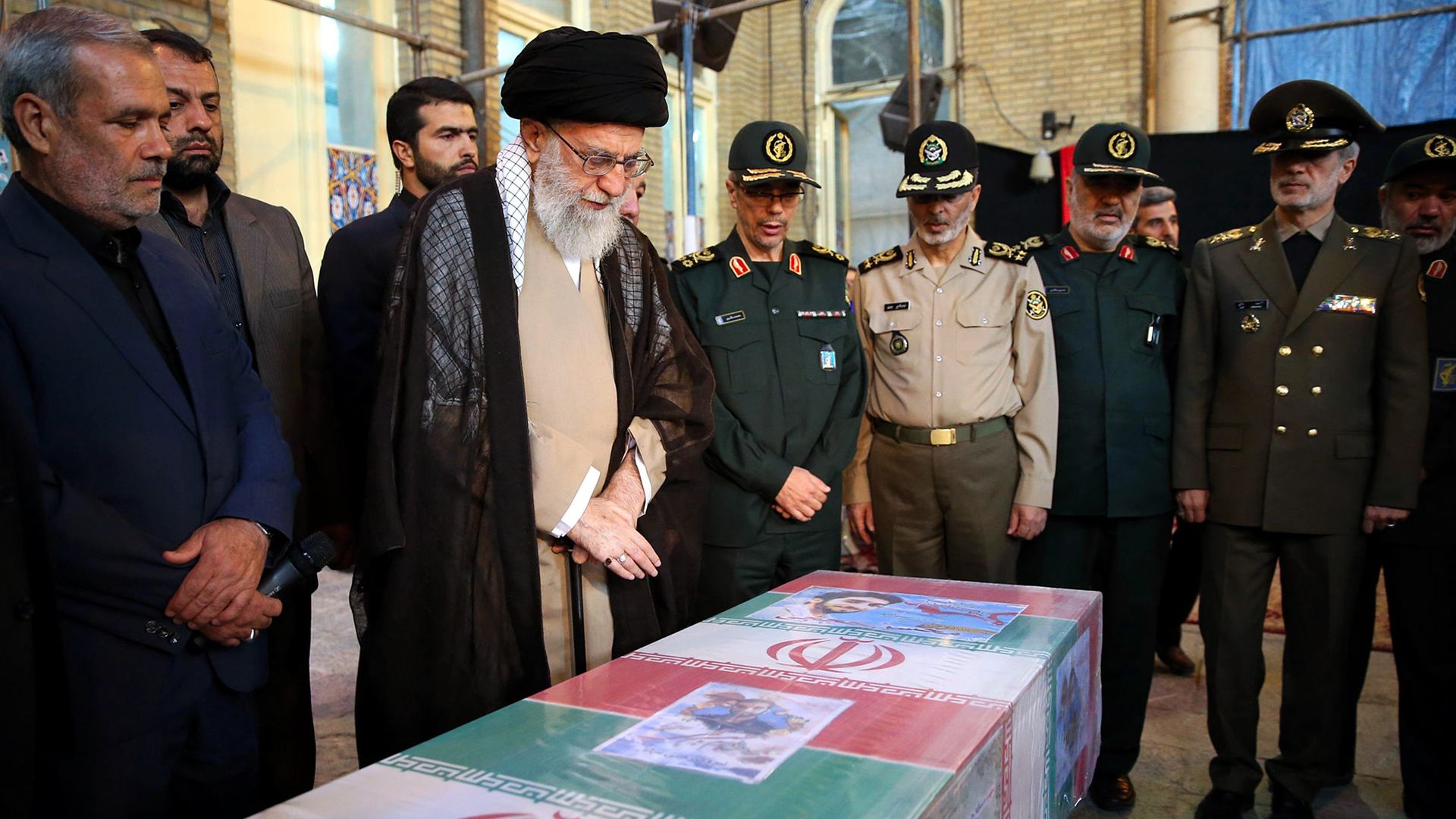 The Trump administration on Thursday took its first significant move against 2 of Iran's non-Arab Shiite militias in Syria with two different executive orders — one related to human rights and the other to terrorism. Both groups, the Fatemiyoun and Zeynabiyoun, support Iran's Islamic Revolutionary Guard Corps' Quds Force (IRGC-QF), which was sanctioned over a decade ago but remains active across the Middle East.
Why it matters: The U.S. Congress has attempted several times to get the administration to designate Iran-backed militias, whether in Iraq or Syria, as terrorists, given their ties to the IRGC-QF. The administration's voluntary designation of the Fatemiyoun and Zeynabiyoun therefore represents a paradigm shift, adding Iran's agents of influence to the U.S. Treasury's financial blacklist and subjecting them to sanctions.
Background: The Fatemiyoun is an all-Afghan militia group chiefly composed of Iran's Afghan refugee population, comprising mainly Hazara and Tajik ethnic groups. The Zeynabiyoun is an all-Pakistani militia group recruited from abroad and within Iran. Both militias were formally organized and announced several years into the Syrian War.
In addition to being deemed "martyrs," members of the Fatemiyoun and Zeynabiyoun killed in action receive the same honorific that Iran's IRGC receive if killed in Syria: "defender of the shrine," a reference to the Islamic Republic's sectarian religious mission.
Families of fallen Fatemiyoun and Zeynabiyoun members have also received special attention from Iran's supreme leader and commander-in-chief, Ayatollah Ali Khamenei.
The big picture: In an ongoing evolution of its use of proxy forces, Iran is marshaling zealous and disaffected Shiites from South Asia to fight for its larger ideological and strategic goals in Syria. While Tehran has traditionally relied on Arab Shiites to engage in terror attacks or subvert governments, the Fatemiyoun and Zeynabiyoun are serving a different purpose — helping Iran support the allied Syrian government.
The bottom line: Washington is continuing to rely on coercive economic measures as its chief policy tool against Tehran. Some in the administration framed the designation as but one move in the larger "maximum pressure" campaign. But given that the vast array of Iran-linked Shiite militias in Iraq have not yet been targeted, the move also signals that, at least for now, the "pushback" against militias is limited.
Behnam Ben Taleblu is a research fellow at the Foundation for Defense of Democracies
Go deeper