Why Trump's immigration compromise is dead on arrival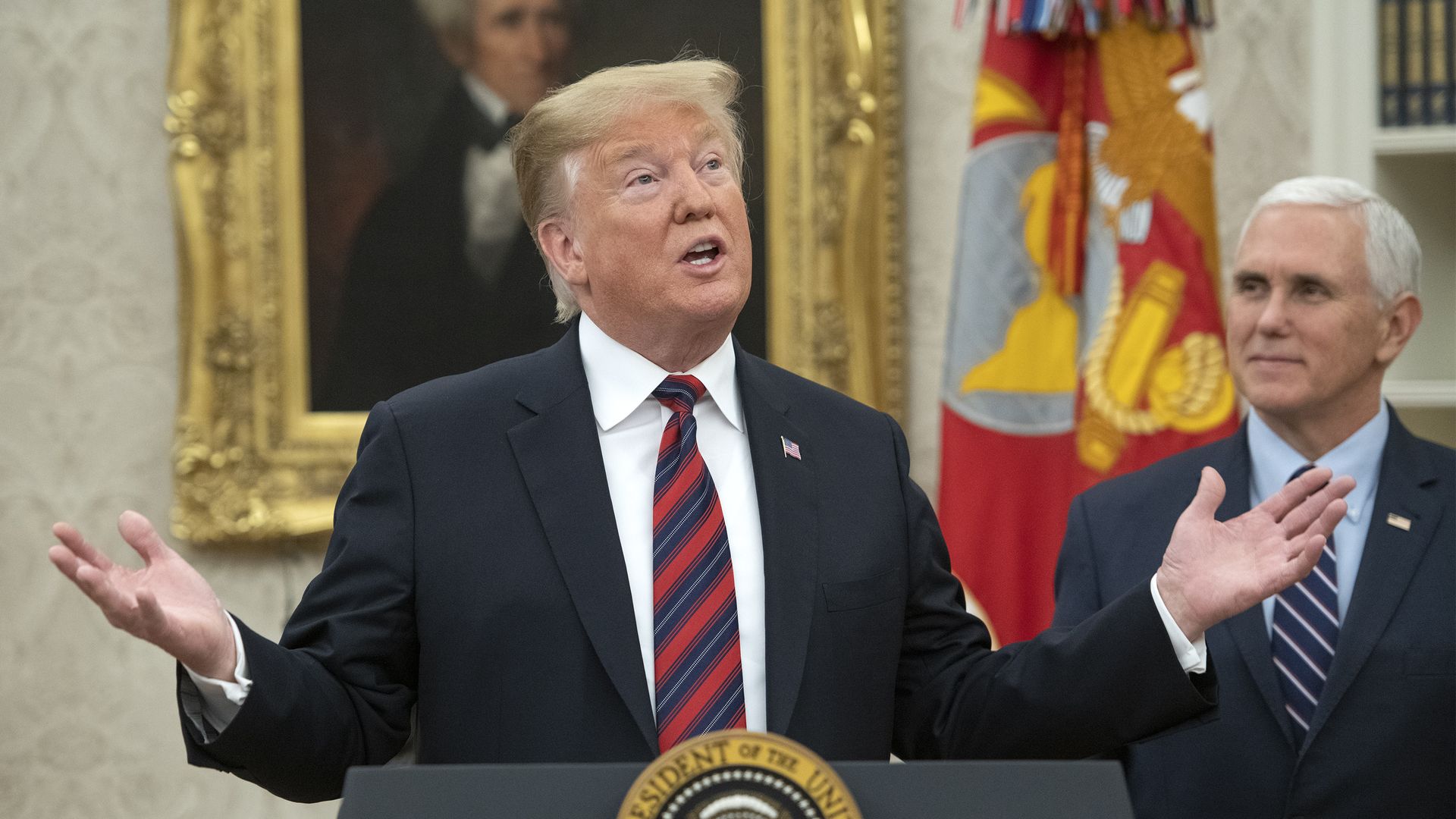 Senate Minority Leader Chuck Schumer, House Speaker Nancy Pelosi and left-leaning groups are nowhere close to supporting President Trump's attempt at an immigration compromise to reopen the government.
The state of play: Trump has no immediate leverage when it comes to DACA and Temporary Protected Status, programs that give protections to immigrants who came to the U.S. as children or whose home nations are currently unsafe. Federal courts are already upholding these programs in spite of the administration's attempt to end them, meaning Democrats would have little to nothing to gain by accepting Trump's offer.
What's in the bill:
DACA: Trump's proposal would kick the DACA fight down the road 3 years, giving Congress time to reach a permanent solution. But the Supreme Court has signaled that it may not take up the case this term, meaning DACA is likely to remain in effect until at least 2020. The proposal would also not extend protections for anyone who is not currently covered by the Obama-era program, even if they're technically eligible.
TPS: Immigrants who have received protected status because of natural disasters or other calamities in their home country would be allowed to remain in the U.S. another 3 years, despite the Trump administration previously moving to end the program. Again, a federal court has already intervened to keep TPS alive. TPS holders would have to go through a whole new application process under the proposal, and no one who was not already registered under TPS would be covered.
Asylum: Trump's proposal would allow Central American migrant children to apply for asylum from their home countries, before they risk leaving on the often-perilous journey to the U.S. But the proposal would also make it easier and faster to deport any minors who still made the trip to the U.S. to claim asylum, even if they were forced to flee violence.
What to watch: Majority Leader Mitch McConnell has said he will bring the bill to the Senate floor this week. He also scheduled a vote for a short-term spending bill that does not include wall funding in order to allow "each party a chance to press its proposal," according to the New York Times. Barring any major defections, neither is likely to pass.
Go deeper