Trump's chyron obsession: "Rove is a dope"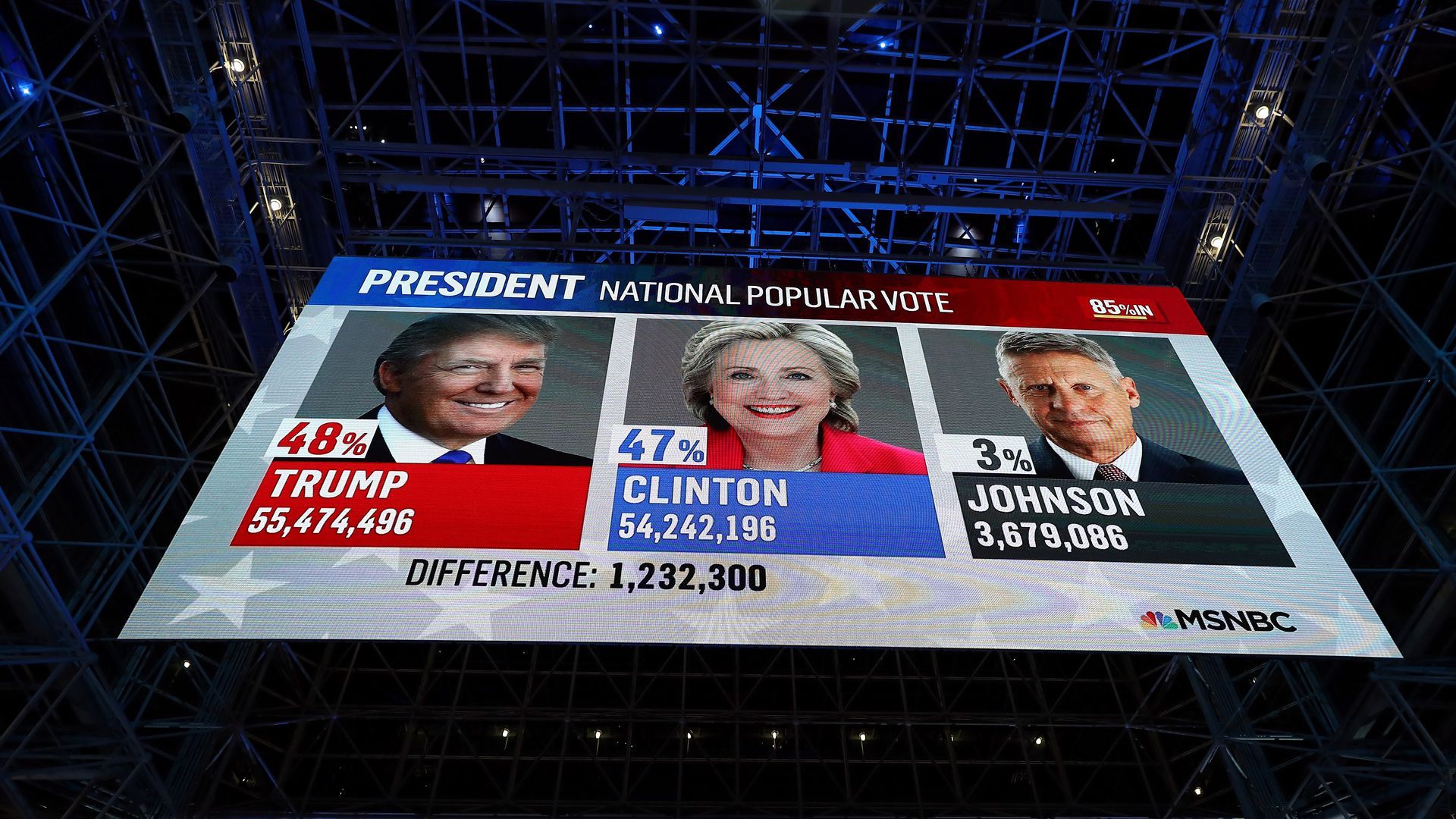 For all his media bashing, President Trump sees the White House as the greatest show on Earth and obsesses over the staging — micromanaging his own lighting and constantly consuming the coverage of himself as if it were sports highlights.
Why it matters: We learn in a forthcoming book by campaign confidant Cliff Sims ("Team of Vipers," out Jan. 29) that this fixation extends to the chyrons — the all-caps text at the bottom of the screen.
Sims describes Trump as he watches TV in his private dining room off the Oval:
"He consumed TV like the late Roger Ebert must have watched movies. ... He commented on the sets, the graphics, the wardrobe choices, the lighting, and just about every other visual component of a broadcast. Sure, he liked to hear pundits saying nice things about him or White House officials defending him from attacks, but everything came back to how does it look?
With that in mind, the most Trumpian tactic the comms team employed was arguing with TV networks about the 'chyrons,' the words displayed at the bottom of the screen that act as headlines for whatever the commentators are discussing.
'People watch TV on mute,' the President told me, 'so it's those words, those sometimes beautiful, sometimes nasty little words that matter.' ...
When the President would deliver a speech somewhere outside of D.C., the research team would take screenshots of all the chyrons that aired while he was speaking. Then, adding those images to headlines and tweets from influential reporters and pundits, they would race to print out a packet before Trump made it back to the White House.
The goal was for Sarah or Hope or me — or whoever hadn't traveled with him — to meet him on the ground floor of the residence and hand him the packet to review mere moments after Marine One landed on the South Lawn."
Since Axios revealed the first excerpt from Sims' book, there has been rising curiosity and anxiety inside the White House.
"Team of Vipers" includes behind-the-scenes revelations — some comical, some troubling — about a range of Trump insiders, including some still in the West Wing.
A publishing source said Sims and others involved in the book have been peppered with incoming queries from aides who want to know how they're portrayed. "They know he has the goods," the source said.
The book is chockablock with glimpses of a world where Trump sees himself as star, writer, producer, director, audience and critic — all at once:
"'The graphics on Fox are the absolute worst — are you looking at this?' he said at one point. 'CNN and MSNBC are both so much better. I hate to say it — honestly, I really hate to say it — but MSNBC has the best graphics. Fox is the best — they have the best talent. I mean, look at the rest of these people. They can't believe what's happening right now. But Fox's graphics are terrible. They've got to do something about it.'"
Another media scene is from Election night at Trump Tower, when Sims was by Trump's side:
"CNN's John King was working the interactive map — or 'Magic Wall' — ... turning states red and blue as results came in and playing out different electoral scenarios. 'They've got John King on the maps again,' Trump quipped. 'I used to hate him on the maps, then the maps started turning red and I started liking him. But he wants the map to be blue. And everyone knows he should be an anchor by now. But [CNN president Jeff] Zucker has him on the maps, and we all know what that means.' I actually wasn't entirely sure what that meant, but no matter. I nodded knowingly just the same.
At one point, with Fox News back on the main screen, frequent Trump critic Karl Rove came on to lambaste both Clinton and Trump. 'Rove is a dope,' Trump said, turning away from the screens for the first time. 'How many times has he been wrong about everything but they still put him out there? This guy spent a half-billion dollars and didn't win a single race [except the presidency — twice]. But they don't say anything about that. He wants people to forget. I don't forget, that I can tell you.'
When Fox News commentator Tucker Carlson complimented Trump's ability to articulate an antiwar vision to Republican voters, Trump said, admiringly, 'He totally gets it.'"
Go deeper