2. Trump proposes DACA extension in exchange for border wall funding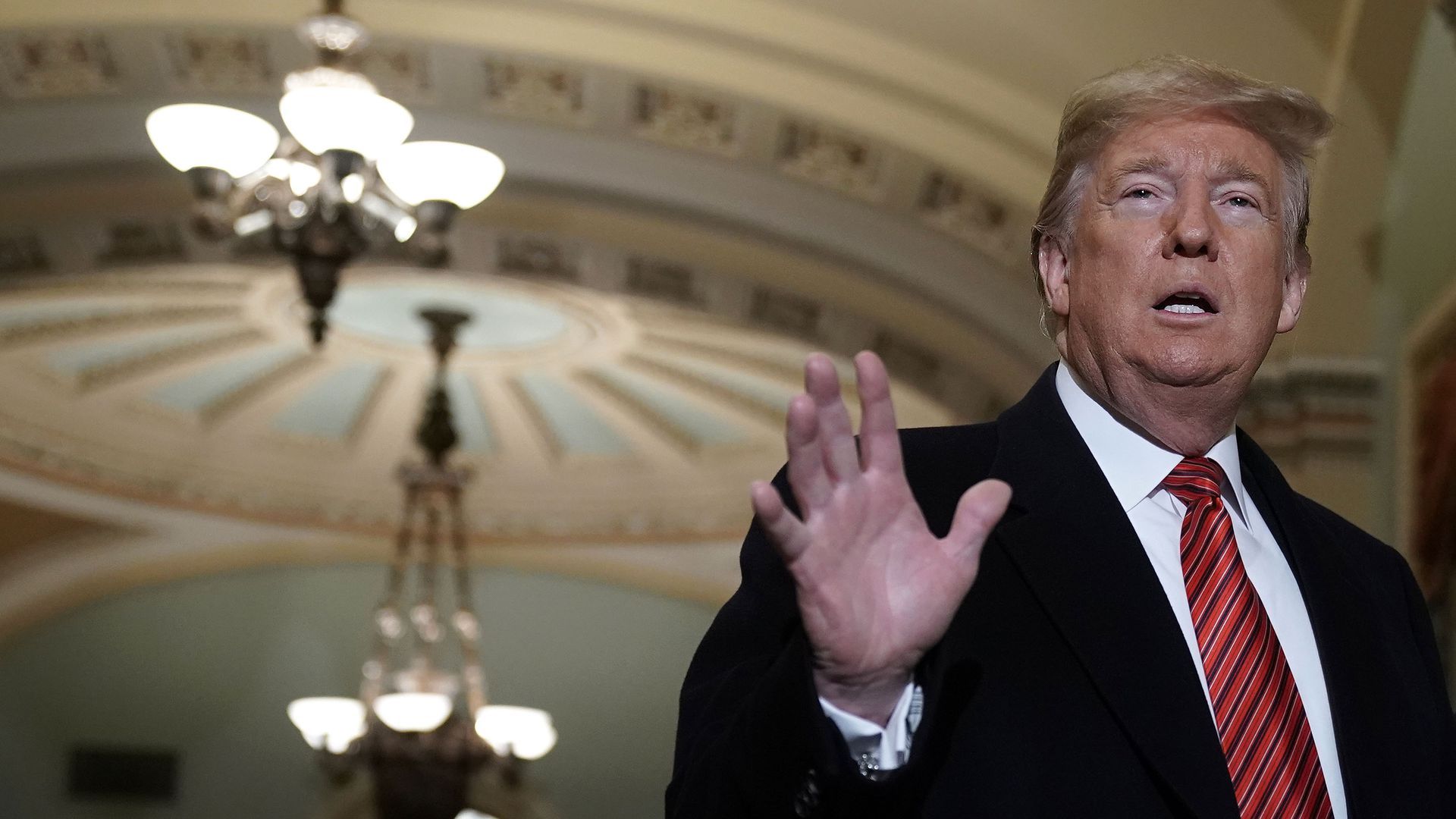 In a speech Saturday afternoon, President Trump confirmed that in order to end the government shutdown, he is proposing a 3-year extension of protections for DACA recipients and Temporary Protected Status (TPS) holders in exchange for $5.7 billion in border funding, as first reported by Axios' Jonathan Swan.
The big picture: As indicated by House Speaker Nancy Pelosi 30 minutes before Trump's address, this proposal is likely dead on arrival. Pelosi said in a statement: "[Trump's] proposal is a compilation of several previously rejected initiatives, each of which is unacceptable and in total, do not represent a good faith effort to restore certainty to people's lives."
Senate Minority Leader Chuck Schumer also issued a statement, saying: "It was the President who singled-handedly took away DACA and TPS protections in the first place — offering some protections back in exchange for the wall is not a compromise but more hostage taking."
Other Democrats and aides echoed that same sentiment and said Trump must reopen the government so the two sides can fully negotiate on border security proposals.
Details: Trump also said the plan, which will be brought to the Senate floor by Majority Leader Mitch McConnell this week, will include funding for several other security measures.
$800 million in "urgent humanitarian assistance."
$805 million for drug detection technology ports of entry.
2,750 additional border agents and law enforcement.
75 new immigration judge teams to reduce court backlog of 900,000 cases.
A new system to allow Central American minors to apply for asylum in their home countries and reform to promote family reunification for unaccompanied children.
3 years of legislative relief for 700,000 DACA recipients, which will give them access to work permits, social security numbers and protection from deportation.
3-year extension of TPS.
$5.7 billion for border wall.
At a meeting with reporters, which was attended by Vice President Mike Pence, Homeland Secretary Kirstjen Nielsen, Jared Kushner, chief of staff Mick Mulvaney and head of legislative affairs Shahira Knight, Pence insisted that this is "not an amnesty bill" and that there is "no pathway to citizenship" — likely in an effort to head off backlash from members of Trump's conservative base.
Between the lines: Pence also told reporters that officials had gotten the idea of bringing TPS and DACA to the negotiating table from conversations with "rank and file" Democrats. In other words, as PBS' Yamiche Alcindor notes, the White House is "looking for Dems to break ranks with Pelosi and Schumer and support Trump's plan."
Go deeper