The Donald and Nancy show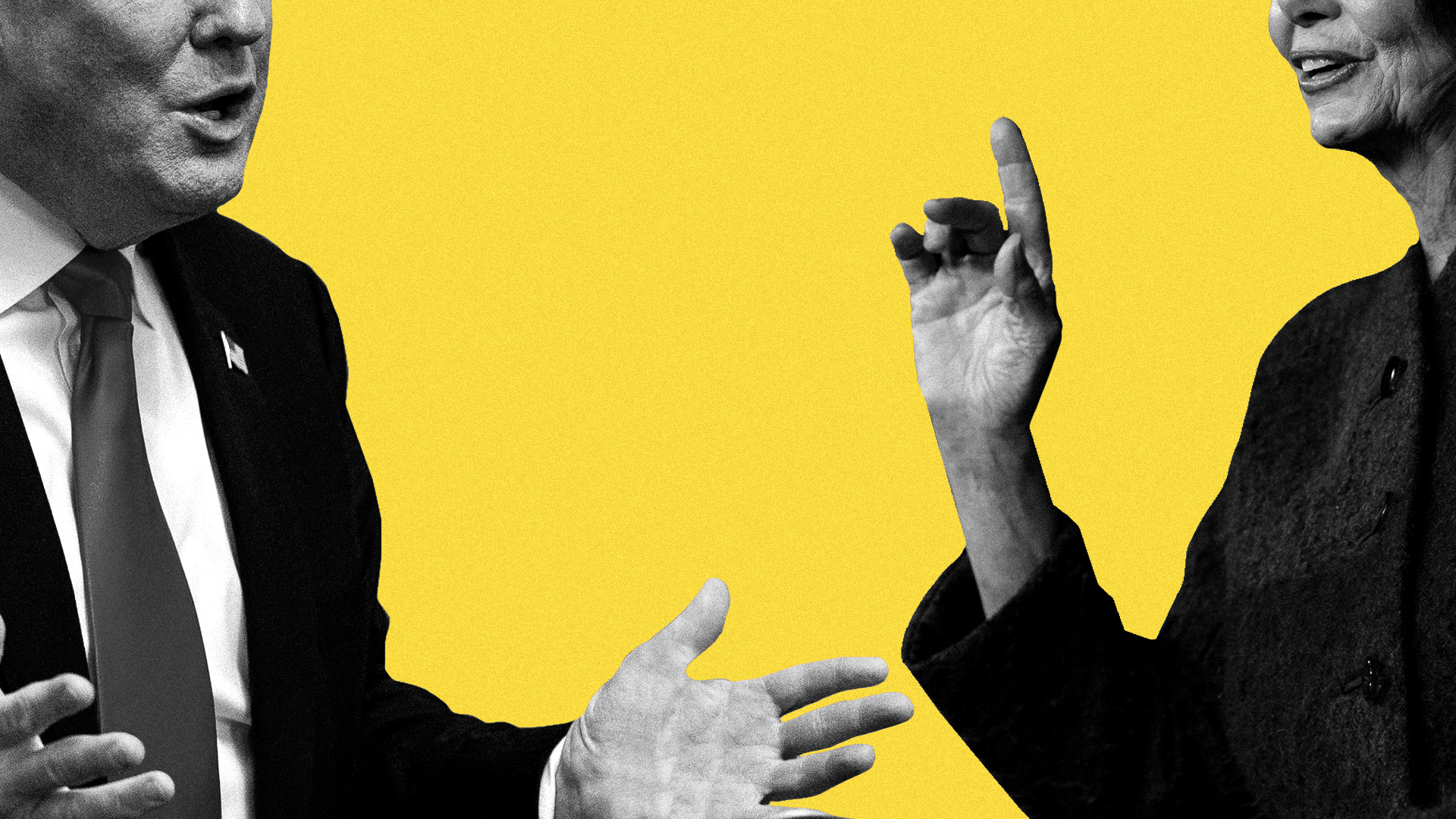 The cordial exchanges between President Trump and House Speaker Pelosi — from just weeks ago — appear to be over, as the two have moved to strip away privileges traditionally honored across party lines.
Driving the news: On Wednesday, Pelosi sent Trump a letter asking him to delay his State of the Union address until the government shutdown is resolved, citing security concerns. Today, Trump used the same reasoning to inform Pelosi that he will postpone her planned 7-day overseas trip to Brussels, Egypt and Afghanistan.
"Due to the shutdown, I am sorry to inform you that your trip to Brussels, Egypt and Afghanistan has been postponed. We will reschedule this seven-day excursion when the Shutdown is over. ... Obviously, if you would like to make your journey by flying commercial, that would certainly be your prerogative."
Between the lines: As CBS' Steven Portnoy notes, aides had asked news organizations not to publicly report the details of Pelosi's trip due to national security concerns. She was scheduled to depart at 3 p.m., just 30 minutes after the letter was released, Fox News' John Roberts reports.
What they're saying:
Pelosi deputy chief of staff Drew Hammill: "The CODEL [congressional delegation] to Afghanistan included a required stop in Brussels for pilot rest. In Brussels, the delegation was scheduled to meet with top NATO commanders, U.S. military leaders and key allies—to affirm the United States' ironclad commitment to the NATO alliance. This weekend visit to Afghanistan did not include a stop in Egypt. The purpose of the trip was to express appreciation and thanks to our men and women in uniform for their service and dedication, and to obtain critical national security & intelligence briefings from those on the front lines. The President traveled to Iraq during the Trump Shutdown as did a Republican CODEL led by Rep. Zeldin."
Sen. Lindsey Graham: "One sophomoric response does not deserve another. Speaker Pelosi's threat to cancel the State of the Union is very irresponsible and blatantly political. President Trump denying Speaker Pelosi military travel to visit our troops in Afghanistan, our allies in Egypt and NATO is also inappropriate."
Rep. Adam Schiff: "The president's decision to disclose a trip that the speaker was traveling to a war zone is completely and utterly irresponsible. ... All too often in the last two years, the president has acted like he's in fifth grade."
The bottom line: With 800,000 workers missing paychecks and government services on life support, the shutdown looks far more like a political campaign than a negotiation.
Go deeper