The Brexit dilemma: British politics is broken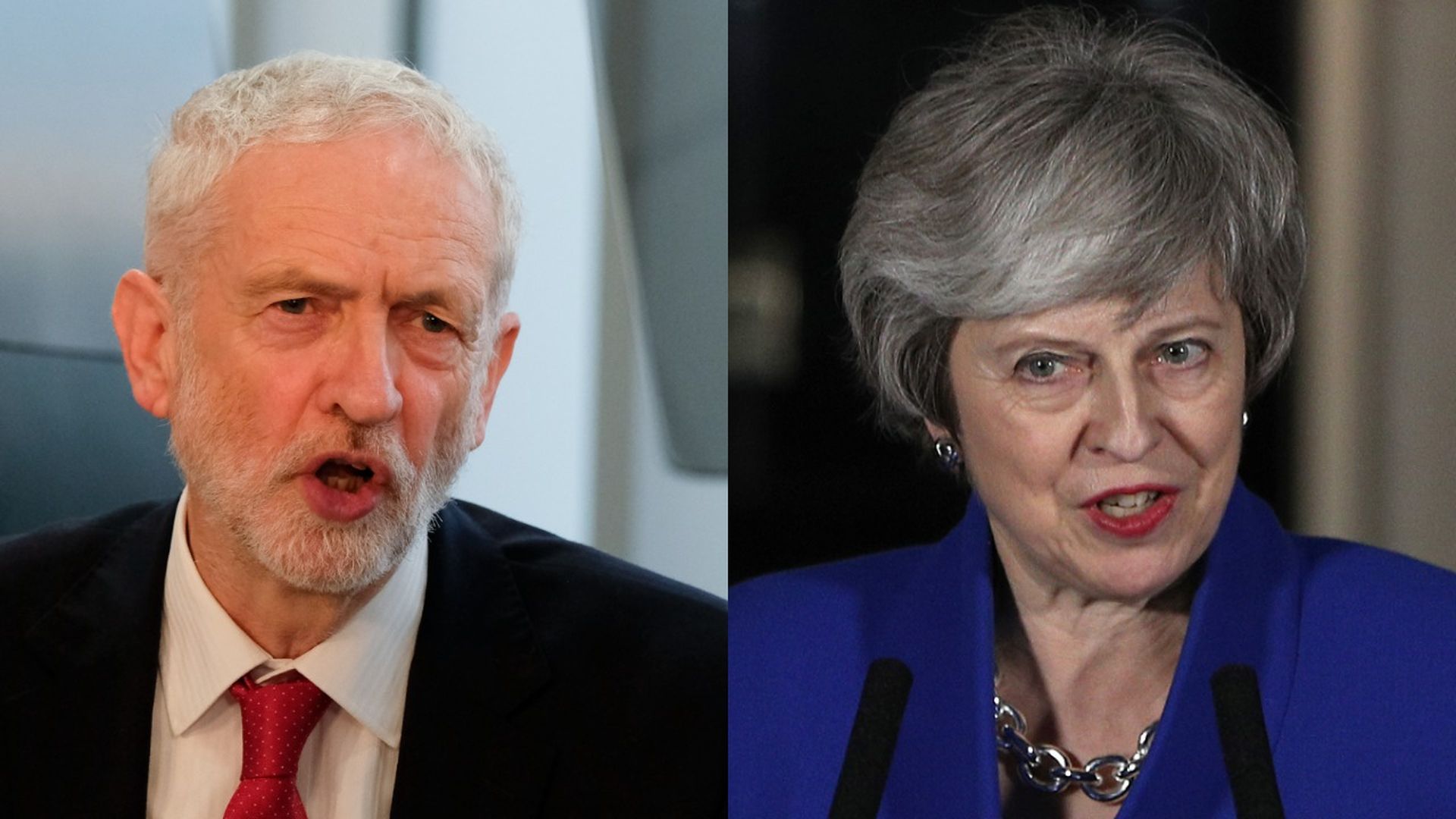 The U.K.'s divides over a Brexit deal are often summarized in jargon unintelligible to a casual watcher of world politics — the backstop, customs unions and common markets — but the key driver is something much more familiar: political polarization.
The big picture: The two major parties are both bitterly divided between each other, and among themselves. Red lines from regional parties based in Northern Ireland and Scotland make compromise more difficult still. Those faction-driven politics have made consensus elusive on an issue that will have lasting economic and societal impacts for decades.
You see it in the Conservative Party's long-foreseen inability to back a reasonably negotiated Brexit deal from Prime Minister Theresa May — while simultaneously refusing to trigger a leadership contest that could inject fresh thinking.
You see it in an opposition Labour Party that's ruled by the far left at the grassroots but mostly center-left in government, creating an untenable dichotomy that's left it unable to present a clear alternative to May.
You see it in the actions of Northern Ireland's conservative Democratic Unionist Party and the leftist Scottish National Party, whose existential mandates logically require them to be beholden to both political ideology and their respective parts of the U.K.
The Conservative state of play: Dozens of members of the arch-Brexiteer European Research Group voted against May's deal for Brexit — a policy outcome to which many have dedicated decades of their political lives.
The Labour state of play: The New York Times has an excellent piece on the political dilemma currently facing Labour's leader, Jeremy Corbyn, a far-left Eurosceptic leading a party increasingly split along socioeconomic lines.
"Should they stand up for open borders and multiculturalism and risk cutting loose white workers who have drifted to the anti-immigrant right? Or try winning back those voters with a liberal version of the fight against global institutions, trade pacts and migration?"
What's next: If the parties in power can't agree to some sort of deal, there's been talk of a second referendum to determine what's next for Brexit — but that presents its own mess of polarized problems because no one has any idea what the choices should be.
Those on the left will argue that "remain" has to be an option — and say that the political difficulties outlined above weren't originally clear to voters — while the right argues that the decision to leave is final.
Those on the far-right will argue that a clean, "no deal" Brexit should be an option — despite the economic issues that it could bring — which would split Brexit supporters if paired with a softer option, possibly allowing "remain" to prevail.
The bottom line: There's little support in Westminster for a "no deal" Brexit, but with the deadline approaching and the sides as far apart as ever, the U.K. could well stumble over that cliff's edge on March 29.
Go deeper: Brexit's future looks murkier than ever
Go deeper