Trump digs in on $5.7 billion for border wall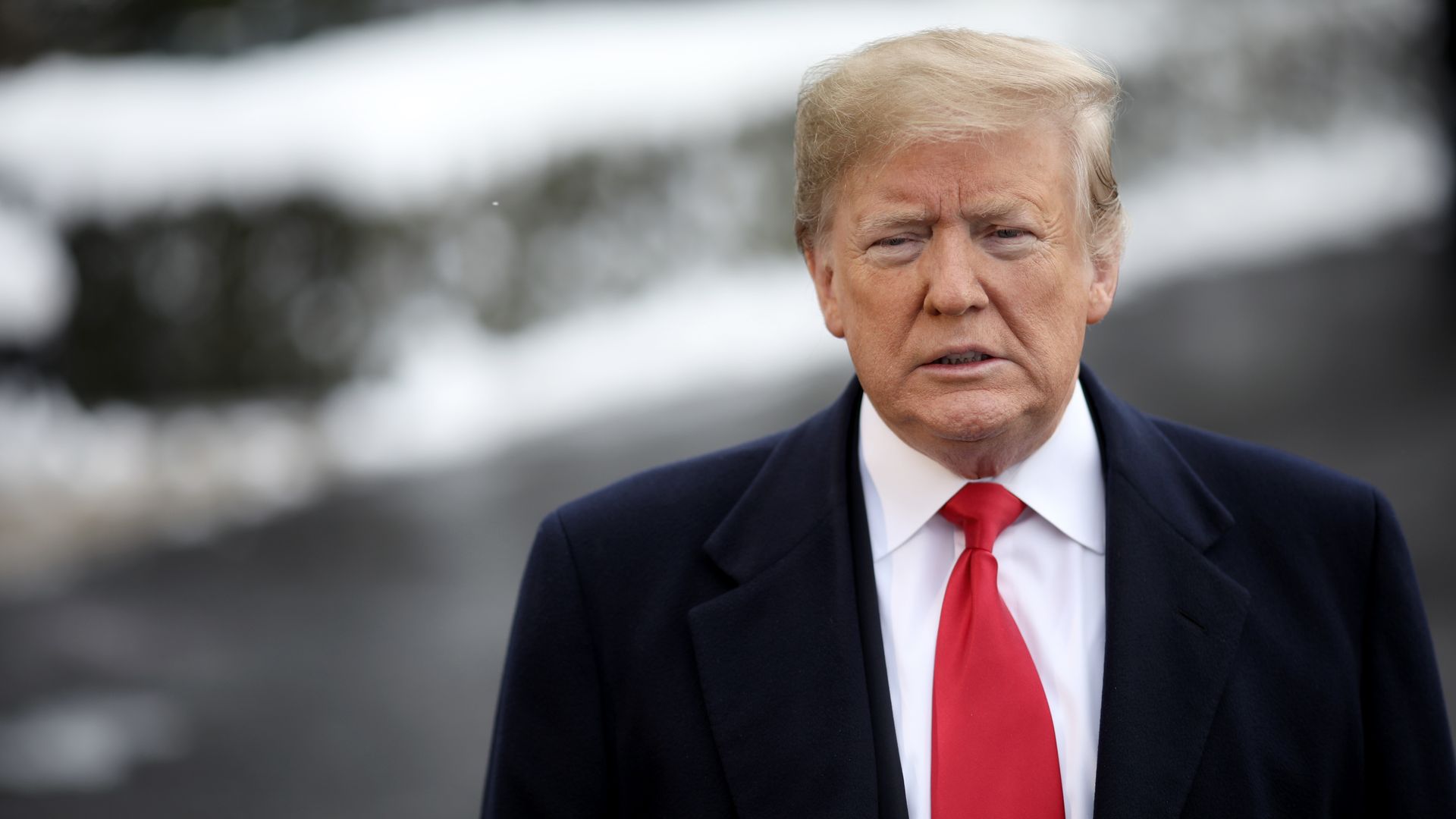 During a White House lunch focused on ending the government shutdown with House Republicans Tuesday, President Trump remained committed to his demand for $5.7 billion for a wall on the southern border, while continuing to distance himself from declaring a national emergency in order to get it.
"The topic was brought up only once — not by the president — and we spent hardly any time on it," Congresswoman Susan Brooks (R-Ind.), who attended the lunch, told Axios.
Why it matters: On day 25 of the shutdown, there is still complete gridlock between Democrats and Republicans on how to reopen the government. And while at this time last week the president was considering declaring a national emergency as a way to bypass Congress to get border funding and end the shutdown fight, GOP members who were present at today's lunch told Axios that Trump is now set on getting Democrats to negotiate, and that he shows no signs of backing down until they do.
"The president is resolute in the number he asked for and frankly has no reason to discuss anything else until there's any good faith offer from the Democratic leadership," Rep. Doug Collins (R-Ga.), who was also in the room, told Axios.
Brooks added that White House chief of staff Mick Mulvaney, Jared Kushner, Vice President Mike Pence, legislative affairs director Shahira Knight, and Homeland Security Secretary Kirstjen Nielsen were all at the meeting.
Meanwhile, several Democrats, including some who rejected the White House's request to attend today's meeting, have said they don't think a compromise on the border wall is appropriate until the government is reopened.
"Under these circumstances, we need to reopen the government — then we'll talk," one House Democrat who rejected Trump's invitation told Axios. "I have great respect for the office but … I don't think it's appropriate to close the government as a negotiating tactic."
A spokesman for Rep. J. Luis Correa (D-Calif.), who also rejected an invitation, told Roll Call that the Congressman "welcomes the opportunity to talk with the president about border security, as soon as the government is reopened."
What's next: Trump's strategic communications director, Mercedes Schlapp, told reporters today that the president will host bipartisan members of the Problem Solvers Caucus at the White House this week.
Go deeper:
Go deeper