Off the sidelines and earning $30 an hour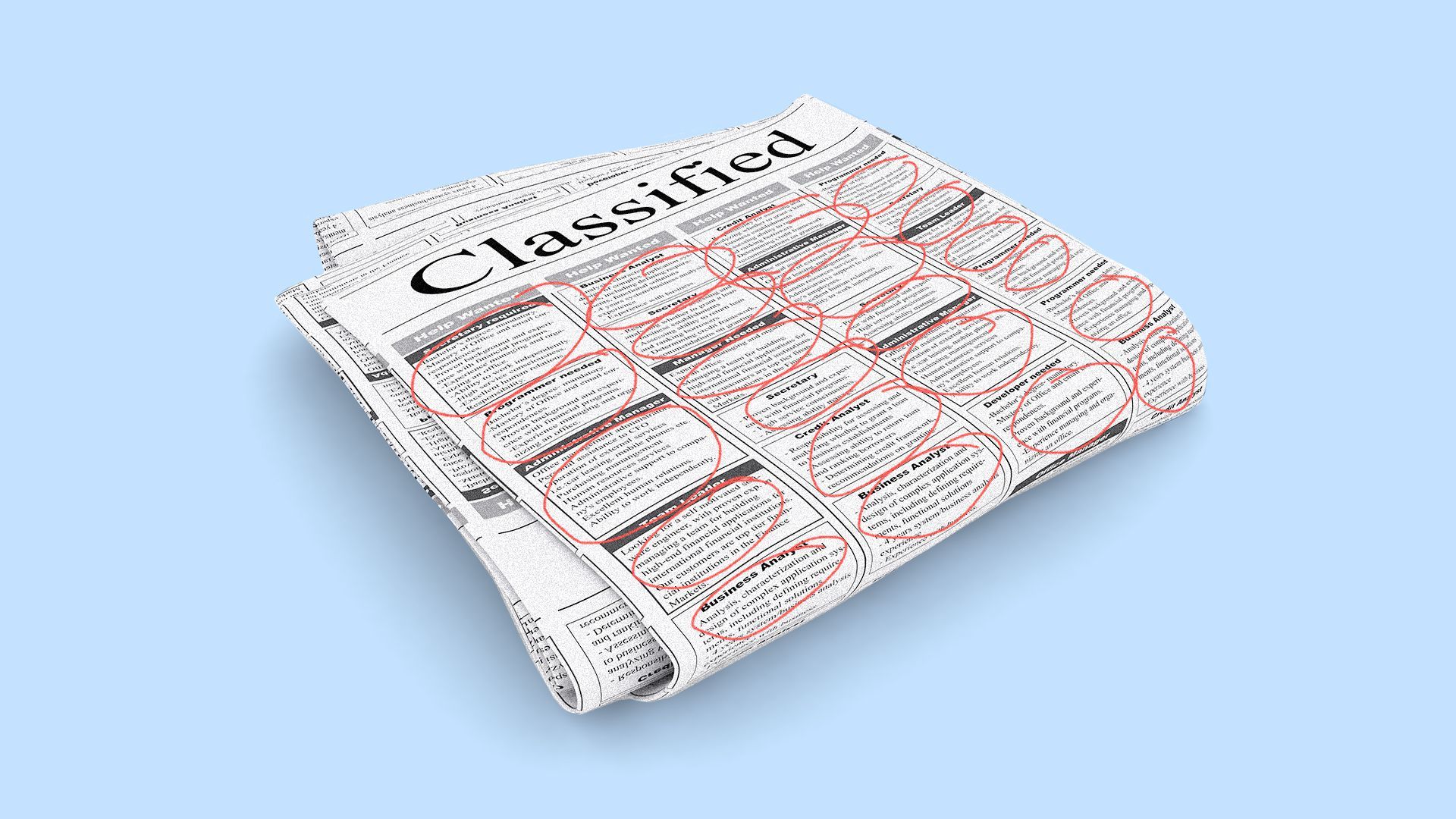 U.S. companies — desperate for workers despite the threat of recession — are lowering the qualifications they've previously demanded of new employees. But they are finding that many long-term jobless Americans first require training and help in the very basics — getting to work, doing so on time, and paying for any required uniforms.
What's happening: Cities across the U.S. are stepping in with "life and employment skills" classes and assistance for Americans who have been left out of the economy — former convicts, ex-drug addicts, and others at the fringes.
Among the winners in these new circumstances: Mara Picazo, a 29-year-old Denver mother of two who three years ago was earning just $9.25 an hour. Now, as an apprentice on a construction site, she is on the verge of tripling her former wage to $30 an hour.
The big picture: One of the major factors animating the last two or three years of political turbulence in the U.S. has been the economic sidelining of millions of Americans as jobs have moved overseas or been automated away.
But this narrative leaves out an invisible swath of the country that is absent from the primary Labor Department statistics: tens of millions of hard-core unemployed, who have been jobless for a year or more.
For years, company executives and government officials have described these people as largely beyond help — too old to be retrained for new work, too drug-addled to pass blood tests, or disqualified because of a prison record.
The dire need for new workers has turned this reality on its head.
Picazo works for a contractor that is part of a five-year, $1.2 billion project to rebuild a 10-mile section of Interstate 70, north of Denver. The project's lead is Kiewit, a major construction company. John Locke, a program manager for Kiewit, tells Axios that the firm is looking to hire up to 600 people by next summer.
But the city has a 3% unemployment rate, much tighter than the national 3.9% figure, making it extremely difficult to find workers.
This has left companies like Kiewit open to hiring people they might not previously have considered.
But Locke said these workers come with a lot of "barriers" to working in a traditional job — like financial problems that prevent them from having a regular place to live, transportation, or childcare.
About a year and a half ago, the city and state launched a program called WorkNow, an association that organizes all of these services. It can help find money to pay emergency rent, provide a pair of boots, set up shuttles to a construction site so workers can be on time, and find child care.
WorkNow helped Picazo when she recently had "problems with money. WorkNow helped me pay for books — they paid $400. They helped me buy tools," Picazo tells Axios.
Now Picazo has become an evangelist for her contractor, Sturgeon Electric, and WorkNow. "We are spending a lot of time going out and telling people, 'This is a career opportunity. You don't have to go to college.'"
Katrina Wert, a director at WorkNow, tells Axios that participants in the program are people from "neighborhoods that haven't accessed prosperity." They generally have lower than average education and lower than average income, she said.
"We help people get more qualified for industries looking for workers," Wert said.
Construction is perfect because there is a low barrier to entry and it is relatively easy to be promoted once you are hired, she said.
In Washington, D.C., Henry Schultz tells a similar story. He is an adviser to the Excel Automotive Institute, which teaches auto mechanics largely to ex-convicts.
Last year, 12 young men and women finished the course, and nine of them passed a grueling electrical certification course.
Later this month, they will continue and learn to fix brakes, steering and suspension systems.
When they are done, Ford has agreed to hire them as entry-level mechanics, Schultz said. The average entry-level pay is about $16.50 an hour, he said. Another class of 16 will also begin the course. "We cater to at-risk young adults," he said. "90% to 95% are ex-offenders" and are on average 24 or 25 years old.
But before any get started, they have to take a 48-hour "life and employment skills" course, carried out by an agency called Thrive, that is similar to the Denver program, teaching how to be on time, carry oneself, write a resume, and so on.
Jed Kolko, chief economist at Indeed, said that a test will come when the economy slows down. "Do they keep their jobs or are they the first to be laid off, and if they are, how much of those skills translate to the next job?" Kolko said.
Go deeper