Chuck Grassley talks trade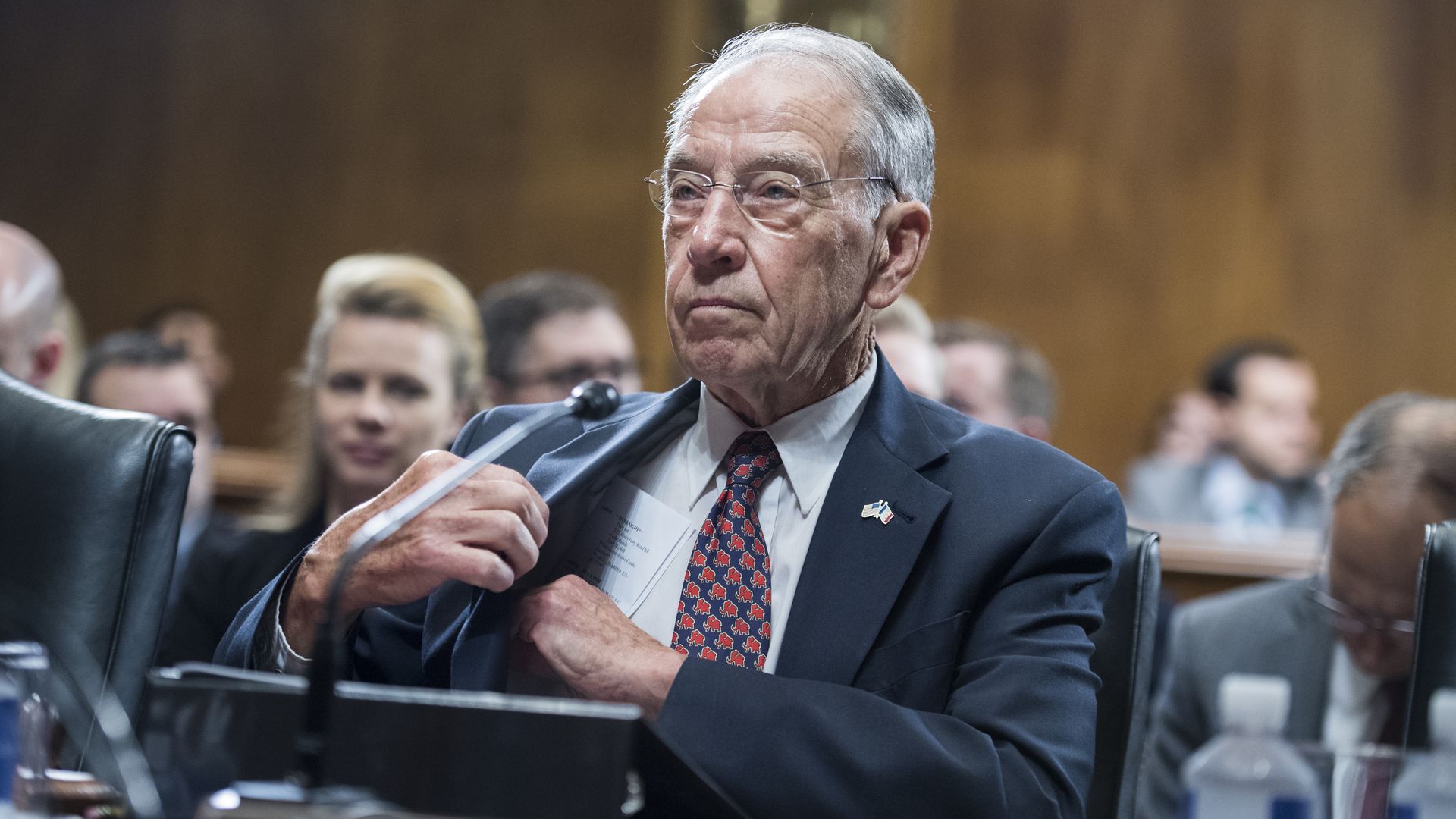 Powerful Republican Sen. Chuck Grassley, who as Finance Committee chairman will oversee Trump's trade agenda, sat down with Axios on Friday to discuss this fraught moment in international trade.
Behind the scenes: Trump's principal trade negotiator Robert Lighthizer had just left Grassley's office as we entered, a Grassley aide told us, and we began the trade discussion by asking Grassley what he learned from that conversation with Lighthizer. Grassley said they discussed the ongoing China negotiations, the early moves toward a U.S.-Japan bilateral trade deal, and the USMCA (Trump's re-negotiated NAFTA, which Congress has yet to approve).
Highlights from our conversation:
On China negotiations: "I think I would make my comment based upon what I've read in the paper, which isn't a whole lot different than what maybe he [Lighthizer] told us. Progress made on a lot of little things, but on the structural things that we want progress made on, there hasn't been much progress made. ... And a conclusion I've drawn, that doesn't necessarily come from his conversation, is so China makes an agreement. How are you going to police it?"
Why it matters: Trump has been touting the progress he's been making with China, but China hawks are worried he's going to let Beijing off the hook by effectively letting them purchase away their problems.
The risk: Instead of stopping their bad behavior — including theft of U.S. intellectual property — the Chinese government would go on a short-term shopping spree, buying U.S. products. Such a deal might temporarily stimulate the U.S. economy, and therefore be politically tempting for Trump, but it wouldn't solve any of the major long-term problems with China.
On the USMCA: Grassley reiterated that Trump should "pull out" of NAFTA if the Democrat-controlled House doesn't ratify the deal signed by the U.S., Mexico and Canada last November.
On re-engaging with Asia: Grassley said it "was a mistake" for Trump to withdraw from the Trans-Pacific Partnership trade deal with 11 other countries. He said the first step to repairing Asian trading relationships would be to "start with Japan. ... If we get a good bilateral agreement with Japan ... I'll bet it'll make up 90% of the bad things that resulted because we pulled out of TPP."
On Trump's hawkish trade adviser Peter Navarro: "He's a professor. Professors often aren't practical. ... His way, I think the practical effect would be to move forward ideologically without any concern about impact on the economy."
Go deeper:
Go deeper