Kamala Harris sets the stage for a 2020 run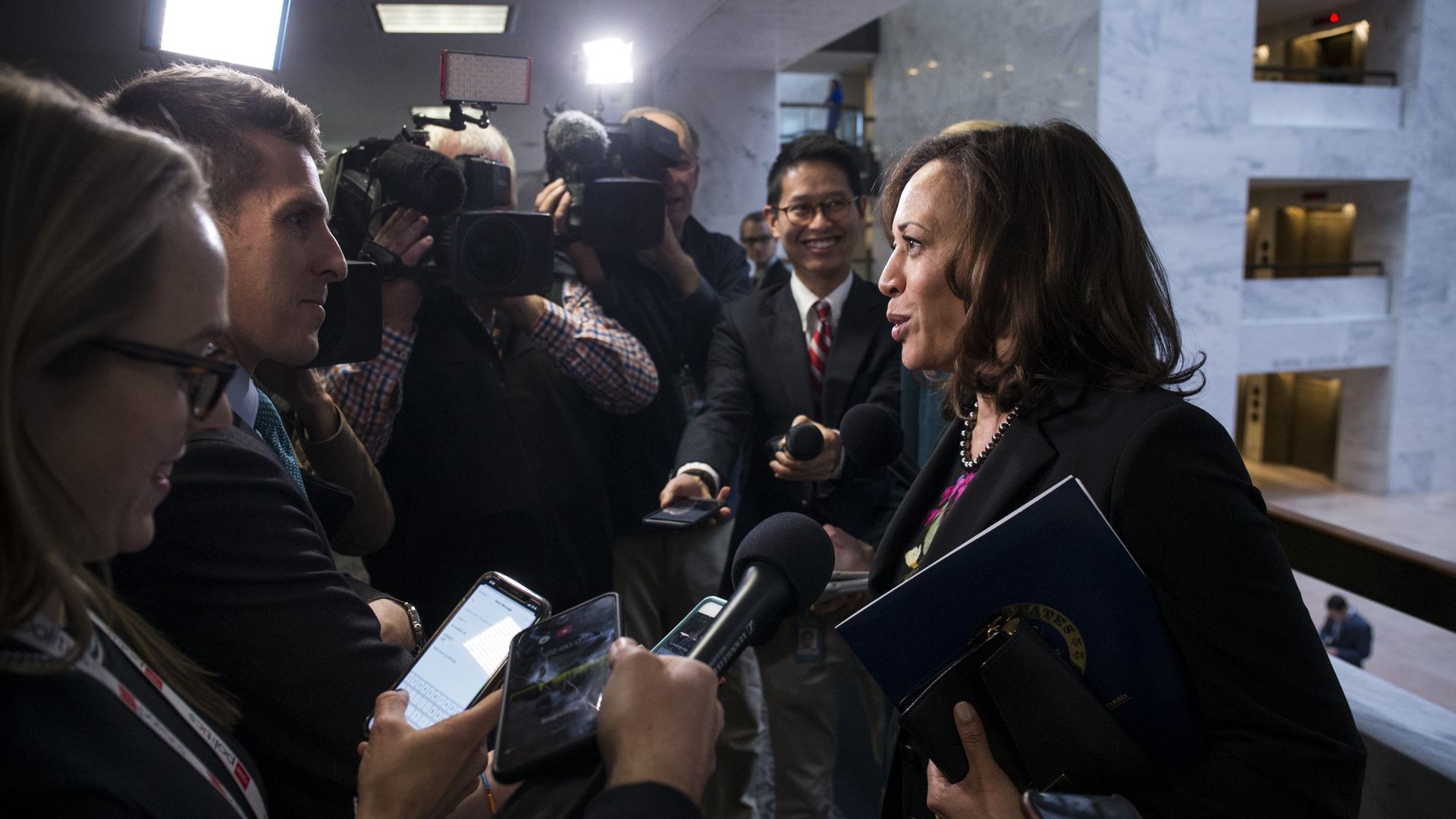 As 2020 inches closer — with Sen. Elizabeth Warren spending a weekend in Iowa, Rep. Tulsi Gabbard throwing her hat in the ring and former Vice President Joe Biden telling friends he's "definitely running" — Sen. Kamala Harris is getting closer to making a decision.
The big picture: The New York Times reports that Harris is believed to be "well positioned to create electoral coalitions among Democrats desperate" to beat Trump in 2020. But some worry that in a crowded field of Democratic candidates, Harris may not be liberal enough for voters, and could be in a tough spot if other progressive challengers "try to to move the debate to the left in ways that could force difficult choices for her," the Times explains.
Driving the news: On Friday night, Harris laid "the groundwork for a national profile" on a book tour stop in New York, where she discussed criminal justice reform, standing up to the White House, bipartisanship and more, the Times' Astead Herndon reports.
Herndon notes that Harris "speaks less about Wall Street corruption and economic populism" than potential 2020 challengers Bernie Sanders and Elizabeth Warren.
Harris has gained supporters for her notorious grilling of Trump administration officials on the Senate Judiciary Committee, but continues to face criticism from criminal justice activists because of policies she put in place as California's attorney general.
One woman who came to Harris' book tour stop on Friday, 33-year-old Sarah Weiss, said: "She keeps saying there's more that connects us than divides us, but at this time in politics, it seems like that's not enough."
Another woman at the event, 50-year-old Vaolree Celona, said: "Her message of unity, that's the key. If she can get people to have that hope again, that's what's important. That's what President Obama did."
Go deeper: Our 2020 election tracker.
Go deeper