Free streaming services begin to challenge subscription video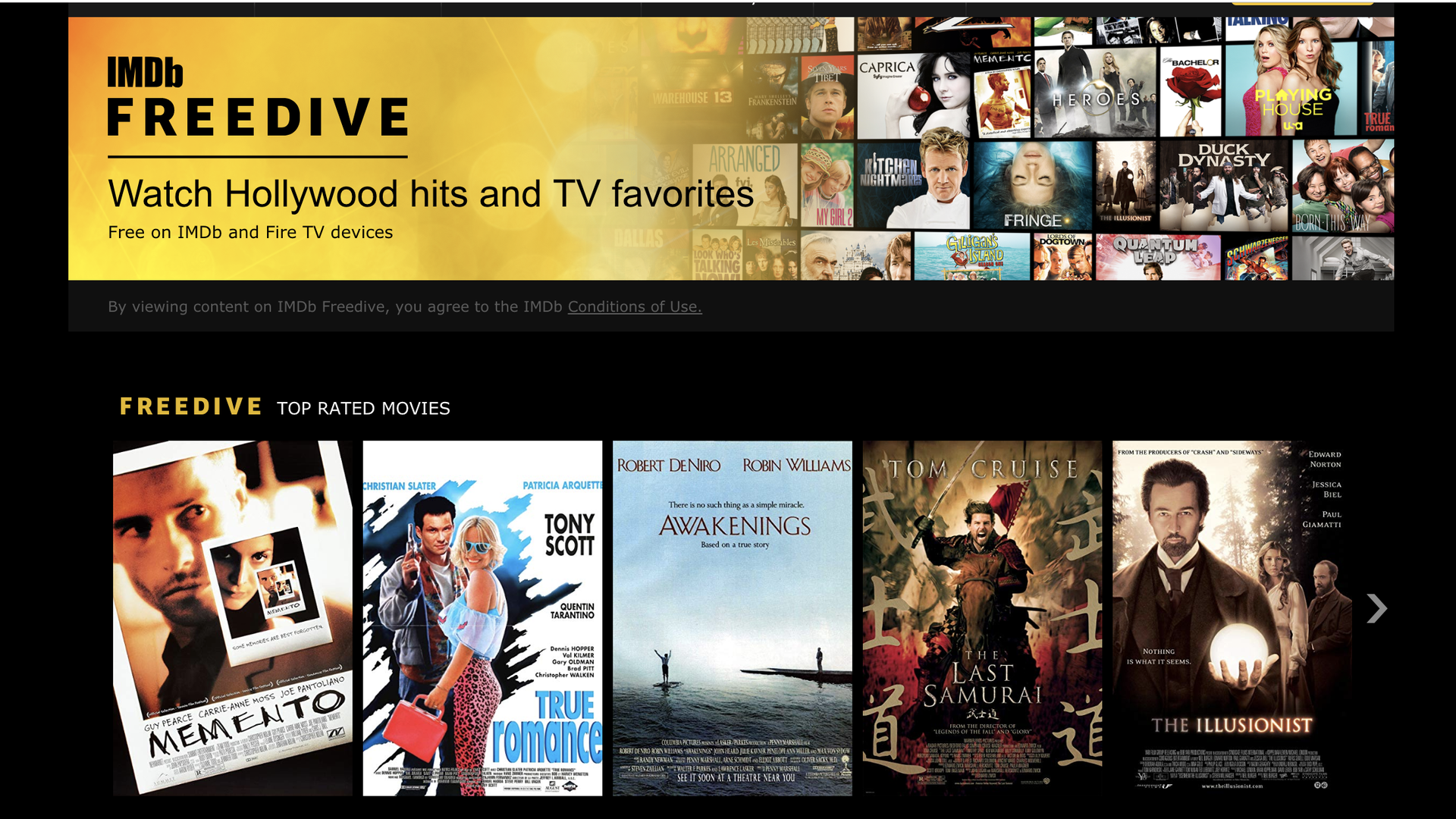 Over-the-top digital streaming TV companies that don't charge people for access are rising as consumers face saturated budgets for subscription content.
Why it matters: While data shows consumers today are generally less tolerant of ads, the rise of these services shows that there's still an appetite for advertising if it's relevant — and if it means consumers can access their favorite content without having to pay a subscription fee.
Driving the news: On Thursday, Amazon-owned IMDB launched Freedive, a free, ad-supported streaming video channel featuring hit movies and TV shows. The Freedive app can be viewed on mobile, desktop or on Amazon Fire TV devices.
Free, ad-supported streaming services are rising, as subscription streaming services face stiff competition for consumers' budgets.
Roku's free ad-supported channel, The Roku Channel, is the No. 3 ad-supported channel on the company's platform; it has about half the advertising per programming hour of traditional linear TV.
Hulu's ad-supported business continues to grow, with the company announcing over $1.5 billion in yearly ad sales this week.
Even telecom companies, like Dish and AT&T, are beginning to offer free tiers or products for streaming, like AT&T's "Watch" streaming service, which launched last year.
Free TV services like Xumo and Pluto TV also continue to grow their subscriber bases, as Digiday's Sahil Patel noted last year.
Between the lines: Some of these ad-supported streaming companies, which rely on new-age addressable (digitally automated) TV ads instead of traditional TV ads, could build lucrative businesses.
Both Roku and Hulu have increased their ad revenues by more than 50% years over year.
Roku's ad revenue increased 57% from 2017 to 2018. At this point, its advertising business is growing faster than its hardware business, a sign of investment in the company's free ad-supported channels.
While both are still relatively small in their share of the total digital advertising pie, they are expected to grow quickly over the next two years, per eMarketer.
Be smart: One reason these free services are growing fast is that they have become a win-win for manufacturers who need to add apps to new smart TV lineups and for programmers who need wider distribution for their content.
Go deeper