Just 5% of Earth's landscape is untouched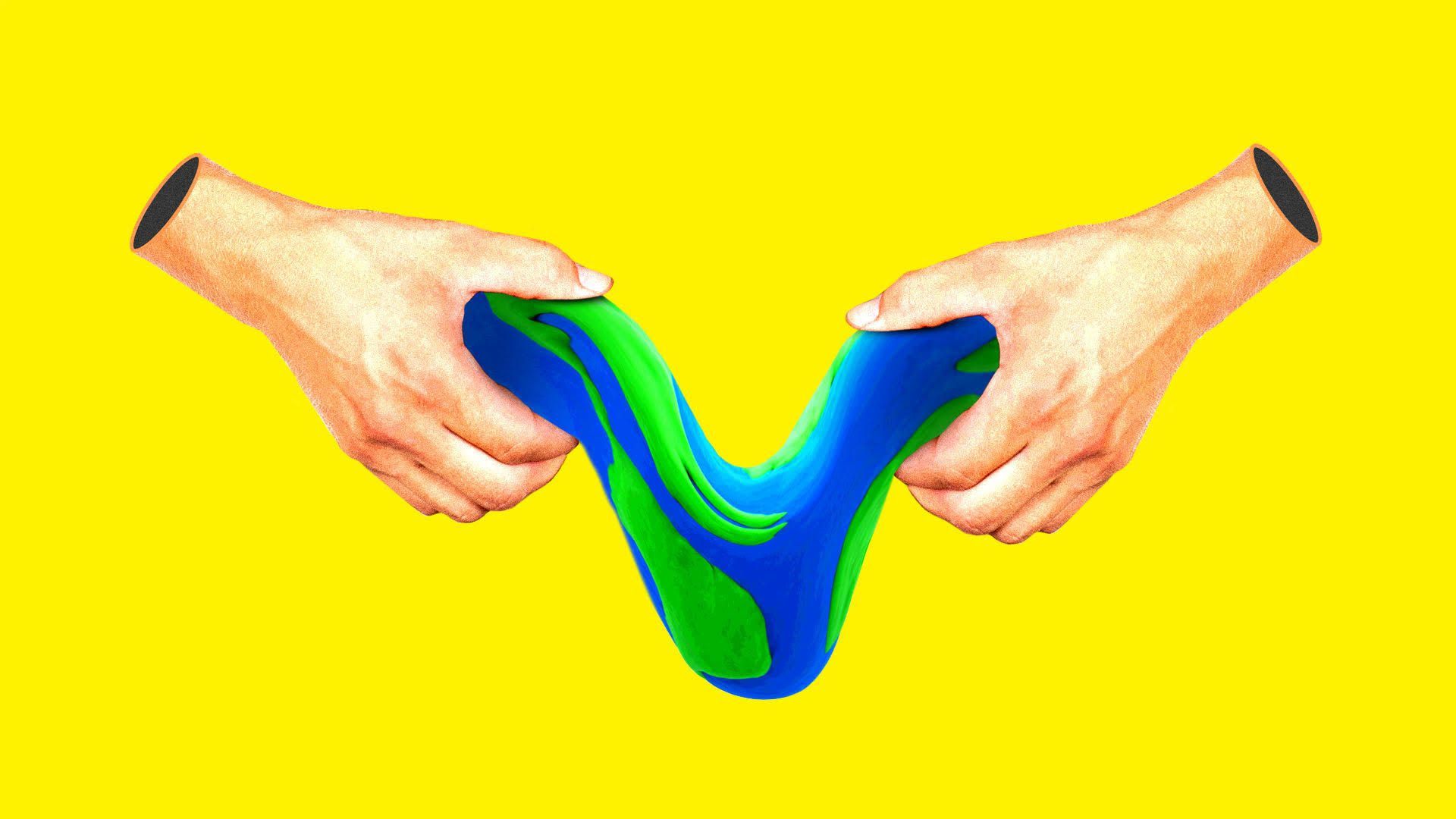 Humans have a greater influence on the world's landscape than previously thought, according to a comprehensive new high-resolution analysis of human modification of the planet. The map, published in the journal Global Change Biology, is meant to guide conservation strategy in the coming years.
Why it matters: The new study finds that just 5% of the Earth's land surface is currently unaffected by humans, far lower than a previous estimate of 19%.
95% of the Earth's land surface has some indication of human modification, while 84% has multiple human impacts, the study found.
"As a conservation community we can't just say once we've protected these last remaining wild places then we're done because the vast majority of the world is not those places."
— Christina Kennedy, study lead author and senior scientist at TNC
How they did it: The researchers from The Nature Conservancy and Conservation Science Partners used publicly available, high-resolution data from ground surveys and remotely sensed imagery on land use in 1 square kilometer grids to provide a spatial assessment of the impact of 13 human-caused stressors across all terrestrial lands, biomes and ecological regions, including:
Agriculture
The physical extent of human settlement
Transportation, including railroads and minor roads
Mining, energy production
Electrical infrastructure, including power lines
By the numbers:
52% of ecological regions and 49% of countries are considered moderately modified. These regions are highly fragmented, retain up to only 50% of low modified lands and fall within critical land use thresholds.
Only 30% of terrestrial ecological regions and 18% of the world's countries have a low degree of land modification and retain most of their natural lands, which are distant from human settlements, agriculture and other modified environments.
The study found the least modified biomes tend to be in high latitudes and include tundra, boreal forests, or taiga and temperate coniferous forests.
On the other hand, the most modified biomes include more tropical landscapes, such as temperate broadleaf and mixed forests, as well as mangroves.
What they're saying:
"Conservation organizations agree that the large intact landscapes remaining on the planet are conservation priorities. But our results suggest that less of the world's land remains unaltered by human activities, and most are in a state of intermediate modification at the threshold of critical tipping points..."
— Joe Kiesecker, lead scientist at TNC and a co-author of the report, in a statement
Yes, but: Other conservation groups focus more on the remaining wild places and have especially ambitious goals. For example, famed biologist E.O. Wilson advocates setting aside 50% of the world as preserves, including marine areas, up from about 15% of the land that is currently protected.
He told Axios' Alison Snyder in 2017 that expanding such reserves is essential for saving species that would otherwise go extinct.
"Only one-fifth [of species] have been stopped in the slide down towards extinction. Four-fifths have been continuing in spite of all our efforts around the world," Wilson said then.
Go deeper