Twitter's NBA deal gives fans a new way to watch games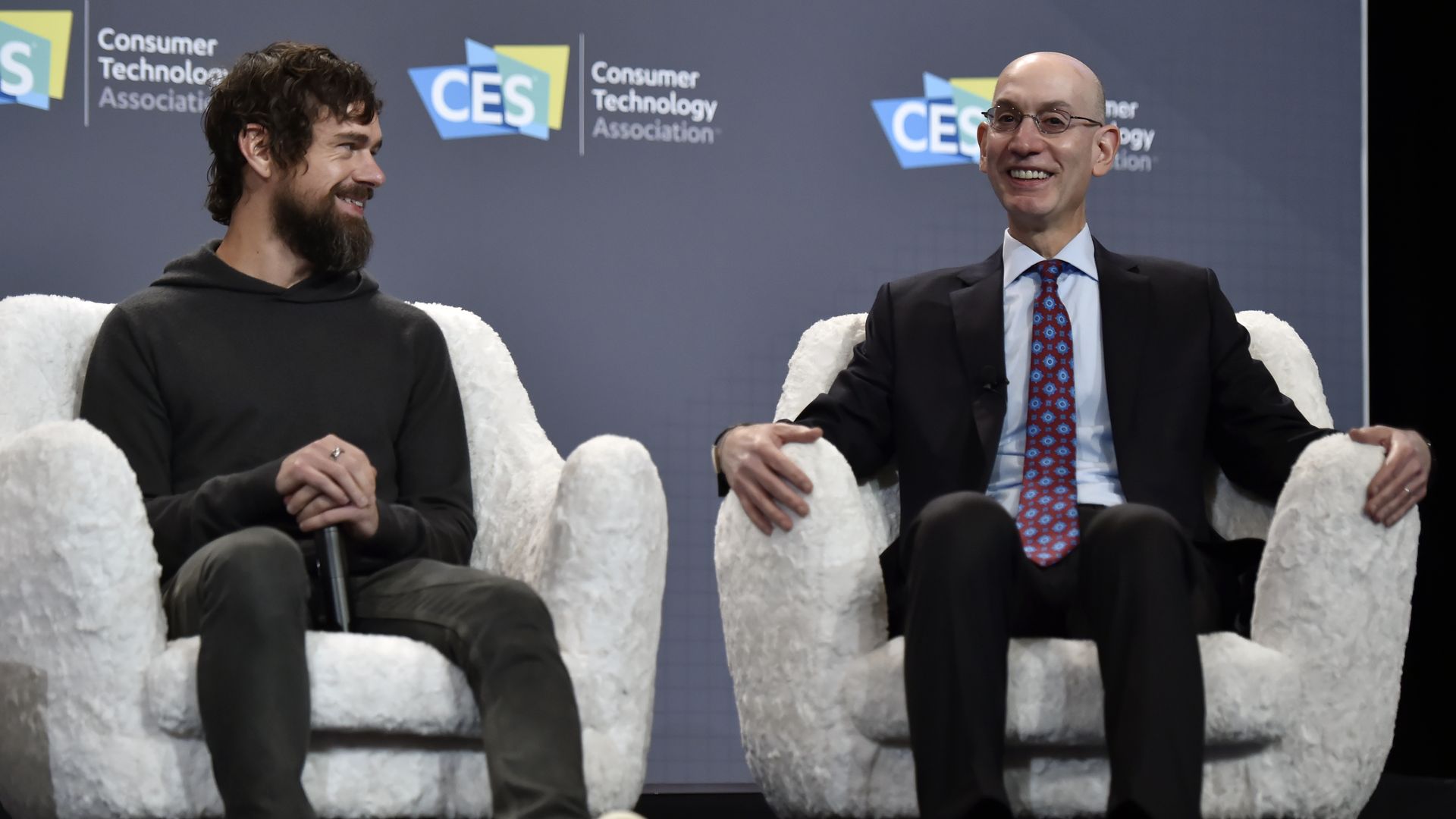 Twitter wants to give sports fans more games to watch in real time, even if it can't air them as they're shown on TV. At CES Wednesday, it announced a deal with the NBA and Turner Sports that will let users vote to choose a player to watch for part of the game via an isolated camera feed displayed on Twitter.
Why it matters: Everyone's trying to figure out how to marry live sports with social media since, increasingly, users are engaging with both simultaneously. This deal is an experiment, but it has big implications for the future of sports fandom and business.
How it works: Users watching regular season and some playoff games on TNT will vote on a player during the first half of the game that they wish to follow for the second half using Twitter's isolated camera feed.
The voting takes place through Twitter via the @NBAonTNT account. It will begin in February and will last for 20 Thursday night games thereafter.
In the second half, Twitter's camera will follow the player who wins the vote.
No wide-shots of the team or crowd angles will stream. The focus will remain on the selected player doing everything from talking to refs to tying his shoes.
Our thought bubble: The tech is being used for now to bolster fan engagement. One day a similar voting mechanism could be used for betting, which was legalized in May. NBA commissioner Adam Silver has been a vocal supporter of betting and broke ground last year when he signed a deal to let real-time NBA stats to be used for betting.
The big picture: The NBA is considered one of the most media-savvy sports league in the U.S., if not the world. It has pioneered the use of new platforms, like social media and virtual reality, and empowers its players to engage with fans online.
The deal is something that will help bolster fan engagement with their players, which in turn will drive viewership of the games and overall business around the sport. (More hyper-fandom means more ticket and merchandising sales.)
Between the lines: The move is a major signal from the NBA that it believes in the power players can have over teams or leagues in driving interest in the sport. It also suggests that the NBA sees the urgency in finding ways to bring its content and culture to younger audiences that aren't going to watch games live on TV.
"There is a disconnect with a group of our fans who are digital first that doesn't resonate with ratings."
— NBA commissioner Adam Silver speaking at the Consumer Electronics Show
Be smart: It's expected that the most popular players will win the camera close-up. This could dramatically empower players to embrace stardom over their own teams, which will help them land individual sponsorships, like sneaker deals.
It could also help Twitter create new brand partnerships and revenue streams. One can imagine the type of interest certain clothing or drinks sponsors will have in aligning their brand with the star player of each game.
But it could also cause problems for those franchises who emphasize teamwork.
Bottom line: The move, if successful, will be mutually beneficial for Twitter, the NBA and Turner Sports, which is a hard trifecta to pull off these days.
Sports are one of the only types of content that's still watched live, aside from news, so leagues have been reluctant to give broadcast rights to social media or streaming platforms beyond small pieces.
At the same time, both networks and leagues understand that the younger audience is watching less live TV, and are eager to find ways to use social media to complement the viewing experience, not cannibalize it.
Go deeper