Opioids app aims to lower response times for overdose victims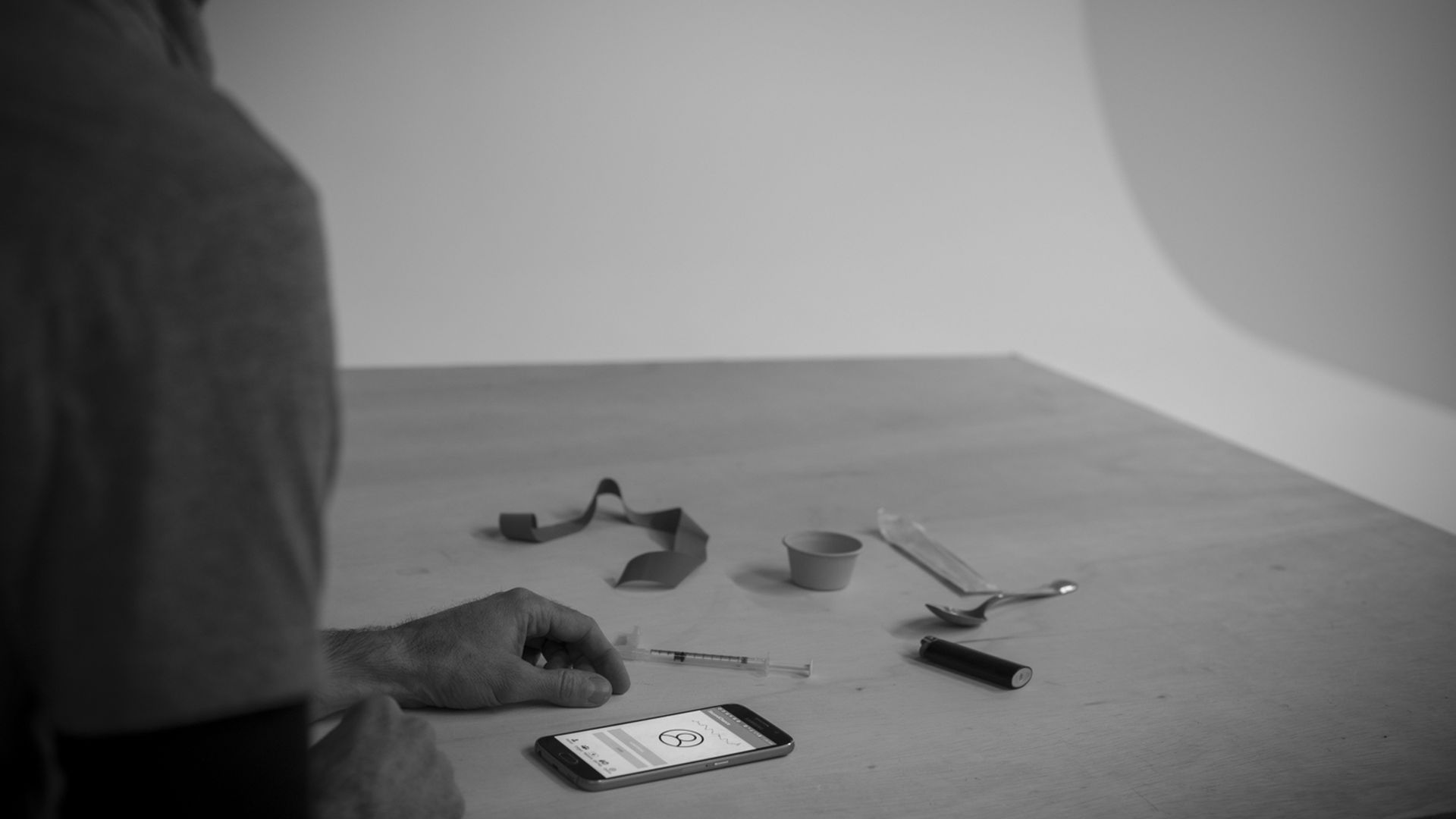 Researchers have developed a phone app they say could reduce the number of opioid overdose deaths by using sonar to detect symptoms and urgently message family, friends or emergency responders, according to a study published Wednesday in Science Translational Medicine.
Why it matters: Opioid overdoses kill an average of 130 Americans per day, but the immediate administration of naloxone and supportive respiratory care can dramatically reduce the rate of death, the researchers tell Axios. Outside experts, meanwhile, say that while this may be a good step toward developing more tools, the technology is not advanced enough to target areas that would more significantly impact the epidemic.
Background: Most unintentional opioid deaths are caused by respiratory failure, which exhibits two main precursors — frequent cessation of breathing (central apnea) or breathing drops to 7 breaths/minute or lower. After the overdose, there is a 5–10 minute window to administer naloxone, a medication-assisted treatment that reverses the temporary breathing symptoms
"By targeting these precursors, we hope to detect overdose early, to maximize the window between when someone is in trouble and summoning help."
— Study author Jacob Sunshine tells Axios
What they did: The University of Washington research team developed the app, called Second Chance, and tested it in two locations: a supervised-injection facility in Vancouver and an operating room where they simulated overdose events.
How it works: The system works by transforming the phone into an active sonar, similar to a bat or submarine, study author Shyamnath Gollakota says.
The phone's speaker transmits inaudible acoustic signals, which receive reflections off the human body to monitor breathing and watch for motions like a person's head slumping.
The system differentiates between people in the same place by locking onto the user opening the app, and can track that person for a short distance.
If overdose symptoms are detected, it would notify naloxone-equipped friends, family, or emergency medical services.
What they found: At the Vancouver facility, the app detected symptoms 90% of the time for up to 3 feet. At the operating room, it alerted 19 of the 20 simulated overdoses.
A phone app is an appealing method, Sunshine tells Axios, because more people now carry smartphones and there is less stigma to use an unobtrusive phone app.
"Addiction is a medical condition. They still want to stay safe. ... [T]hey are able to make the decision to come all the way to safe injection facilities [and] one could imagine them being capable of turning on the app."
— Shyamnath Gollakota
Limitations: The authors say most of the research was in monitored situations, so they are looking to repeat in a more natural location.
Outside perspectives: A couple of experts tell Axios that this is a good first step in a growing research field that looks into how tech can be used to combat the opioid epidemic.
Jane Liebschutz, chief of the division of internal medicine at the University of Pittsburgh's School of Medicine, tells Axios that from her experience with patients, she worries that some do not have smartphones or tend to run out of data.
However, she says the app is a step toward the ultimate goal of technology able to trigger intervention warnings before the patient takes the drug, based on dopamine surge or other factors.
Harry Nelson, managing partner of health care law firm Nelson Hardiman and chairman of the Behavioral Health Association of Providers, tells Axios, "This app will be useful for a slice of patients."
He agrees tech will play a key role in helping monitor patients and offering intervention assistance, but adds, "We also need to get into why people are engaging in this at-risk behavior."
What's next: The team says they are applying for FDA approval and plan to commercialize the technology through a UW spinout called Sound Life Sciences.
Go deeper