In Cairo speech, Pompeo tries to straighten out Trump's Mideast policy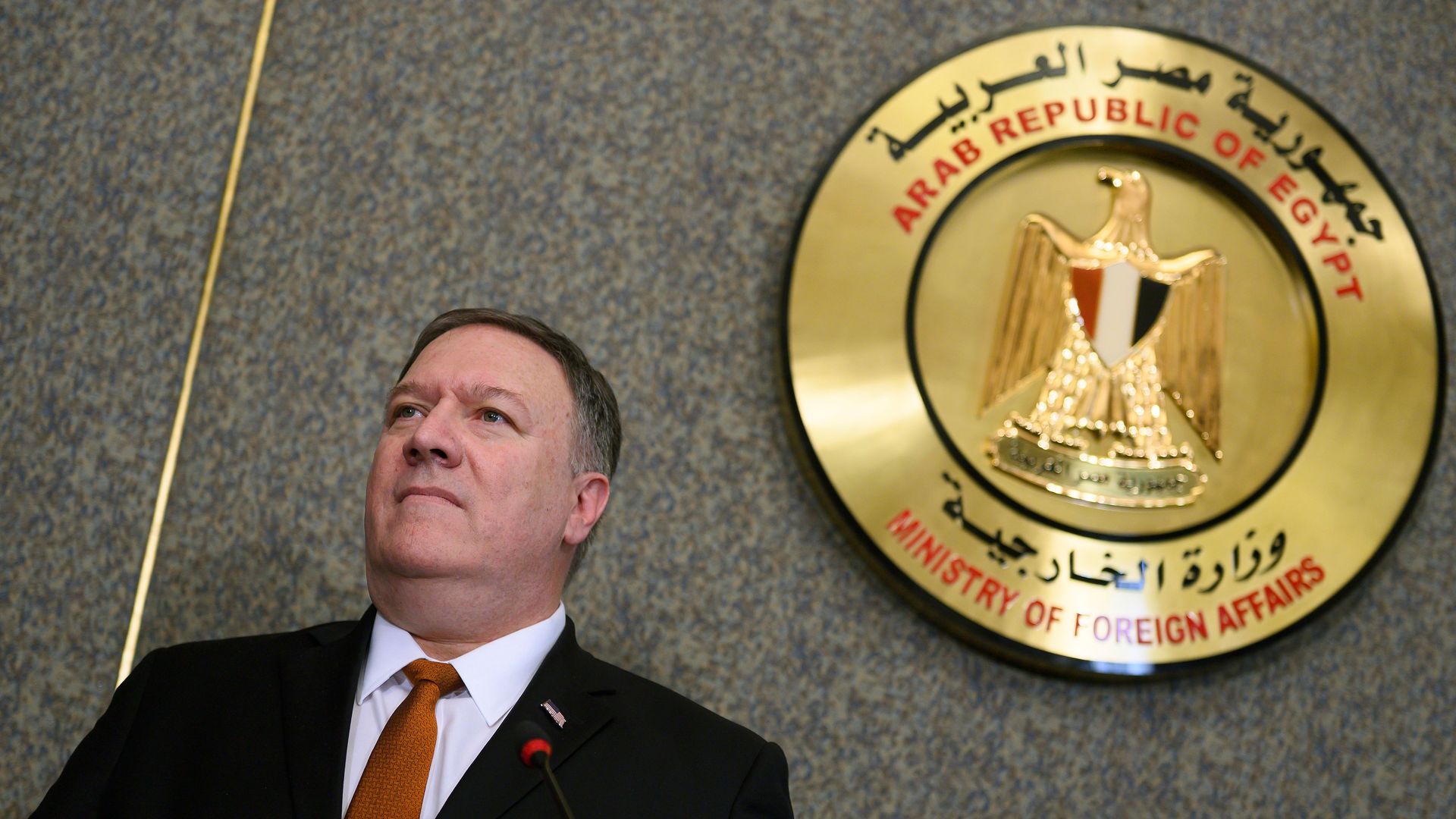 Secretary of State Mike Pompeo did his best on Thursday to paper over the contradictions in the Trump administration's Middle East policy, in a speech that was heavy on Iran bashing and light on criticism of U.S. allies.
The big picture: Pompeo performed his greatest verbal gymnastics when seeking to project an image of U.S. resolve against both Iran and the Islamic State, or ISIS, despite President Trump's decision to withdraw troops from Syria — the main purpose of the secretary's current Mideast tour. But given varying White House statements, Pompeo's claims that withdrawing the 2,000 U.S. troops from Syria doesn't constitute "a change in mission" deserve skepticism.
Details: Pompeo directed heavy rhetorical fire at Iran. In contrast to President Obama — who in a major 2009 address in Cairo expressed his desire for a new relationship with Tehran, despite a history of mutual grievances — Pompeo promised "to confront the ayatollahs, not coddle them" and to combat "the full array of the regime's malign activities."
He defended the Trump administration's decision to unilaterally withdraw from the Iran nuclear deal and said that the 12 demands he outlined for Iran to become a "normal nation" in his first major speech as secretary last May are still U.S. policy.
Unlike his predecessor in the George W. Bush administration, Condoleezza Rice, who chided U.S. partners for jailing dissidents, Pompeo made no mention of Saudi Arabia's brutal murder of journalist Jamal Khashoggi or its continued incarceration of peaceful advocates of reform.
Pompeo also called on Egyptian President Abdel Fattah el-Sisi to "unleash the creative energy of Egypt's people," but praised his "courage" in "promoting religious freedom" — even as some 60,000 political prisoners languish in Egyptians jails, five years after Sisi took power in a coup.
The bottom line: To the extent that the Trump administration has a strategy for the Middle East, it appears light on military presence and heavy on rhetoric and economic sanctions. Echoing Obama, Pompeo called this a "new beginning," but whether it will be any more successful than his predecessors' initiatives remains to be seen.
Barbara Slavin directs the Future of Iran Initiative at the Atlantic Council.
Go deeper