The force that could end the shutdown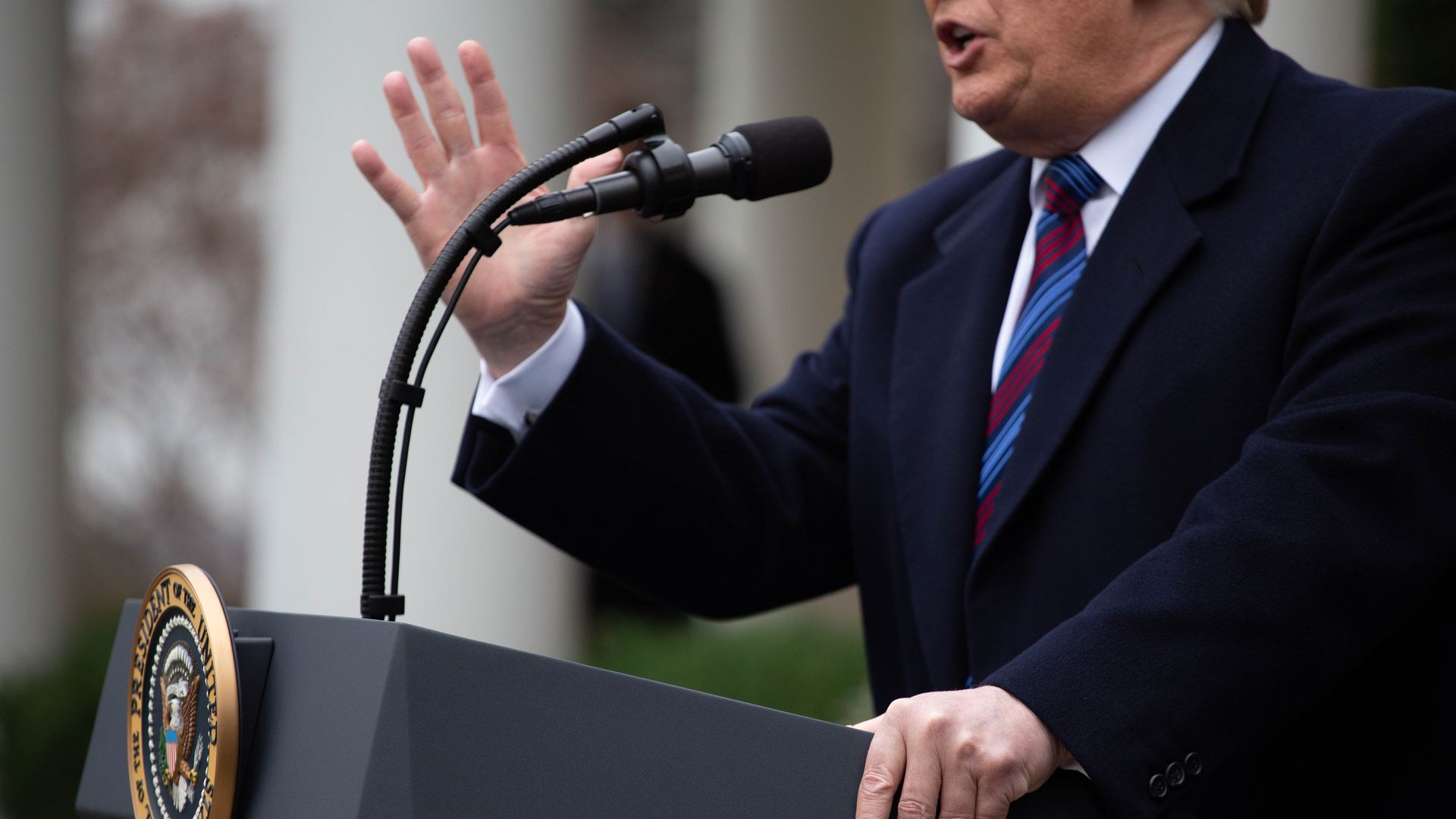 Asked during a Rose Garden news conference yesterday about a safety net for furloughed federal workers, President Trump replied:
"[T]he safety net is going to be having a strong border, because we're going to be safe. ... I really believe that these people — many of the people that we're talking about, many of the people you're discussing — I really believe that they agree with what we're doing."
Why it matters: A strong border doesn't pay the rent. Republican sources tell me that although they don't see an imminent solution to the shutdown — Trump said yesterday it could last for months or even years — the White House is likely to cave when 800,000 federal workers stop getting paid and the hardships become a staple of local news coverage across Trump country.
More than 80% of federal employees live and work outside the Washington metro area, per Federal News Network.
Most federal workers are paid biweekly; agency payroll schedules vary.
But crunch time is coming: "No pay may be provided for excepted [essential] work during the December 23-January 5 [today] pay period until the lapse in appropriations has ended," the federal Office of Personnel Management says on its website.
The stories are starting to dribble out, and soon could be a flood:
Just before Trump's news conference, CNN — with a "SHUTDOWN DEBACLE" graphic — did a live interview from Hagerstown, Md., with Lila Johnson, a janitor and federal contract employee who worries: "I won't be able to pay my bills."
Nora Brooks, a 61-year-old IRS customer service representative in Philadelphia, loves helping taxpayers get their refunds. Now she's furloughed, "worrying about whether she'll need to seek a second job," AP reports. "The agency requires pre-approval to avoid conflicts of interest, but there's no one in the office to sign off."
"She stayed up until 3 a.m. Wednesday figuring out which bills needed to be paid and which could wait. ... Brooks' recent purchases sit in bags, receipts on top, in case she needs money for the electric bill. The thermostat is turned down; she dons a hoodie inside."
Chris Erickson, a federal contractor and father of three from Salt Lake City, will likely postpone a 14th wedding anniversary trip with his wife to a cabin.
Be smart: For now, the shutdown is abstract for most Americans. When the coverage starts to focus on hardships in Trump country and the military, the uncrackable code may suddenly be solved.
P.S Asked whether he'd urge creditors to go easy on federal employees, Trump replied: "I think they will. ... I've been a landlord for a long time. ... [T]he people are all good for the money — they work with people. ... I would encourage them to be nice and easy."
Look for: stories about current and former Trump tenants, and interviews with both landlords and tenants about how common the "nice and easy" approach is.
Go deeper: The next casualties of a prolonged government shutdown
Go deeper