Why 2020 could be different for women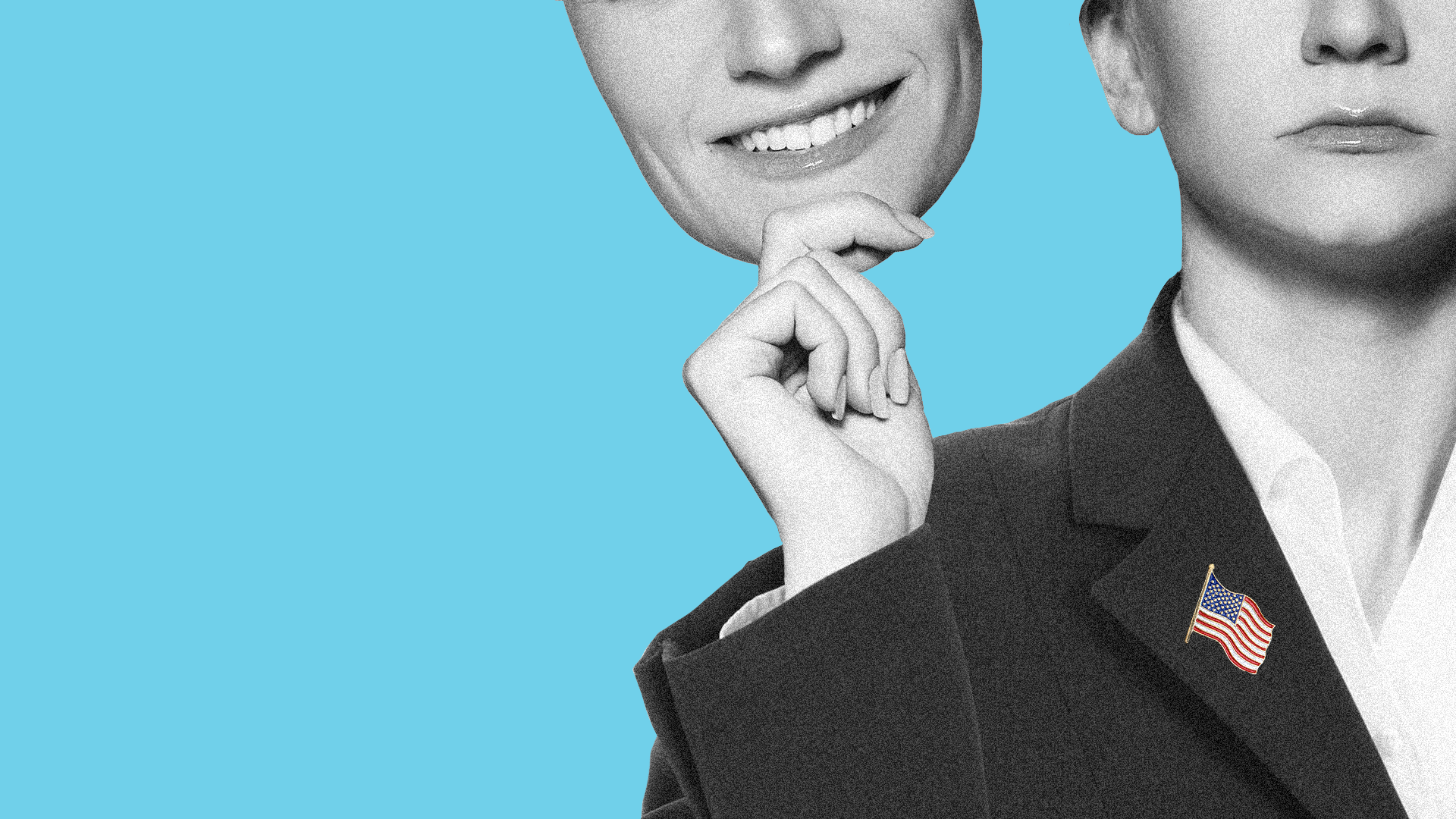 For the first time in a presidential election, 2020 could see several women running for the White House in the same primary — and that could finally break the cycle of gender-based criticism that plagued Hillary Clinton in 2016, according to conversations with several Democratic campaign veterans and political scientists.
Why it matters: We're fresh off the 2018 "Year of the Woman," Nancy Pelosi just re-claimed the gavel as House speaker, and there could be as many as four Democratic women running for president in 2020. Although female candidates will certainly face some sexist tropes this time around, the political landscape and conversation around women running for higher office has changed since '16.
"With more women in the race you're less likely to become a caricature of ambition and more likely to have your qualities come to the fore and be examined," said Jennifer Palmieri, Clinton's former communications director and White House communications director under Barack Obama.
Jennifer Lawless, politics professor at the University of Virginia, said the 2020 election will not be about "one woman versus the male presidency we've always had." Instead, "It's going to allow for a really serious conversation about the extent to which Americans are sexist."
The thinking goes that if multiple women are running and voters still throw out intangible criticisms like, "There's something about her I just don't like," then it's not just a Clinton problem.
Driving the news: The pattern hasn't changed just yet. The same day that Elizabeth Warren announced she's exploring a run for president, a debate emerged over whether she's vulnerable to the same criticisms Clinton faced — that she's cold and unlikable. Beto O'Rourke, meanwhile, has been lovingly compared to Barack Obama.
Warren has mostly dealt with the issue by ignoring questions about it, telling reporters this week that she'll "keep fighting the issues because I think that's what matters most." But she did poke fun at the criticisms by tweeting, "I hear women candidates are most likable in the quiet car!"
The big picture: Because people aren't used to seeing women in executive positions, especially as president, the challenge then becomes that female candidates have to remain likable and friendly, while demonstrating the competence to be commander-in-chief.
"I don't think we appreciate how deeply set our expectations of how women are meant to behave are set," said Palmieri. "As much progress as women have made, we're pushing against all of human history here. It's still a pretty radical thing for a woman to seek to be president of the United States."
"The expectations are just so much higher in terms of what the public wants from a woman," said Adrienne Elrod, former director of strategic communications for Clinton's campaign in 2016. "They want someone warm, friendly, grandmother-like, and also a hard-charger who can go into a meeting with 10 male foreign leaders and crush the meeting. They want someone who has it all."
It's not that men have never had their personalities questioned (think Al Gore and John Kerry) — it just wasn't seen as a deal-breaker. And Donald Trump didn't exactly earn any "likability" awards on his way to the White House.
Between the lines: Among Iowa voters, Warren is the third most-favorable 2020 candidate, and her net favorable rating (64 percentage points) is 15 points higher than Clinton's, according to a CNN/Des Moines Register/Mediacom poll last month.
Clinton campaign operatives considered Warren one of their most effective surrogates in '16 because of her ability to get under Trump's skin. Now they say she should take a page out of his playbook when dealing with the attacks.
"Trump never lets anything go unanswered," said Philippe Reines, a former Clinton adviser who's worked with her since 2002. "If you don't stand up for yourself, I'm not exactly sure why you'd expect people to vote for you thinking you'd stand up for them."
What to watch: Keep an eye on whether other female candidates likely to run — Sens. Kamala Harris, Amy Klobuchar and Kirsten Gillibrand — are compared to Clinton in any way and whether their "likability" comes into question.
Editor's note: This story has been updated to clarify that the new dynamic in 2020 will be the number of women candidates running in the same primary.
Go deeper