The most distant space object ever visited looks like a red "snowman"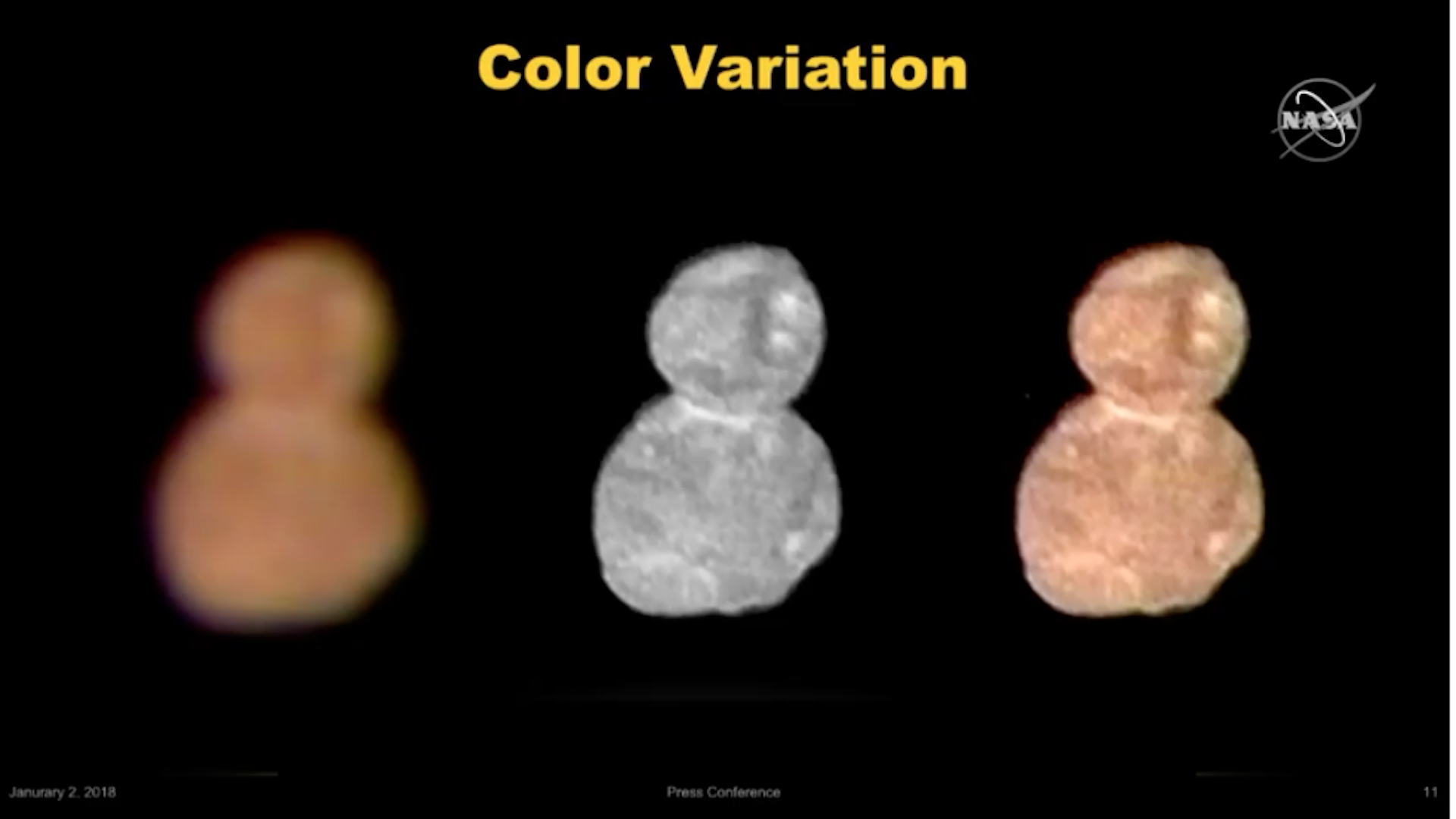 The early data from the historic New Year's flyby of a space object nicknamed "Ultima Thule," located about 4 billion miles from Earth, reveals that it's comprised of two joined spheres that are reddish in color.
Why it matters: This is the first so-called "contact binary" ever studied closely by a spacecraft, according to Alan Stern, principal investigator of the New Horizons mission. Ultima Thule used to be two separate, icy objects that are now fused together, according to NASA. It is located in a region of our solar system known as the Kuiper Belt and thought to be a time capsule dating back to the formation of the solar system itself about 4.6 billion years ago.
The big picture: Ultima Thule, formally known as 2014 MU69, is the most primitive object ever studied closely by a spacecraft, mission scientists said. It's thought to be comprised of the building blocks of early planets, measuring about 19 miles from end-to-end. Researchers hope Ultima Thule will provide new data about how planets — perhaps including Earth — might form.
The flyby, which occurred at 12:33 a.m. ET on Tuesday, required scientists to stretch the capabilities of the New Horizons spacecraft to their limit.
As New Horizons, which also visited Pluto in 2015, sped past Ultima Thule, the spacecraft traveled at about 32,000 mph, gathering data from the seven instruments on board.
What's next: Researchers say they still only know a limited amount about Ultima Thule, whose nickname means "beyond the known world."
Less than 1% of the data gathered during the flyby has been received and processed back on Earth, largely due to the lag time involved with broadcasting signals across such a long distance. Researchers will continue to release new imagery and data over the coming months.
Go deeper:
Go deeper