Despite U.S. hopes, Bolsonaro sends mixed signals on China strategy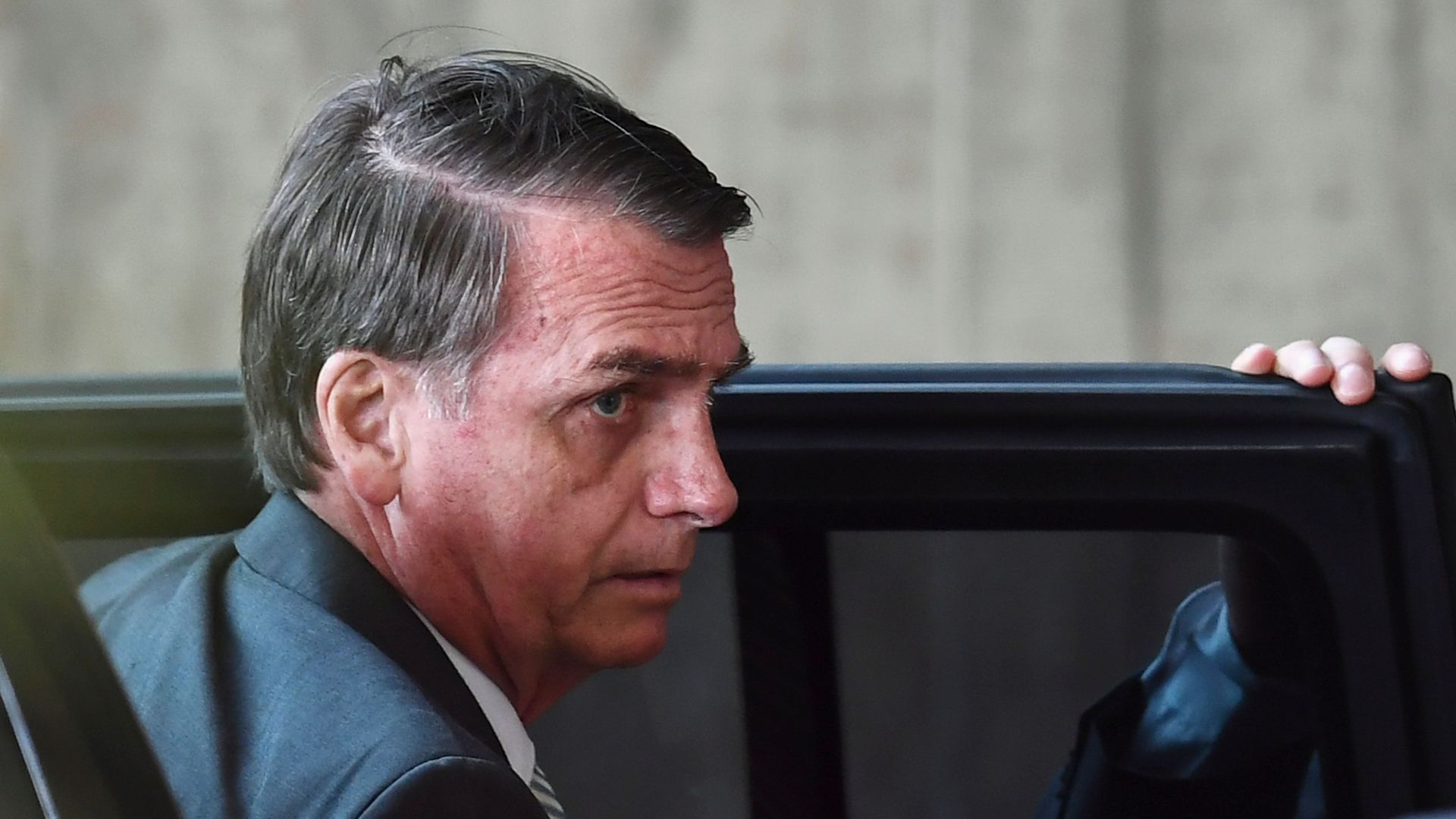 President Trump is sending Secretary of State Mike Pompeo to Brazil on Monday in a show of support for the Jan. 1 presidential inauguration of right-wing nationalist Jair Bolsonaro. In a press call previewing Pompeo's visit, the U.S. State Department said that "China's predatory trade and lending practices" would be among the topics of discussion with Bolsonaro and Foreign Minister Ernesto Araujo.
The big picture: The Trump administration hopes that Bolsonaro, who has jolted his country's political establishment and promised to be similarly disruptive in the foreign policy arena, will join its effort to combat growing Chinese influence in Latin America. But while Brazil's new leader criticized China on the campaign trail, he's likely to assume a more pragmatic attitude toward Beijing once in office.
Bolsonaro struck a combative tone toward China during his presidential campaign.
In February, he traveled to Taiwan, which he has repeatedly termed a "country," in defiance of Beijing's "One China policy" that defines Taiwan as a province of China.
In an October television interview, Bolsonaro warned that "China is buying Brazil," and asked, "Are you willing to leave Brazil in the hands of the Chinese?"
Yes, but:
On Nov. 5, shortly after his election, Bolsonaro met with the Chinese ambassador to Brazil and pronounced China a "great cooperation partner."
While Bolsonaro publicly disinvited Venezuela and Cuba from his inauguration, he stopped short of similarly disinviting China, which is sending one of President Xi Jinping's special envoys to attend.
Between the lines: China surpassed the U.S. to become Brazil's largest trading partner in 2009, driven by Chinese appetite for soybean and mineral products. Chinese investment flows in Brazil surged to a 7-year high of nearly $21 billion in 2017. Bolsonaro's nationalist inclinations and skepticism of Chinese communism will be constrained by the hard realities of China's importance to Brazil's economy, and its prognosis for recovery.
The bottom line: Absent a clear plan from Brazil to reduce its economic reliance on China, the Trump administration should have modest expectations for the Bolsonaro government's willingness to maintain a strong stance in opposition to Chinese engagement with Latin America.
Daniel P. Erikson is managing director at Blue Star Strategies and a senior fellow at the Penn Biden Center for Diplomacy and Global Engagement.
Go deeper