Scoop: Netanyahu rejected Russian plan to work with U.S. on Syria, Iran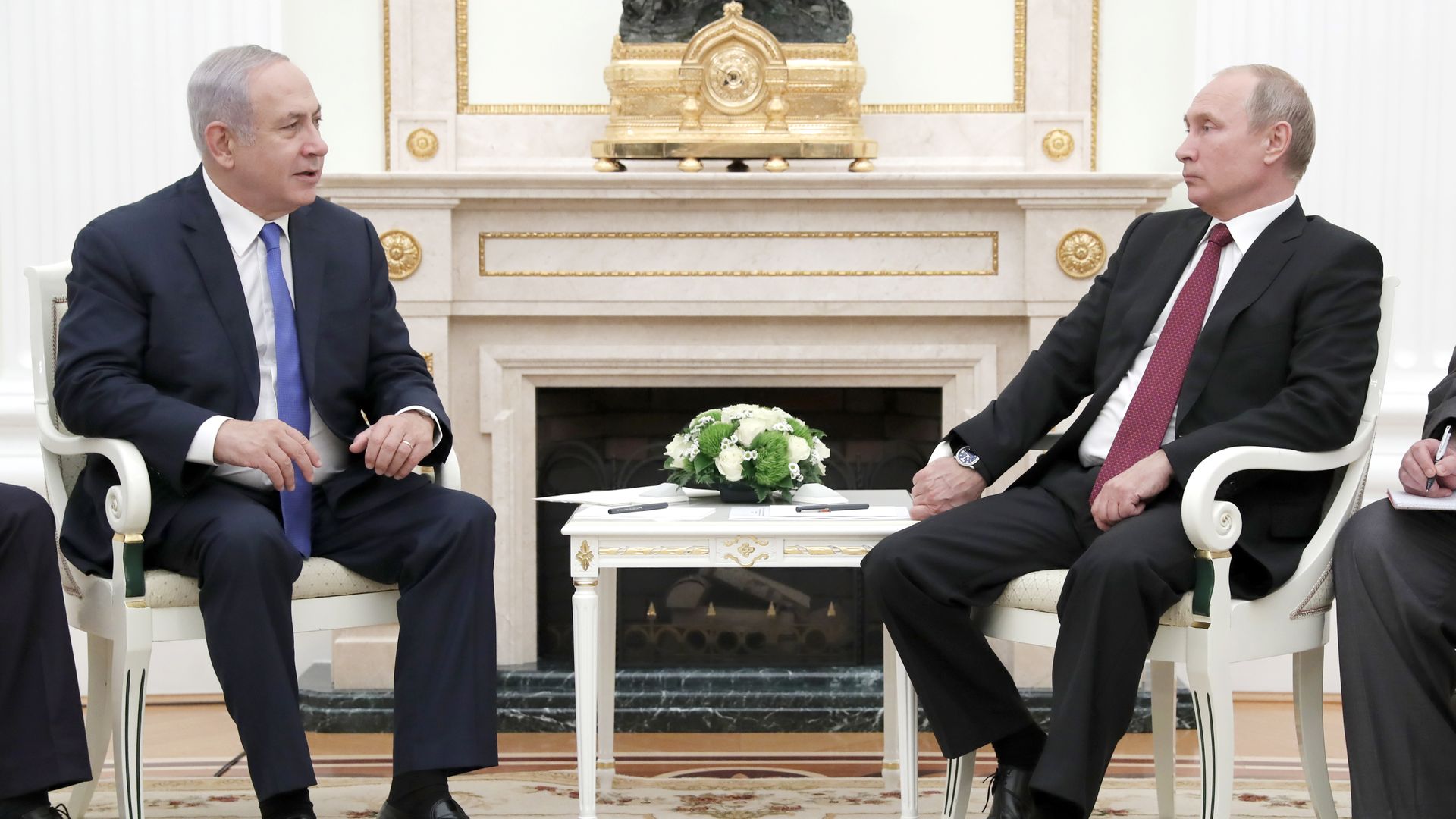 More than three months ago, Russian President Vladimir Putin's national security adviser Nikolai Patrushev gave his Israeli counterpart a document. It contained an unofficial proposal for a deal between the U.S. and Russia on Syria and Iran intended to start a wider dialogue between Washington and Moscow to improve relations, two Israeli officials with direct knowledge tell me.
Why it matters: The Russian proposal would have tied a U.S. withdrawal from Syria to an Iranian exit from the country, and provided the U.S. and Israel more influence over a future political settlement in Syria. However, it also called for a freeze on U.S. sanctions on Iran — something Netanyahu found unacceptable. Ultimately, the U.S. gave up much of its leverage in Syria with President Trump's surprise announcement Wednesday of a unilateral withdrawal.
Background: Last month, I reported that Netanyahu told a closed door hearing at the Knesset that Russia proposed a deal for pushing Iranian forces out of Syria in return for relief from some U.S. sanctions against Iran. We now know that Netanyahu's comments referred to a document called the "Patrushev Paper."
The Patrushev Paper was given to Israel in a meeting that took place in Moscow on Sept. 13 — four days before the downing of a Russian military plane in Syria that kicked off a deep crisis between Israel and Russia.
The two Israeli officials told me Russia's proposal was that Israel would act as a facilitator between the U.S. and Russia and encourage the White House to start a dialogue with the Kremlin on Syria and Iran as an opening for a wider bilateral discussion.
"They asked us to open the gates for them in Washington," one Israeli official told me.
Details: The Israeli officials who saw the "Patrushev Paper" said it included these main points ...
Freezing the U.S. plan for reimposing economic sanctions on Iran in November as part of the U.S. withdrawal from the Iran nuclear deal.
A Russian commitment to push Iranian and pro-Iranian forces out of Syria.
A withdrawal of U.S. forces from Syria, mainly from the Al-Tanf base.
The opening of a dialogue between the U.S. and Russia on the issue of Iran.
Using the U.S.-Russian dialogue on Syria and Iran to expand their dialogue on other bilateral relations.
What happened: The Israeli officials told me Netanyahu rejected the proposals in the Patrushev Paper because he thought the reimposition of U.S. sanctions on Iran could be used as leverage on the Iranians over Syria — not the other way around.
"For Netanyahu, stopping the Iranian nuclear program was above everything else, and this is why he refused to show any flexibility on the issue of U.S. sanctions," one Israeli official told me.
A second Israeli official told me that, if Israel didn't reject the Russian proposal, it might have been able to ensure that any U.S. decision to pull out of Syria would be part of a deal on the Iranian presence in the country — not merely a unilateral move.
Go deeper:
Go deeper