The drone nightmare is here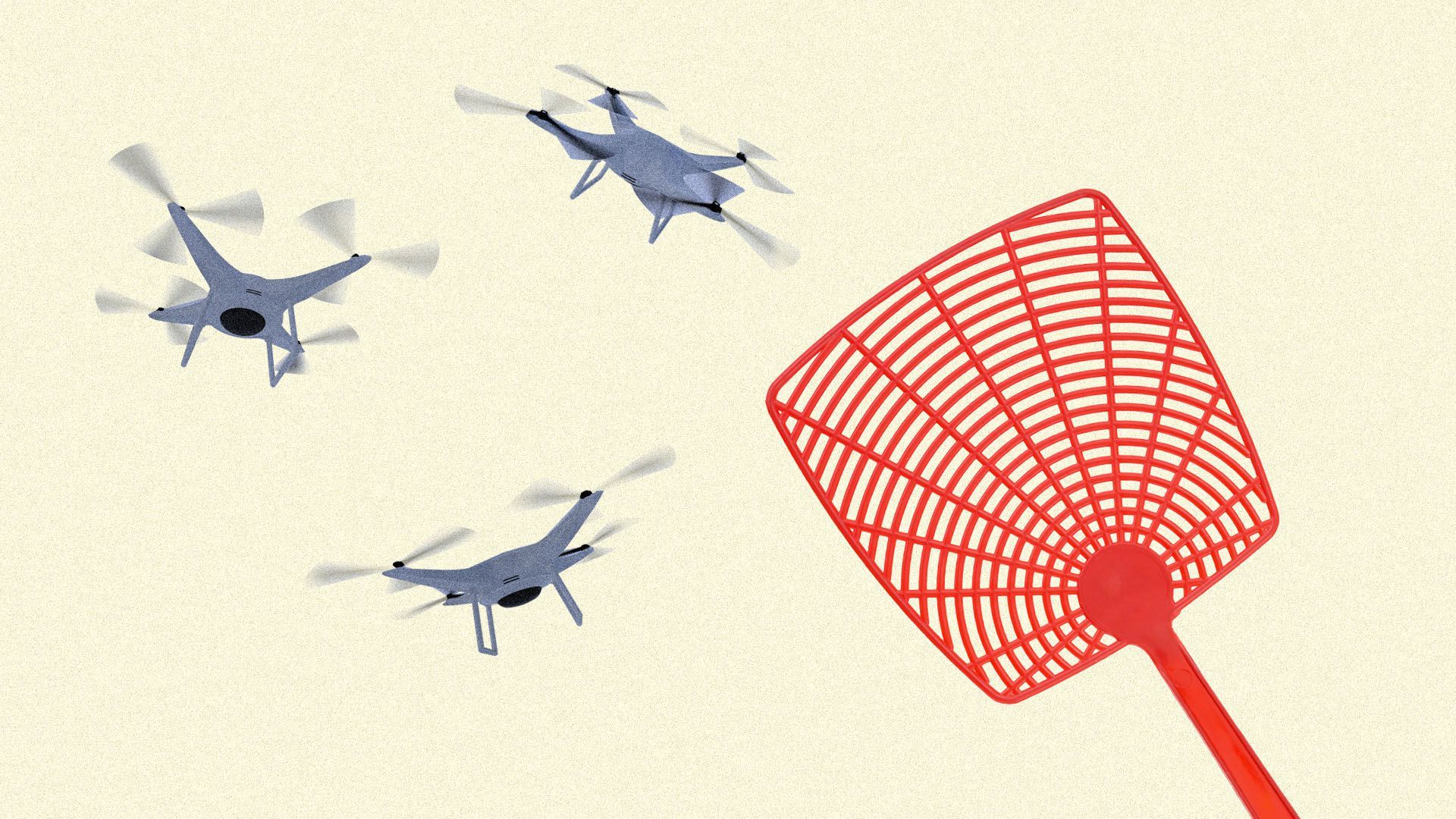 We still know very little about the drones that have shut down Gatwick, the U.K.'s second busiest airport, but their example is a painful reminder of our transportation system's vulnerabilities.
The big picture: This is why drone manufacturers want rules to prevent incidents like this that significantly damage trust in the nascent industry. In the U.S., the Federal Aviation Administration was expected to craft regulations this year. That didn't happen, and drone companies aren't happy.
Catch up quick:
A pair of drones have been spotted flying over the runway at Gatwick, grounding flights as police furiously search for the perpetrator(s), BBC reports.
That's left thousands stranded, hundreds of flights canceled and even the military being brought in to try to help, with no end in sight.
"[T]he drone intrusion that shut the airport was 'highly targeted' and designed to cause 'maximum disruption' just before Christmas," AP reports.
Between the lines: Events like today give public safety and law enforcement agencies ammunition to say, "This is why drones are a safety and national security threat." They have a point.
Law enforcement will struggle with handling stray drones. (U.K. police feared shooting the Gatwick ones because of concerns about stray bullets.)
In the U.S., "lawmakers have given law enforcement new powers to hack or even shoot down drones that may pose security threats. Advances in drone technology, however, make it more difficult for law enforcement to identify communication signals between drones and ground operators," WSJ reports.
Drones can be innocuous. They could also be outfitted with bombs.
Elon Musk, in an "Axios on HBO" interview, warned of "assassin drones" that would use facial recognition to track and kill targets.
In addition to increased interest in recreational drones, tech companies like Google, Amazon and Intel have invested in developing the technologies for their own business purposes, such as package delivery.
Commercial drones can fly under specific height limits, but not over people. The FAA can grant a waiver for other commercial uses — such as during sporting events.
What to watch: To help appease security concerns, drone makers support remote identification standards so officials can spot drones operated by potential hostile actors.
But there's some disagreement on how to do that technologically. The drone industry most wants the FAA to establish rules that allow operators to fly drones beyond their line of sight and over people.
Without standards around those activities, the industry is stuck in a holding pattern. 
Be smart, via Axios' Andrew Freedman: Gatwick is uniquely susceptible since it's a small, single-runway airport (not small in impact but in area).
Doing this at Atlanta or Denver or Chicago would be really hard, more like half an airport shutdown, as the drone operators would have to cover a massive distance.
The flip side: If they can't defend a single runway airport from this, what can they defend from a drone attack?
Go deeper