Judge postpones Michael Flynn's sentencing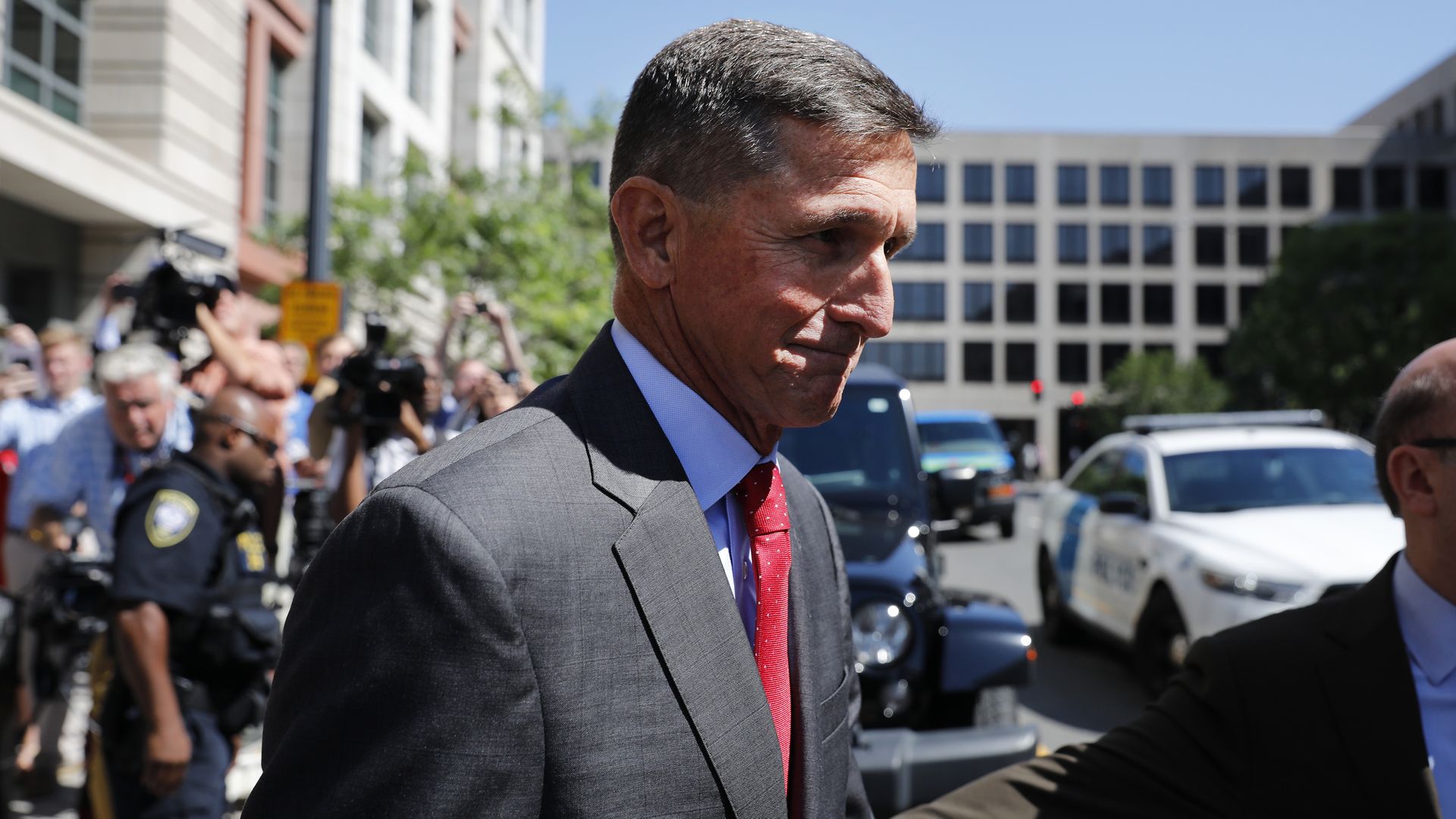 Lawyers for former national security advisor Michael Flynn asked a federal judge to delay his sentencing until his cooperation with special counsel Robert Mueller's team is complete — setting the next status report on his sentencing for March 13 — during a heated appearance in D.C. federal court on Tuesday.
The big picture: Earlier this month, Mueller recommended no prison time for Flynn, who pleaded guilty last year to lying to the FBI about his conversations with the former Russian ambassador to the U.S. before Trump's inauguration, because of his "substantial assistance" to Mueller's investigation.
Details: During the hearing, Flynn refused an opportunity provided by Judge Emmet Sullivan to withdraw his guilty plea after his attorneys claimed in their own sentencing memo filed last week that he was misled about the circumstances of his 2017 interview with the FBI. Flynn instead told the judge he was "aware" that lying to the FBI was a crime.
A prosecutor on Mueller's team told Sullivan that it "remains a possibility" that Flynn is still working with the special counsel's investigation, though he has provided the "vast majority" of his cooperation.
Sullivan blasted Flynn from the bench during the hearing: "This is a very serious offense. A high-ranking senior official of the government making false statements to the Federal Bureau of Investigation while on the physical premises of the White House." He later admonished him for his lobbying work for Turkey, saying, "Arguably, this undermines everything this flag over here stands for. Arguably, you sold your country out." Sullivan also asked the prosecutor whether they had considered charging Flynn with treason.
The hearing took an unexpected 25-minute recess after Flynn requested time to speak to his attorney following Sullivan's heated remarks.
After the recess, Sullivan said he "felt terrible" about his testy remarks about Flynn's work with Turkey, which he clarified ended before Flynn became Trump's national security adviser. He added, "I'm not suggesting he committed treason. ... Don't read too much into the questions I asked."
Go deeper: Mueller investigation releases redacted Michael Flynn interview notes
Go deeper