Why Democrats are taking Beto seriously for 2020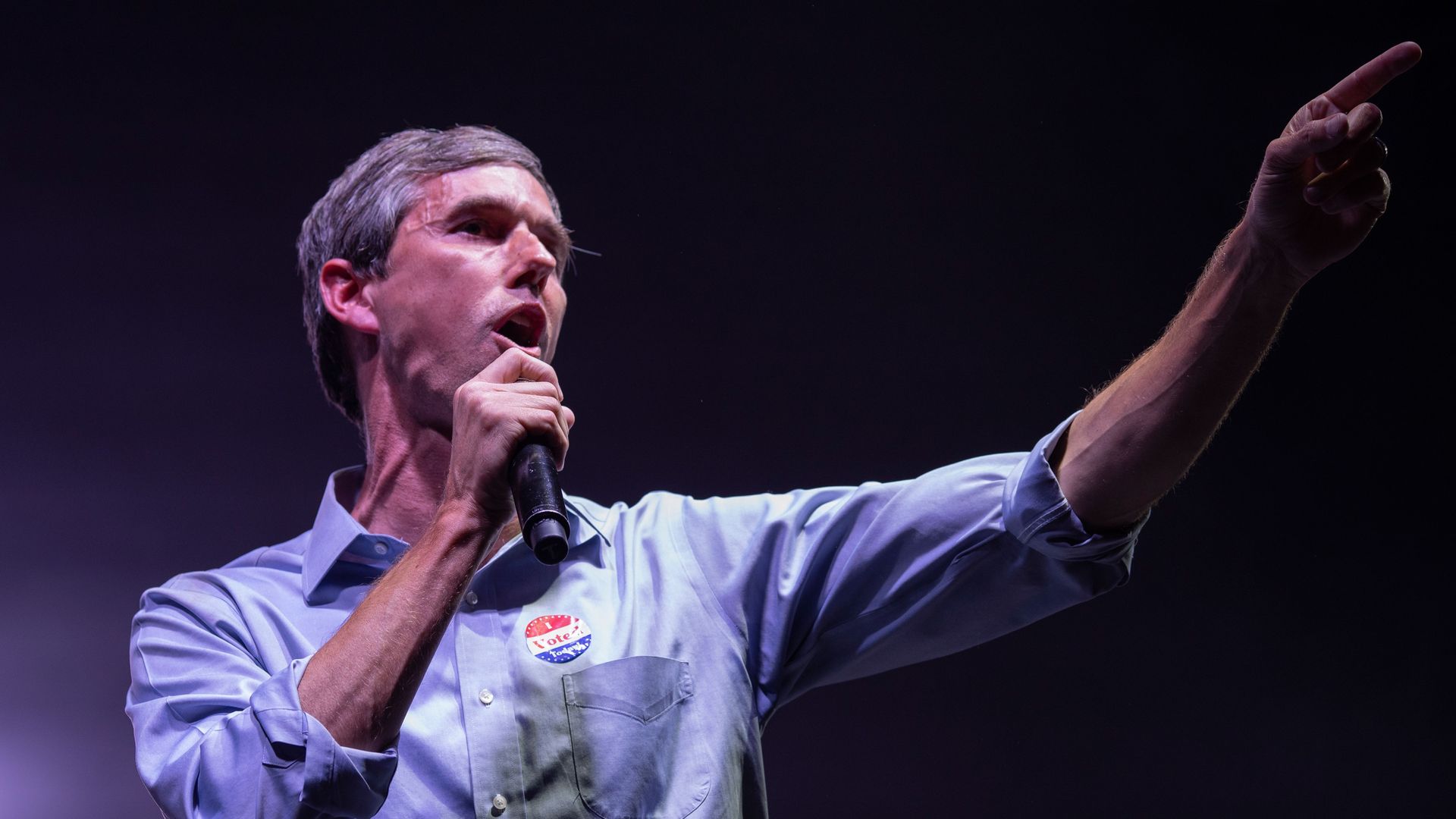 Here's why the political world isn't writing off a potential presidential candidate who's mainly known for a failed Senate race: The last two presidents have been disruptive candidates who didn't have much political experience either — and who weren't the nominees the party establishments wanted.
Why it matters: Barack Obama had only been a U.S. senator for two years before launching his presidential campaign, and Donald Trump had never held elective office at all. Now, a new poll from the progressive group MoveOn suggests that Beto O'Rourke is poised to blow up the 2020 Democratic primary. That's a sign that it doesn't matter who the parties want anymore, because it's up to the voters.
Driving the news: The MoveOn poll found that O'Rourke has emerged as the most popular Democratic candidate, even beating Vice President Joe Biden. (Nearly 3 out of 10 said they didn't know who they'd support or wanted other choices.)
Democratic strategists say it's only one poll and it's too early to know how much it means. But it is a sign that Democrats don't have a clear frontrunner yet, and the next presidential election will be all about who's got the talent to catch fire.
What they're saying:
"We've had a politics of division for so long. Young voters are so turned off by that and Beto is so unapologetically optimistic and forward-looking," said Mikal Watts, a major Democratic money bundler based in Texas. "There's a huge demographic swath that will get behind Beto just because he's different."
"If anything, it says that the field is wide open and that there is a lot of interest in Beto's candidacy," said Dan Pfeiffer, Obama's former communications director, who has written that O'Rourke should run. "The question is does he run and if he does, can he capitalize on that interest?"
Before O'Rourke, the conventional wisdom was that someone like Sens. Cory Booker or Kamala Harris could have been the candidate to beat. They're the type who might benefit from the "invisible primary," the period between the time people officially announce their candidacies and when the primaries actually start.
This is the time when the party can pull the levers behind the scenes to pick their preferred candidate. But that power has diminished.
"Washington was wrong about Obama and there are many reasons to believe it's wrong about Beto," Pfeiffer wrote in a widely read piece last month, arguing that he would be "one of the strongest candidates in the field."
Between the lines: The 2008 and 2016 presidential elections were presumptively done and decided when Obama (with his star power and new playbook for grassroots organizing) and Trump (with his use of Twitter and refusal to stick to canned talking points) changed everything.
The "Beto for President" buzz is a culmination of what O'Rourke mastered in 2018:
He raised $80 million for his Senate bid against Cruz, and most of that came from online donations.
He used Facebook to livestream videos of everything from his campaign rallies to eating lunch at Whataburger (which got 124,000 views). "He's got a skillset I haven't seen since Obama, and he's got that Bobby Kennedy feel to him," said Watts.
He talked about racial injustice and police brutality against black people without relying on talking points.
He won over moderate Republicans in the suburbs of Texas while also attracting women, people of color and voters under 30 (he won them by 42 percentage points).
His race lifted other Democrats in Texas. He came closer to winning a statewide race in Texas than any Democrat has done in decades. His campaign helped Democrats win 12 state House seats, two state Senate seats and two U.S. House seats.
He visited all 254 counties in Texas. That would make visiting all of Iowa's 99 counties a breeze.
The other side: If he does run, O'Rourke doesn't have a signature policy issue or many major legislative feats to show for his time in Congress. You can bet you'd hear a lot about that from his opponents. But Obama wasn't exactly a master of the Senate, and Trump didn't have a political resume at all.
The bottom line: People voted for Obama and Trump for similar reasons: They wanted change. Many think O'Rourke, with his ability to draw concert-like crowds and raise millions of dollars online, could be the change candidate of 2020 — and the Democratic Party might not have a say in it.
Go deeper