What they're saying: GOP shrugs off Trump's role in Cohen guilty plea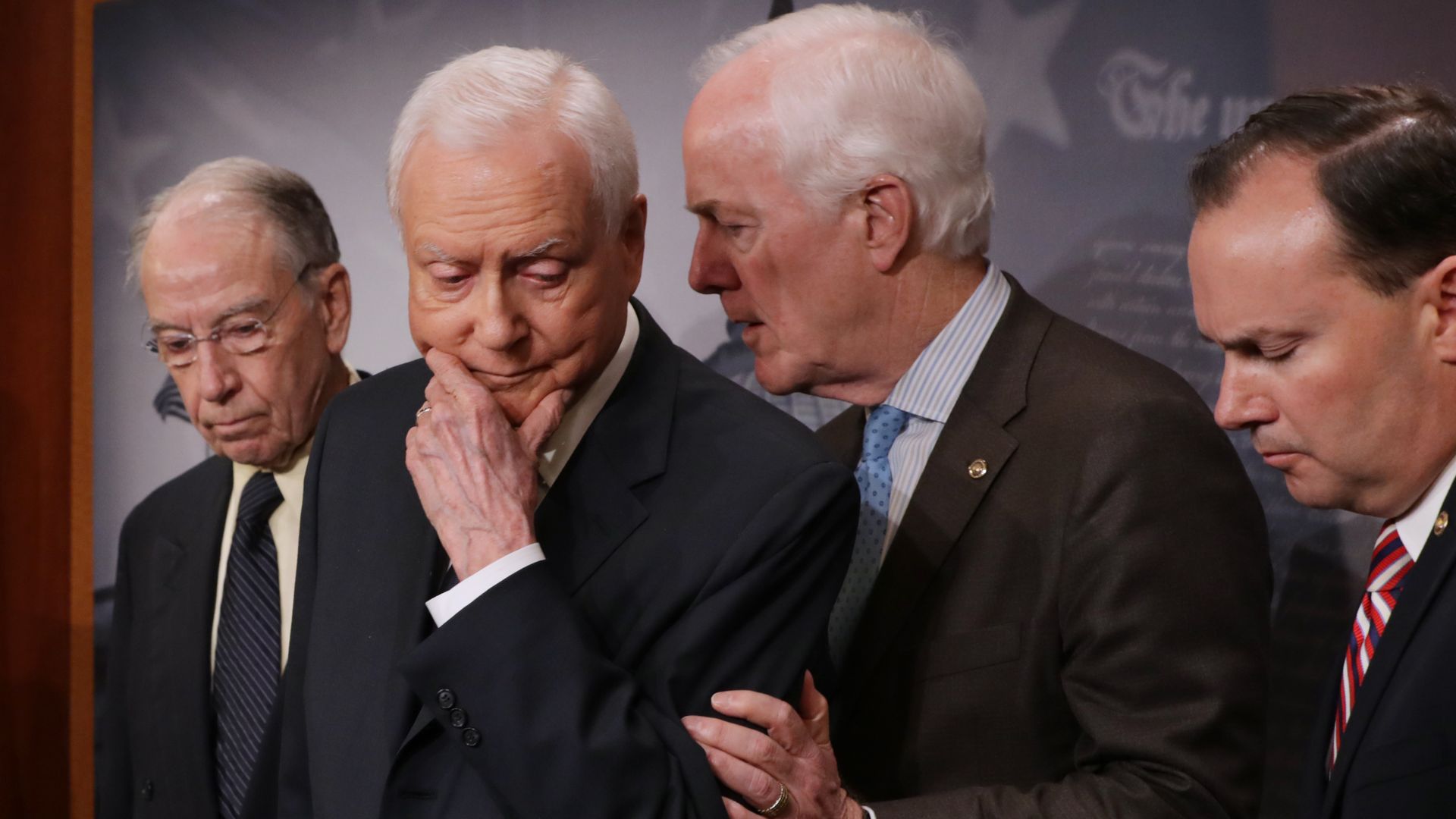 In the days after prosecutors revealed that Michael Cohen paid off two women "in coordination with and at the direction of" then-candidate Donald Trump, top Democrats have said the president's alleged actions during the 2016 campaign could leave him open to impeachment — or possibly even indictment when he leaves office.
The other side: Top congressional Republicans, meanwhile, have largely dismissed Trump's place in the allegations, arguing that Cohen is not credible, that the investigation is tainted by Democratic bias, and that campaign finance violations are a minor offense. Or, as Sen. John Kennedy (R-La.) argued, Cohen's plea is "a long way from collusion with a foreign agent to influence the election in 2016."
Reality check: Special counsel Robert Mueller is still investigating the Trump campaign's links to Russia, a probe in which Cohen has also pleaded guilty for lying to Congress. The Cohen investigation in the Southern District of New York is distinct from the Russia investigation.
What they're saying:
Kennedy: "Jesus loves [Michael Cohen], but everybody else thinks he's an idiot. He's obviously a sleaze-oid grifter. And if I were a prosecutor, I wouldn't base a prosecution on evidence given to me by Mr. Cohen. ... Campaign Finance Act violations are, generally, civil matters."
Sen. Orrin Hatch (R-Utah): "I don't think he was involved in crimes. But even then, you know, you can make anything a crime under the current laws if you want to. You can blow it way out of proportion. ... The Democrats will do anything to hurt this president." When CNN's Manu Raju informed Hatch that it was federal prosecutors who had implicated Trump in a crime, not Democrats, Hatch replied: "OK, but I don't care. All I can say is he's doing a good job as president."
Rep. Kevin McCarthy (R-Calif.): "I think what [the Cohen guilty plea] shows is that if the president hires an attorney to solve a problem, he expects them to do it in legal manner. ... If an impeachable offense is a campaign finance problem, there's a lot of members of Congress who would have to leave. ... We've investigated this for a long period of time. Both sides have come up with nothing in the process. I think we should put the American people first."
Sen. Chuck Grassley (R-Iowa): "As long as Cohen's a liar, I shouldn't give much credibility to what he says."
Sen. John Thune (R-S.D.): "I think at this point we have an incomplete picture, and I think at this point the president ... has denied some of these allegations that have been made. Michael Cohen obviously has plenty of incentive now to cooperate and the representations that he makes, I think you have to, you know — there are going to be some questions raised about those as well. So I guess my view is that, let's wait."
Go deeper: Read the two Michael Cohen sentencing memos
Go deeper