In Oval Office clash, Trump previews next phase of his presidency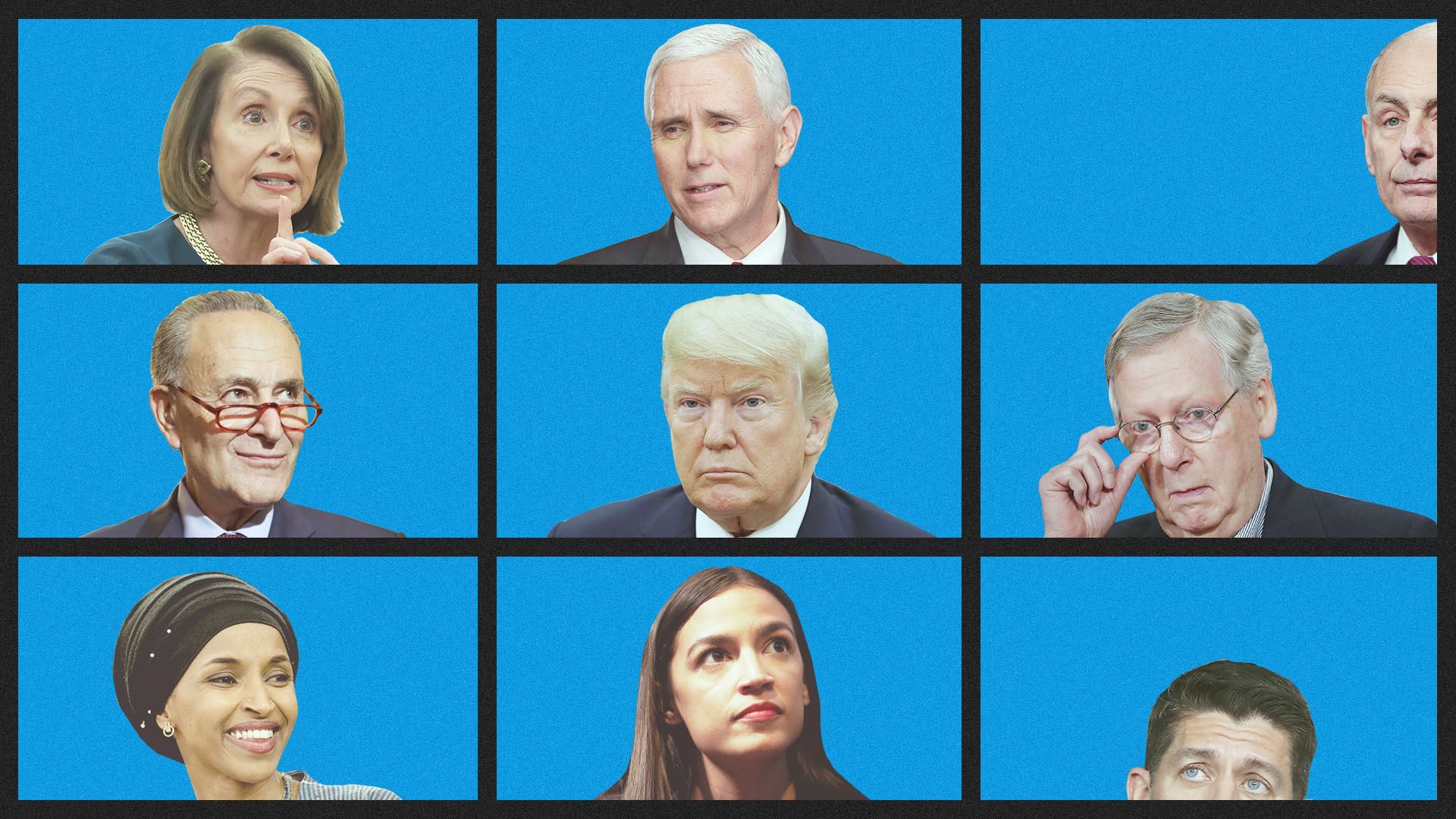 Welcome to the next season of the Trump Show, featuring televised Oval Office debates, cheap shots behind closed doors and the next generation nipping at Democrats' heels.
Driving the news: The president hosted Chuck Schumer and Nancy Pelosi at the Oval Office today, with VP Mike Pence sitting silently by Trump's side.
Newsiest lines:
Trump: "If we don't have border security, we'll shut down the government ... I will take the mantle. I will be the one to shut it down. I'm not going to blame you for it."
Schumer: "When the president brags that he won North Dakota and Indiana, he's in real trouble."
Pelosi: "Please don't characterize the strength that I bring to this meeting as the leader of the House Democrats who just won a big victory."
Immediately after the meeting:
Schumer told reporters that Trump had a "temper tantrum."
Pelosi told Democrats behind closed doors: "It's like a manhood thing for him. As if manhood could ever be associated with him. This wall thing."
More Pelosi: "I was trying to be the mom. I can't explain it to you. It was so wild. It goes to show you: you get into a tinkle contest with a skunk, you get tinkle all over you."
Between the lines: It's unclear how much, if any, Democrats will work with Trump — especially if the Senate doesn't feel like cooperating with the end result. It's also unclear how often Chuck and Nancy will return to the White House if Trump has these debates, without resolution, on camera.
Be smart: A lot of attention goes to the more outspoken, hyper-progressive members like Alexandria Ocasio-Cortez of New York and Ilhan Omar of Minnesota, Axios' Alexi McCammond explains.
But the reality is that working with Republicans — which of course includes Trump — is something most Democratic freshman are demanding.
In fact, they even asked house leadership to prioritize bipartisan legislation over investigating the Trump administration.
In a letter to House leadership, 46 of the 66 new Democratic House members wrote: "We are united in the belief that ... we have a mandate to debate, draft, and work across the aisle to pass legislation."
Go deeper