Fact-checking claims of Google bias at House hearing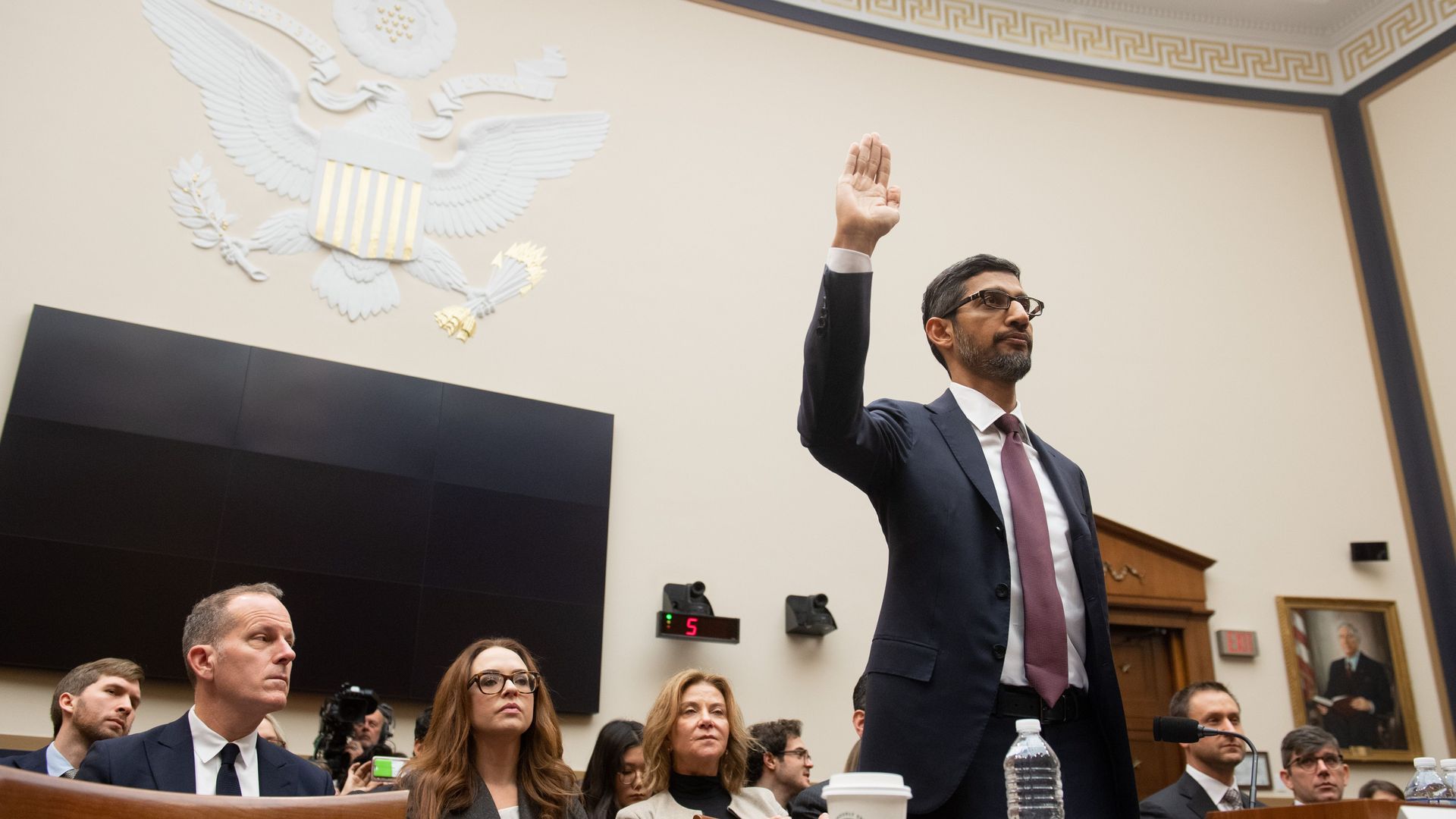 Republican lawmakers from the House Judiciary Committee referenced studies whose accuracy has been disputed, as well as their own impromptu experiments, to press Google CEO Sundar Pichai Wednesday about bias against conservatives in its search algorithms.
Why it matters: Republican lawmakers cited less-than-authoritative sources to back their charges of political bias by Google. To date, no credible evidence has been presented that suggests Google engineers program the company's search, video or news algorithms to favor one political ideology over another.
Point from Rep. Bob Goodlatte (R-Va.): Goodlatte cited one study conducted by psychologist Robert Epstein that sought to show that election results can be swayed by search rankings, since those rankings "have a significant impact on consumer choices, mainly because users trust and choose higher-ranked results more than lower-ranked results."
Counterpoint: Google has disputed the study and insists that it does not rank search results in order to influence election outcomes.
3 of the 12 academics cited that publicly backed the study told the Washington Post "they were uncertain about the sources of bias but favored creating a group for studying the issue because search engines had become dominant sources of online information."
One academic quoted by the Post suggested that some of the bias the study found could be coming from users themselves, not Google. (For reference, search results vary by person based on many signals, including search history, user data and more.)
Point from Rep. Lamar Smith (R-Texas): Smith cited a finding from PJ Media published in August that left-leaning sites comprised 96% of the total search results in Google News results about President Trump.
Counterpoint: The figure Smith cited came from PJ Media, a conservative-leaning outlet, and the article's author later published an opinion piece in the Washington Post explaining that she had conducted a single Google search and never intended her work to be viewed as a "study."
The finding has been debunked by third-party fact-checking website PolitiFact and by tech news outlets like CNN, The Verge, Techcrunch and others.
Point from Rep. Steve Chabot (R-Ohio): Chabot said that after writing a blog post on a GOP bill to repeal Obamacare, "virtually every article" he found on Google search "was an attack on our bill" and that he couldn't find any search results that were "remotely positive" about the bill until he got to the third or fourth page.
Counterpoint: Search results vary by person based on many signals, including search history, user data, etc. It's likely that Chabot's results were unique to him based on those individual signals and are not representative of ways that Google's algorithms on a whole rank information in search results.
The big picture: While some Republicans on the committee asked questions about bias against conservative viewpoints on Google using questionable evidence, others asked more practical questions. Questions included:
How can Google ensure that employees who are programming algorithms aren't injecting their own bias into algorithms?
And how can the American people prove that Google is not biased if they don't know who is moderating content and they can't see Google's algorithms?
Be smart: Google is reluctant to reveal those details about its algorithms because doing so could empower bad actors to manipulate them.
The bottom line: Software developers are human beings with a range of biases and opinions. But problems with search results and algorithms are much less likely to come from overt manipulation by programmers than from the biases of the world that Google's data reflects.
Editor's note: This story has been updated with additional detail in the section on Rep. Lamar Smith and PJ Media.
Go deeper