Bill Gates hopes Trump's trade war won't wreck the global health agenda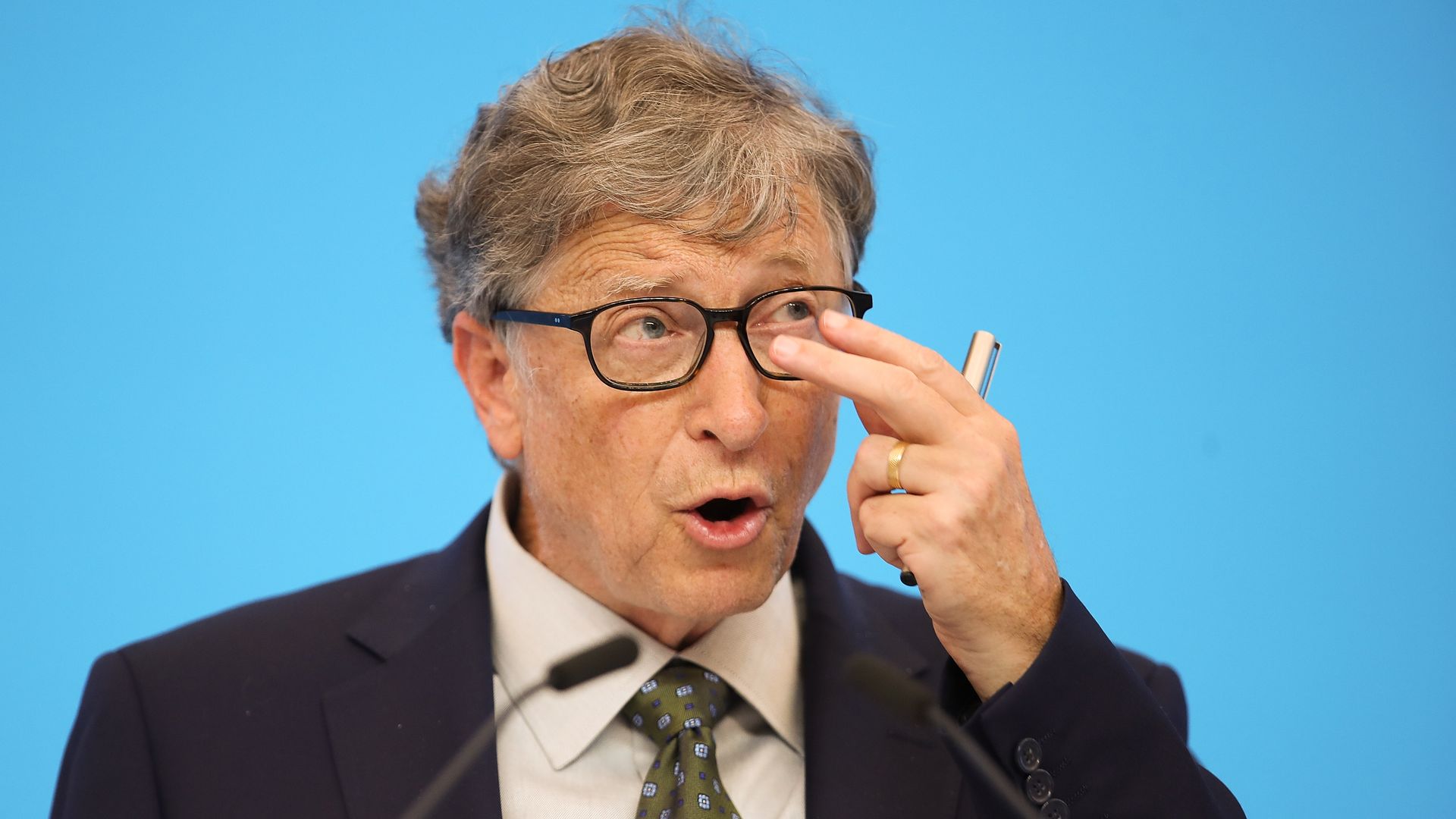 Microsoft founder and philanthropist Bill Gates, who's in D.C. this week to meet with administration officials and members of Congress, told Axios he hopes the U.S.' souring relationships with Europe and China — sparked by the Trump administration's tariffs — won't hurt long-term global health or climate change goals.
Between the lines: Gates always tries to keep his language diplomatic and above the political fights of the day — but he made it clear that trade wars aren't helpful to his work.
"I do hope that U.S.-Europe relations, U.S.-China relations can be put back on a steady basis instead of having to mostly focus on short-term things, you know, relative to tariffs," Gates said.
He wants them to get back to focusing on "long-term problems which, in my view, includes these global health things and stopping pandemics" — as well as climate change.
For example, he said, he'd like to partner with China to work on eradicating malaria by 2040. His message to the Trump administration: Don't make that job harder.
"We're going to the Chinese and saying, 'Hey, join in this effort.' And obviously, if U.S.-China relationships are not going well, that means our chance at succeeding in getting China to participate in these global efforts makes it less than we would have otherwise," he said.
The big picture: Gates also pushed back against the growing concerns about the power of the tech giants. He said he doesn't see "bigness" as a problem — in government, business or tech.
"The digital era is reshaping a lot of things and, you know, most of the things are better product at better prices," he said.
"You say, are these large companies large because they're providing lower prices and more choice? Right now, in most cases, you'd have to say yes to that," Gates added.
It's true that many large tech companies offer low prices — or even free services, notes Axios managing editor Kim Hart. But on the internet, "free" often means trading your personal data for those services. Determining the value of a consumers' data is tricky in today's antitrust framework, which has caused some to call for re-evaluating dominance in terms of data.
Our thought bubble, via Axios' Ina Fried: It's not exactly a shock that Gates is defending the idea that a tech company can be big without needing to be split up. That said, Gates could have used it as an opportunity to single out any of Microsoft's rivals and instead praised the innovation coming from the industry giants.
Gates knows from whence he speaks. Microsoft came under significant antitrust fire from both the U.S. and Europe during his tenure.
That said, he has also seen a more broad view in his role as a philanthropist seeing how corporate actions affect the most vulnerable.
Gates says his meetings in D.C. are meant to update officials on the foreign aid partnership between the Gates Foundation and the U.S. government.
"I suppose in some political environment I'd be asking for huge increases in the foreign aid budget.  But you know, we're not expecting that, so that — you know, there's no big public ask," he added.
Go deeper: Bill Gates' new crusade: Sounding the climate-change alarm
Go deeper