Behind the scenes: Trump announces John Kelly's exit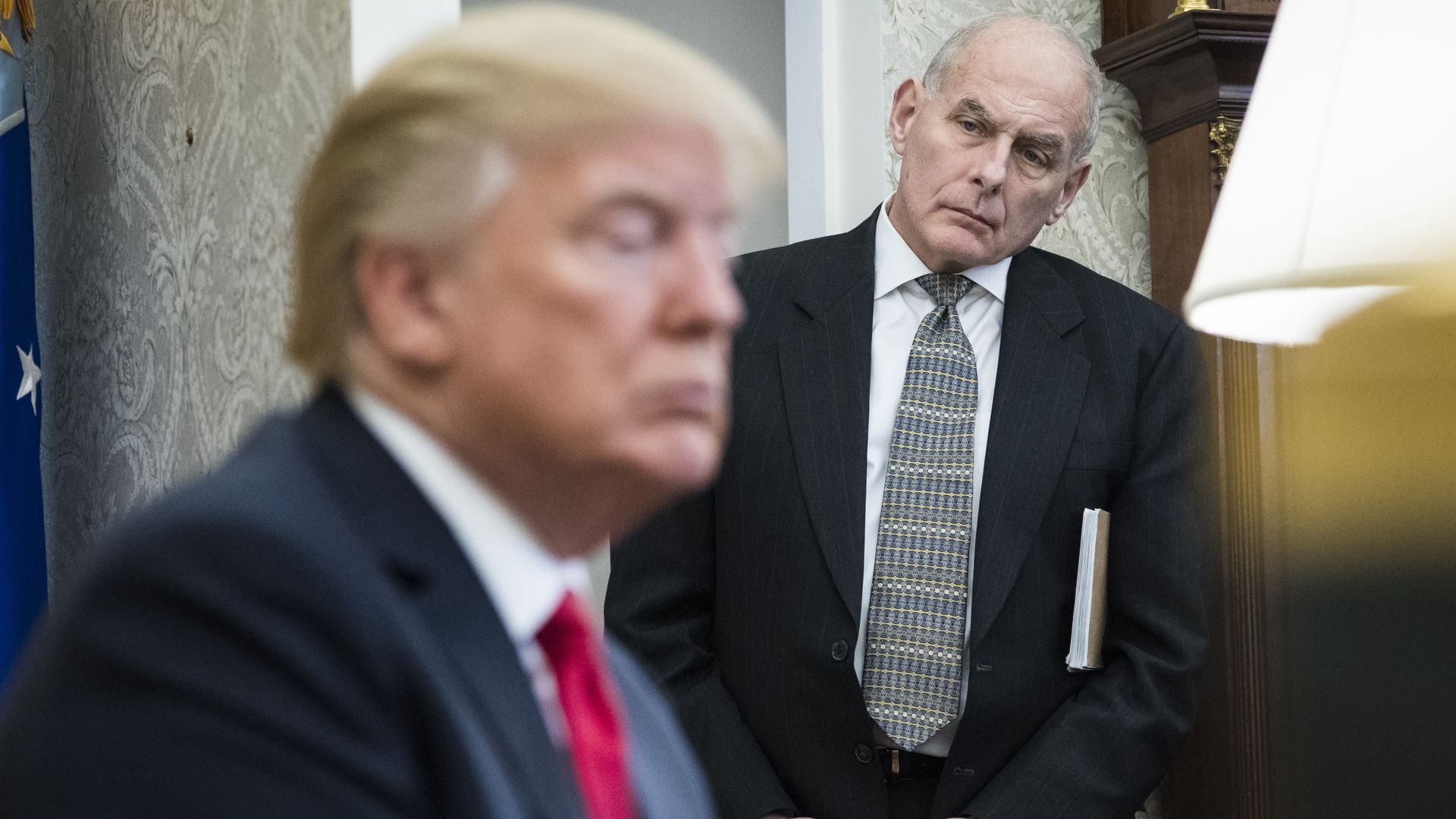 After months of indecision and private negotiations, President Trump has announced his chief of staff John Kelly will be leaving at the end of the year. As we've previously reported, Trump has wanted to replace Kelly with Vice President Mike Pence's 36-year-old chief Nick Ayers, but the two have been wrangling over the terms of the arrangement, and as we've learned, nothing is certain until Trump announces it. (And even then...)
Between the lines: The most important phrase Trump said in his brief remarks to reporters today was that Kelly's replacement "might be on an interim basis." Sources briefed on Trump's deliberations tell Axios he wants a two-year commitment from a chief and Ayers hasn't been able to commit to that timeframe.
"He has three kids under the age of six and long planned to leave in December," a source familiar with Ayers' planning told Axios. The source said Ayers told Trump he would stay through the spring but Trump wants a chief to commit to serving out his first term. (The New York Times first reported the spring timeframe.)
It's possible that Ayers serves for a short caretaker period, sources close to the situation have told Axios. It's equally possible that he begins with the title "acting" but migrates into a permanent chief if it works out. A rent-before-you-buy arrangement.
Over the past few months, Trump has heard from a number of people, inside and out of the White House, who oppose Ayers and who have been telling him his appointment wouldn't work. Those concerns are unlikely to disappear, and being "interim" chief of staff would allow Trump to try out Ayers. But White House sources told Axios they worry that won't be the best starting point to establish internal authority.
Behind the scenes: Until recently, Trump was publicly claiming he was happy with Kelly and was denying media reports that he was searching for a replacement.
But privately, Trump has been fed up with Kelly for months. Since early this year, he's been talking to Ayers about the job. They've met in the White House residence and had many conversations out of earshot of Kelly and the general's allies in the West Wing.
Senior White House staff have been forced to read the tea leaves. They gossiped and speculated after they saw Ayers talking privately with Trump on midterm election night. And a number of these detractors of Ayers tried to get the message to Trump that he'd be making a big mistake.
Ayers' backers, which include Jared Kushner and Ivanka Trump, have told the president he needs a politically-astute chief to rearrange his White House staff and cabinet, and to prepare his political operation for 2020. One of Trump's main criticisms of Kelly is that he has lousy political instincts, according to sources who've heard Trump complain about Kelly.
Go deeper