Trump's trio of traps ahead of 2020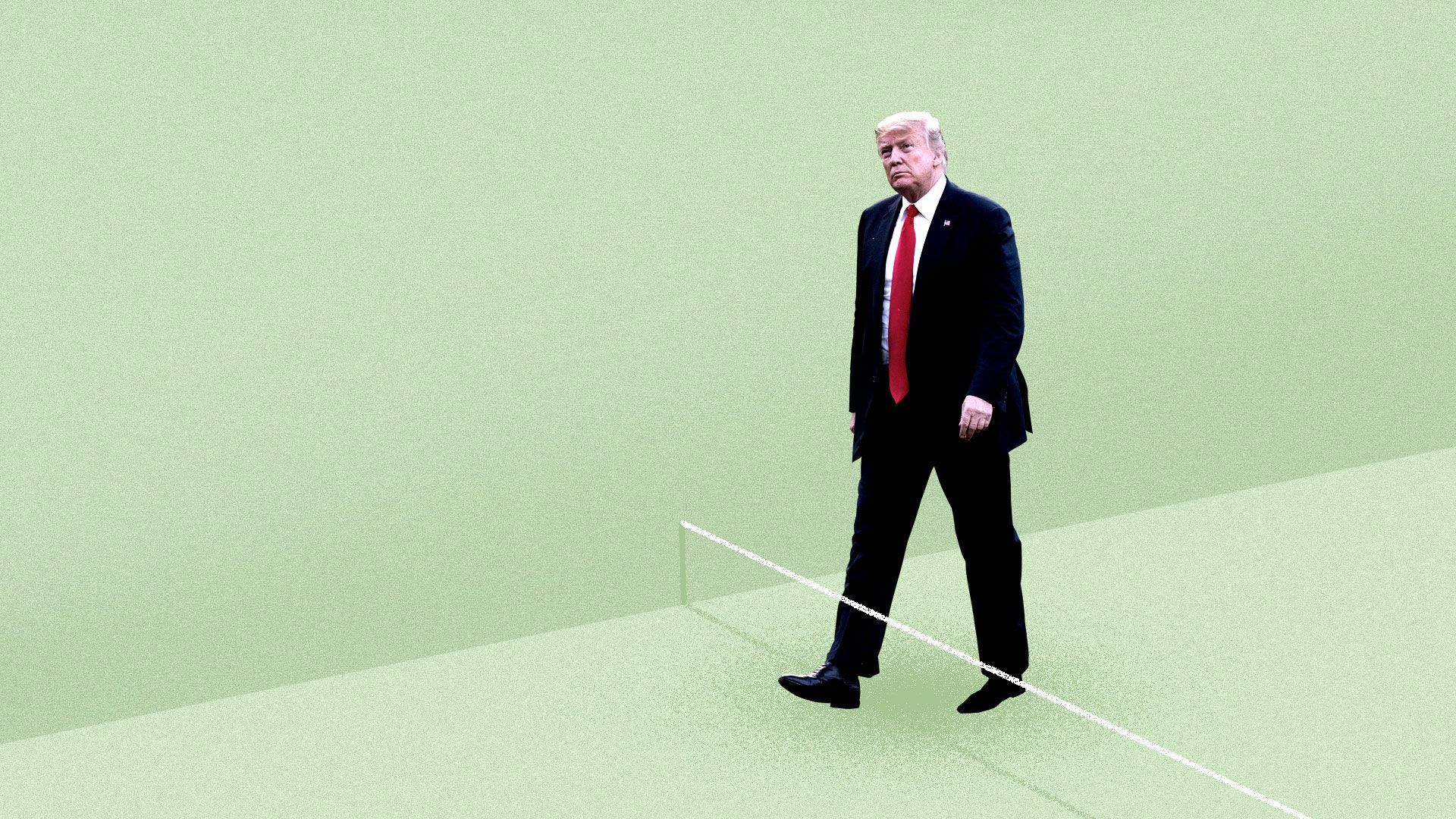 President Trump faces three clear and imminent threats as he heads toward his 2020 reelection race — the economy slipping, Congress flipping and a Russia probe drip, drip, dripping. And few inside the White House feel he is yet prepared or staffed for the hell about to hit them. 
Why it matters: The combination of hazards bearing down on the president is more intense than at any previous point in his presidency, current and former administration officials tell Axios.
One sign of a new sense of urgency: West Wing officials widely believe that chief of staff John Kelly's departure is imminent and that Nick Ayers, chief of staff to Vice President Pence, will replace him.
As we reported right after the midterms, Ayers' backers have been telling the president he has the sharp political instincts to remake the West Wing to better combat the hazards ahead.
Jared and Ivanka have boosted him. But he has a number of detractors who have been trying to convince the president he'd be a disaster.
The multi-front war confronting Trump's evolving team:
The booming economy suddenly looks vulnerable. An unpredictable trade war with China is injecting huge amounts of volatility into an already volatile system. Sharp stock market plunges affect Trump's psyche, sources close to Trump say. He often asks aides: "What's the Dow doing today?" A former administration official told Axios that Trump always needs a  simple metric to use to brag about his performance. During the 2016 primaries it was the polls. When polls were no longer good for him, he replaced them with the booming stock market. Now that previously trusty measure of success is no longer boast-worthy. Trump still has impressive GDP and employment numbers to call on, but forecasters see trouble ahead. 
Staffing remains a problem — just as Democrats are about to take control of the House, imposing massive new demands on the West Wing. The White House Counsel's office lacks firepower to defend Trump against an investigatory onslaught. And nobody, besides Trump, is empowered to be in charge of this West Wing. Senior officials have long viewed Kelly as living on borrowed time; Trump has long been fed up with him. Trump is also unhappy with some key Cabinet officials, and is eager for a reshuffle in the new year.
Robert Mueller appears to be concluding his investigation. We'll soon learn much more of what he's gathered from Paul Manafort and Michael Cohen. Cohen is most troubling to sources close to Trump. He saw far more of Trump's personal life and business affairs than Manafort or Michael Flynn ever did. Cohen appears to his friends to be determined to bring down Trump to redeem himself.
In a second major move, Trump is expected today to name Heather Nauert, top State Department spokesperson, to succeed Nikki Haley as U.S. ambassador to the United Nations, as Bloomberg News and others first reported.
During her time at the State Department, Nauert has been part of 26 overseas trips (some with former Secretary of State Rex Tillerson, and most with current Secretary Mike Pompeo) totaling more than 150,000 miles.
At her Senate confirmation hearings, Democrats can be expected to question her diplomatic experience and qualifications for the job. (She was best known for her career on Fox News before she joined the State Department.)
The role — reflecting Trump's instincts, the precedent set by Haley, and Pompeo's desires — will be focused on providing a public face for U.S. diplomacy.
Be smart: Between the outside threats and the coming personnel shuffle, the sense of uncertainty inside the West Wing is at an all-time high. 
Go deeper