White House and tech CEOs finding ways to get along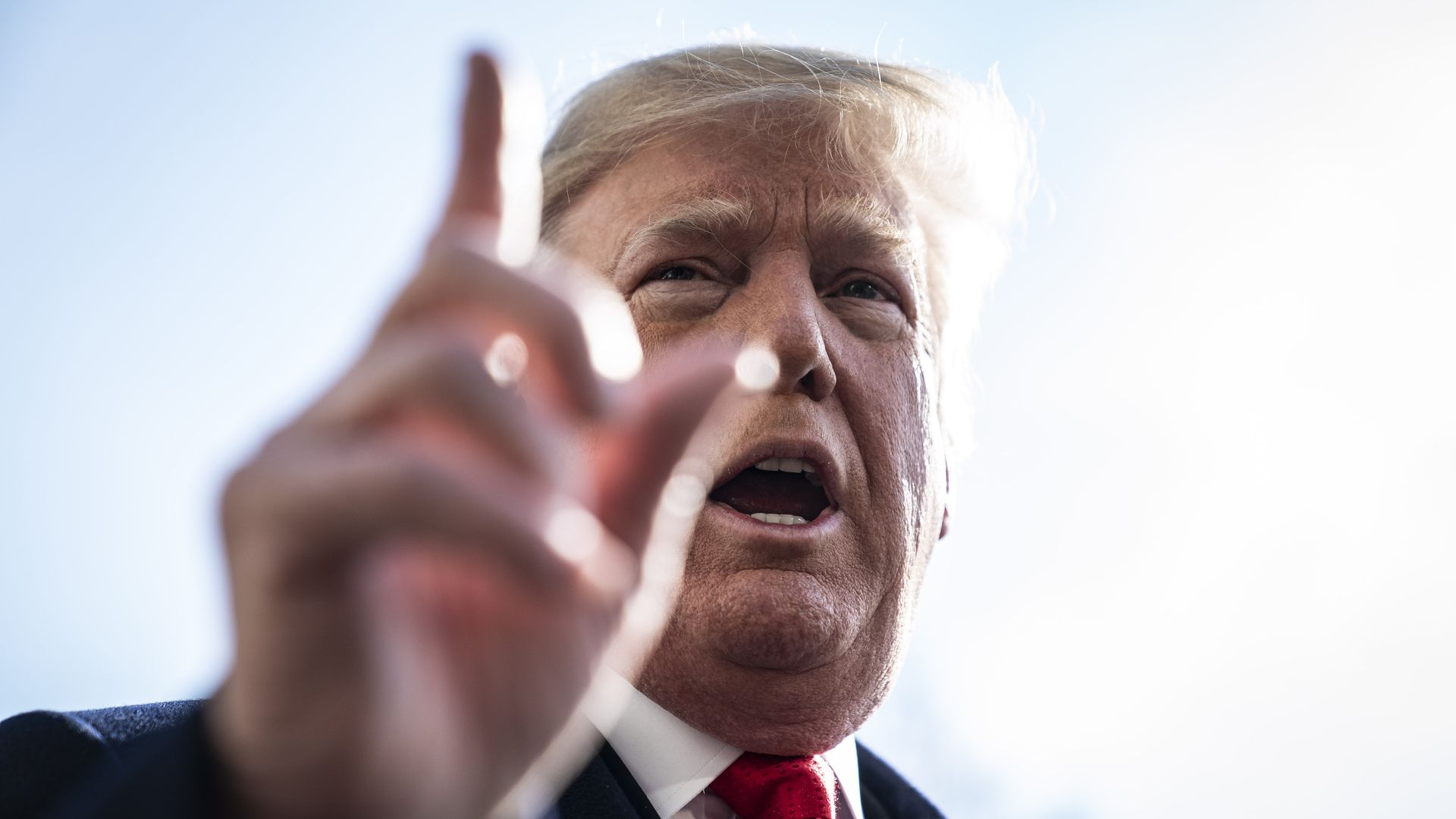 Today's meeting of tech CEOs at the White House is expected to be a relatively routine affair — a far cry from the contentious early days of the Trump administration.
Why it matters: It's a sign that Silicon Valley has stabilized its relationship with Trump, finding ways to work with the administration as many other industries do. As one veteran tech industry policy adviser put it, "The fear and loathing of early 2017 has passed."
The big picture: Last year, a meeting between Trump and tech CEOs, including Apple's Tim Cook and Amazon's Jeff Bezos, featured some volatile moments. But ahead of this week's meeting, the administration's policy apparatus has already handed the industry wins on some key issues — even if the president still fires off critical tweets about high-profile internet companies.
Details: Chief executives at Thursday's meeting are expected to include Google's Sundar Pichai, Oracle's Safra Catz, IBM's Ginni Rometty, Microsoft's Satya Nadella and Qualcomm's Steve Mollenkopf.
They'll discuss emerging technologies like artificial intelligencer, 5G wireless networks, quantum computing and advanced manufacturing, according to a source familiar with the plans.
A White House spokesperson said in a statement that the attendees would "discuss efforts to advance American leadership in innovation, and the future of American industries, jobs, and our economy."
The White House declined to say whether Trump would attend.
What they're saying: "I think it's good news that the White House is focused on how government and business can work together to advance leadership in technology like AI and quantum, 5G and robotics," said Chris Padilla, IBM's vice president for government and regulatory affairs.
Much has shifted since last year's meeting, where Tim Cook told Trump to put "more heart" into the immigration debate and some CEOs looked so pained to be with Trump that articles were written about it:
Tech has notched some wins. The industry has benefited from the new tax law and seen victories from the White House on wonkier priorities, like government IT modernization and protecting websites that host content online from liability in the proposed new North American trade agreement.
The White House now has a roster of tech allies. Many of the attendees at Thursday's meeting have made a point of working with the White House and doing business with the government. Oracle and IBM regularly seek government contracts. Microsoft just signed a big deal with the Defense Department. And Qualcomm had a big win when Trump squashed Broadcomm's attempt to take over the chip maker.
Administration officials are more wary of tech regulation. Former internet industry lawyer Gail Slater used her position at the White House to launch a process to counteract strict privacy rules coming out of California and Europe — a potential win for industry. A senior official's proposal earlier this year to nationalize a 5G network has given way to meetings featuring pro-industry rhetoric about expanding wireless networks.
Yes, but: The president himself is still taking public shots at tech companies, and he's unpredictable enough that many companies were hesitant to make any predictions about the meeting.
Trump said last month that the administration is looking at monopoly concerns around Amazon, Facebook and Google.
He's tweeted this year about unproven allegations of anti-conservative bias on Google.
Facebook said it was not attending the meeting. An Amazon spokesperson did not reply to a question about the gathering.
The largest tech companies also face a broadly hostile climate on Capitol Hill, with lawmakers concerns about issues ranging from privacy to competition to the potential that Google could re-enter the Chinese search market.
Our thought bubble: It always takes a while for businesses to figure out how to work with a new administration. But this relationship has proven especially tricky thanks to the divide between the White House and many people in tech on issues like climate change and immigration.
The bottom line: "It's a net neutral," said one tech industry official of the sector's relationship with the White House. "It's not overwhelmingly positive, but it's not overwhelmingly negative, either."
Editor's note: This story has been updated to clarify that Gail Slater was not a registered lobbyist for the internet industry; she was a top lawyer for an industry group.
Go deeper