The Democrats' wild 2020 free-for-all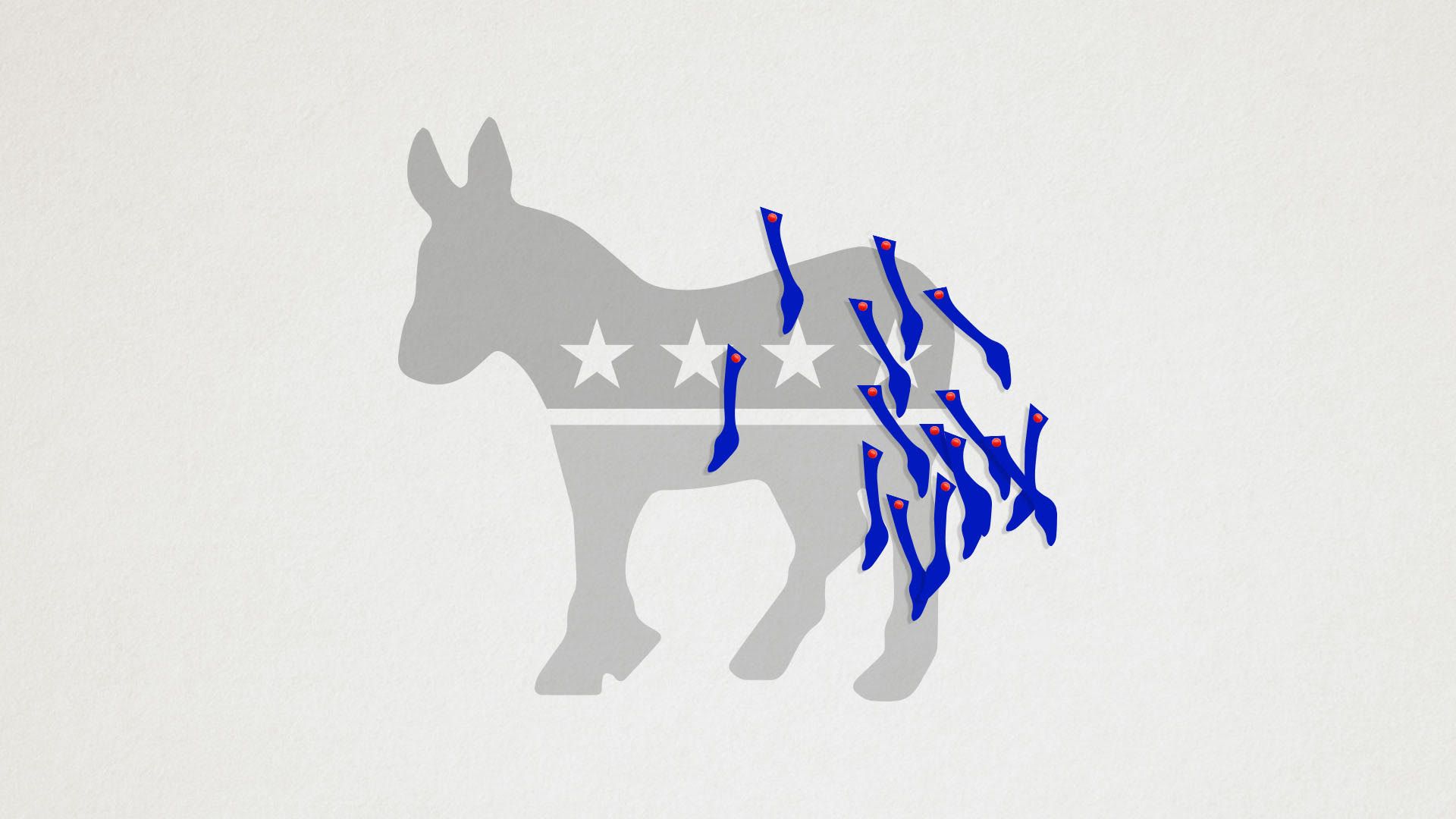 Democrats are about to hit the wildest turn we have seen in a presidential campaign.
The big picture: Dozens of people are thinking of running — and running early — in the rage-and-rapid-reaction era of Donald J. Trump. Oh, and they may be doing this while trying to impeach the guy they're running against. 
There will be no Clintons (probably), no Kennedys (probably) and no Obamas (probably) — leaving a wide open field for the 30+ and counting Democrats thinking about running.
There will be women and men; African Americans, whites and Hispanics; very young and very old; plutocrats and socialists. 
Democratic officials tell Axios that the race will be the biggest strategic free-for-all in modern political history, with a quiet war for donors, staff and endorsements already being fought across the country.
This process is a wonder of democracy where everyone from Oprah to Massachusetts Congressman Seth Moulton can be taken seriously.
Just this week:
Joe Biden said he thinks he's "the most qualified person in the country to be president" because "The issues that we face as a country today are the issues that have been in my wheelhouse", as a Harris poll showed him with a double-digit lead over the closest contender, Sen. Bernie Sanders.
Billionaires hit the campaign trail: Former New York Mayor Michael Bloomberg spoke in Iowa, and told AP he'll do everything he can to make climate change the race's defining issue. And Tom Steyer held a roundtable on voting rights in South Carolina.
Sanders' 2016 campaign manager, Jeff Weaver, said "a much bigger campaign" is being planned for 2020.
Sen. Amy Klobuchar (Minn.), who recently visited Hollywood to pitch potential donors, was on "Hardball," talking about running.
Sen. Michael Bennet (Colo.) is "seriously thinking" about a bid, per Colorado Public Radio.
Plus, Julián Castro of Texas told Rolling Stone he's "likely" to run.
And shortly after the midterms, Beto O'Rourke of Texas met with Barack Obama at his post-presidency office in Washington, per the WashPost. Many potential staffers are waiting to see if Beto gets in. Oddly, a dude whose claim to fame is losing a Senate race is the hottest early name.
Among those who are interviewing for campaign staff, according to Democratic sources: Bloomberg, Sen. Cory Booker (N.J.), Colorado Gov. John Hickenlooper, and former Starbucks CEO Howard Schultz (who has talked to former GOP operative Steve Schmidt).
"The fear of backing the wrong horse is huge and palpable among the small number of qualified D operatives," said one well-wired Democrat. "True also for pollsters, [general consultants], and media consultants."
"It's a massive seller's market, because everyone's hiring and no one is signing on."
Booker and Sen. Kamala Harris (Calif.) have been among the most aggressive in trying to round up endorsements and top donors, according to party sources.
"They have relatively low name-ID and have to come out of the gates at a run," said one Democratic official close to the process. "Not true for Biden, Sanders, and (probably) [Sen. Elizabeth] Warren.
Others, including former Virginia Gov. Terry McAuliffe, Hickenlooper and Montana Gov. Steve Bullock are cooperating with magazine profiles and building a leave-behind folder for donor discussions.
And after all that, intangibles will probably be what matters. Democratic operative Jesse Ferguson said: "Sometime next year, in a diner in Nashua or a union hall in Cedar Rapids, one of these candidates will find their voice."
The Democratic official close to the process sees "a dozen different routes to the nomination." Here's a peek at the closed-door conversations going on among hopefuls and potential campaign mangers:
"What the hell is the strategy? California early voting starts at the same time as Iowa. Do you camp out in California and try to rack up delegates? Do you do the traditional Iowa organizing? Do you just raise money so you can be on the air in the Super Tuesday media markets?"
"Do you try to lock down South Carolina through endorsements? Do you focus on New Hampshire retail? Your opponents could include up to three billionaires who self-finance. Others could have ... Beto-level online money."
Oh, and if you think we've mentioned a lot of candidates, don't forget Sen. Kirsten Gillibrand (N.Y.), former attorney general Eric Holder, L.A. Mayor Eric Garcetti, former New Orleans mayor Mitch Landrieu, and Sen. Sherrod Brown (Ohio).
And more. Lots. More. (We're looking at you, Rep. John Delaney of Maryland but really of Iowa these days.)
Out: Former Massachusetts Gov. Deval Patrick will announce he's not running. (N.Y. Times) And Stormy lawyer Michael Avenatti took himself out.
Be smart ... David Axelrod, mastermind of Barack Obama's first presidential campaign, told me: "One of the revelations from this past election cycle was that the candidates who won, by and large, came not through command-and-control decisions from Washington but competitive primaries across the country."
"The Democratic Party shouldn't fear the competition. The last three winning Democratic candidates came through open, competitive primaries."
Go deeper:
Go deeper