The mainstreaming of Trump's attack on China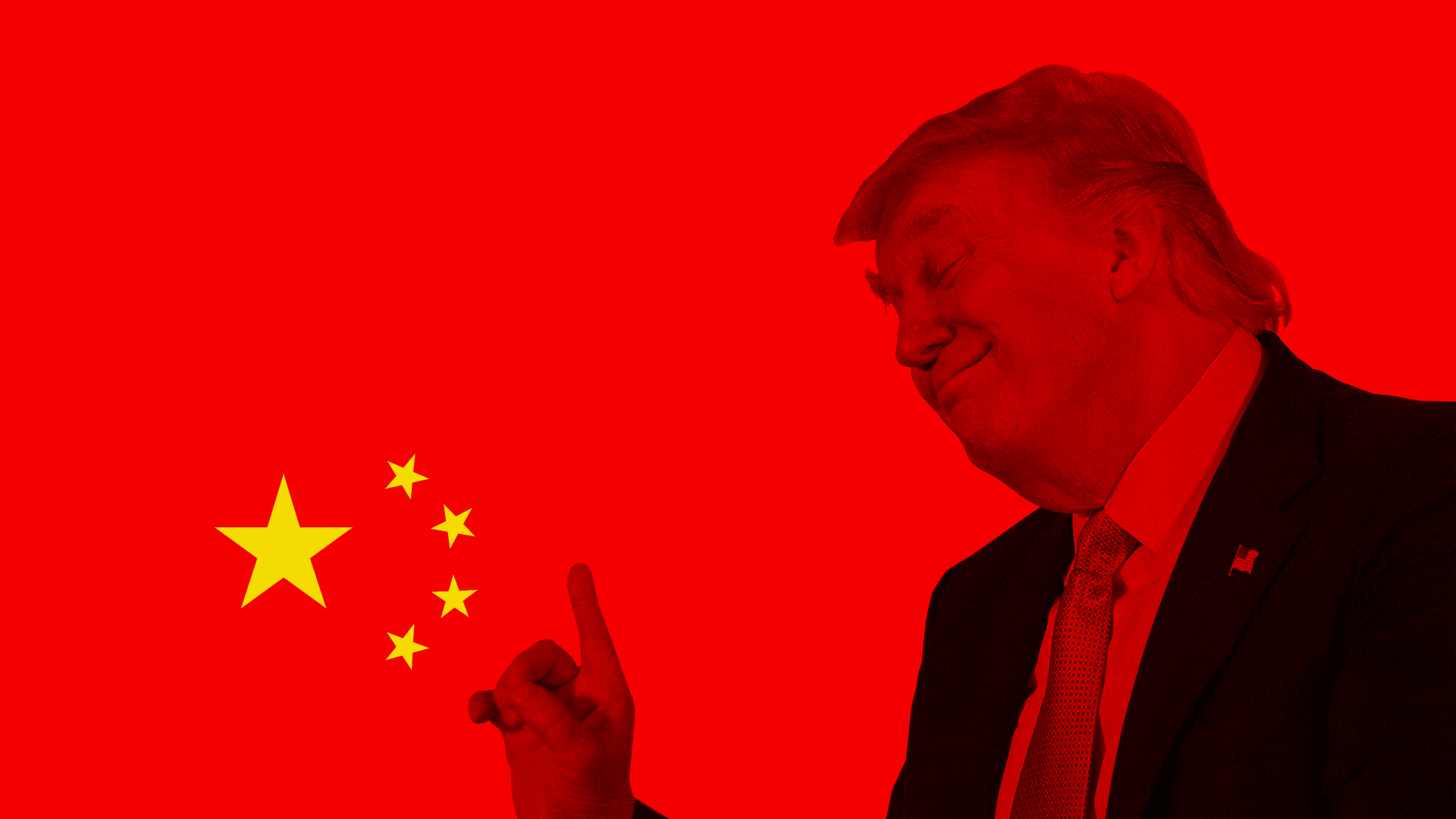 As President Trump enters a tough new phase in his hardline offensive against China, he now has allies he lacked in his other high-profile attacks on the status quo: the establishment.
The bottom line: Unlike his attacks on NAFTA, immigrants, climate science, and the Affordable Care Care — which triggered denunciation by critics both in and outside of the U.S. — Trump finds himself in the embrace, if conditional, of mainstream experts when it comes to China.
What's happening: It's not that Trump has moved to the center, nor that the establishment has embraced his America First mantra. Rather, in the U.S., Europe and elsewhere, senior China hands argue simply that Trump's instincts are right on this one. "I think Trump has a strange animal insight about these things. He has a keen nose for being taken," Orville Schell, director of the Center on U.S.-China Relations at the Asia Society, tells Axios.
The shift of mainstream opinion comes as Trump emerges from the weekend G20 summit with a 90-day stand-down agreement with Chinese leader Xi Jinping. The two leaders agreed to attempt to work out their policy differences by March 1, and meanwhile observe a timeout on higher U.S. tariffs due to take effect Jan. 1.
If the two sides stay with their current agendas, getting to an actual deal will be hard. In remarks yesterday and today, Beijing made no mention of U.S. demands for a halt to the theft and forced transfer of U.S. technology to China, and the U.S. omitted any talk of reducing tariffs, which is a Chinese demand.
But U.S. officials say China had agreed to immediately lift a 40% tariff on U.S. car imports and allow U.S. companies to own the majority of Chinese firms, write Reuters' David Lawder and Jeff Mason.
There is skepticism given the long history of unsuccessful U.S. attempts to move China on its policies, going back to the Truman administration. Last Thursday, a group consisting of senior Asia experts from the U.S. and across Europe released a Hoover Institution report explicitly distancing themselves from those prior efforts. They did not brand them wrong-headed, but said it's time to get tougher.
"The Chinese respect firmness and exploit the lack of it," Winston Lord, a former U.S. ambassador to Beijing and one of the most respected American experts on China, said at a presentation of the report in Washington on Thursday.
A main problem is a long-standing Chinese effort to influence the West, the group said. John Garnaut, former adviser to former Australian Prime Minister Malcolm Turnbull, says that in Australia, "all the major [political] parties were at threat of being dependent on Chinese money. That dependency had to be broken." A new law controls the cash flow, he said.
The same goes with Chinese cash to U.S. universities and think tanks, says Larry Diamond, a professor at Stanford University. "The lure of money is just overwhelming," he says. "I cannot emphasize this enough, from the standpoint of universities in general and what I have found in terms of the prospect of funding for think tanks and in Hollywood."
A primary worry: A miscalculation that results in a trade tiff spiraling into war. That is where the establishment departs from Trump.
Sulmaan Khan, a professor at Tufts and the author of "Haunted by Chaos: China's Grand Strategy from Mao Zedong to Xi Jinping," tells Axios that the Trump administration contains "hotheads," and because of that "the risk of miscalculation goes up."
"The historical phenomenon of a rising versus established power is greatly exacerbated by having two dangerous leaders in our capitals," Lord says.
Trump "scared us to death when he won. He still scares us to death," says Schell.
Go deeper: Watch a presentation of the Hoover Institution report (video)
Go deeper