China's stalling pattern pays off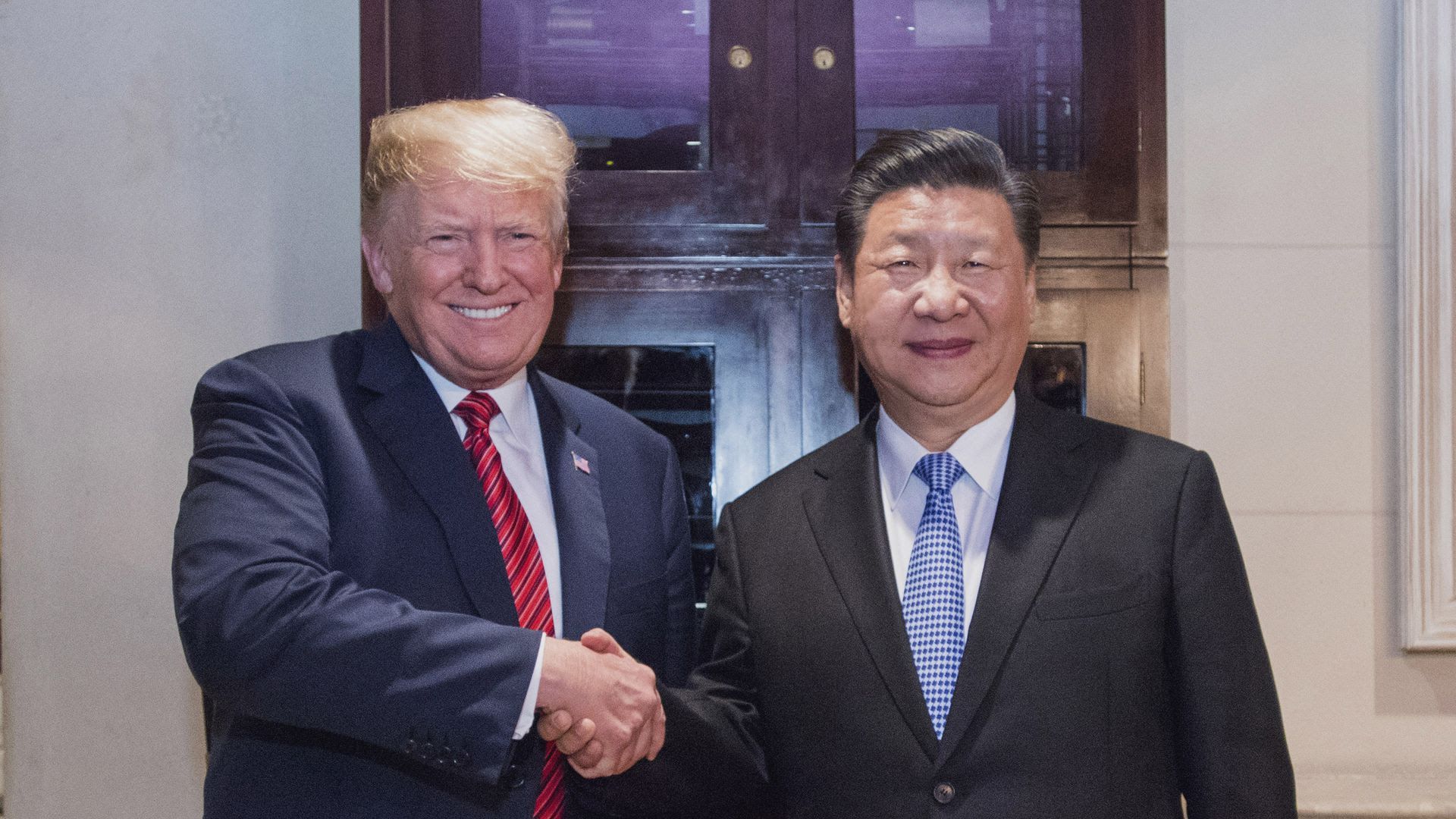 With nothing that we know of in writing, the U.S. has allowed the Chinese to further delay harsher new tariffs for a big chunk of President Trump's remaining first term.
Driving the news: The White House has stated that a 90-day trade war truce between the U.S. and China began on Dec. 1 (correcting its chief economic adviser Larry Kudlow, who told reporters earlier Monday that the truce would begin on Jan. 1).
Trump tweeted this morning: "President Xi and I have a very strong and personal relationship. He and I are the only two people that can bring about massive and very positive change, on trade and far beyond, between our two great Nations."
Why it matters: "Trump and Kudlow seem to think that pre-announcing a 0% tariff on Twitter and in the press is a constructive negotiating tactic," Axios' Felix Salmon emails. "Few trade negotiators would agree with them."
Between the lines:
Auto tariffs: It's still unclear whether the White House has secured Chinese agreement on slashing — or eliminating — the tariff on imported autos.
"If China does reduce or remove auto tariffs ... we would expect Tesla, Daimler and BMW to see the largest benefits, vs. the Detroit 3," Barclays automotive analyst Brian Johnson noted in an email to investors.
Agriculture: "Farmers will be a very BIG and FAST beneficiary of our deal with China," Trump tweeted. But it's unclear which products they'll be buying. U.S. soybeans in particular have taken a heavy hit.
Intellectual property theft: Kudlow noted that the hawkish Robert Lighthizer will be directing this front of negotiations.
The bottom line: The market isn't treating this as a breakthrough. The Dow is up roughly 300 points since the weekend, rather than the major upswing you'd expect with a deal.
"What we are seeing right now is a cautious hopefulnessthat maybe we might be on the road to some kind of a deal, at some point in the future, and that road does not include a fully fledged trade war," Felix Salmon told Axios' Dan Primack on the Pro Rata podcast.
"This is more of a 1.5% rise on hopes of something goodhappening in the future, rather than going crazy because they've got what they want."
Go deeper: How December could define Trump
Editor's note: This story has been updated to reflect the White House's correction on Larry Kudlow's comments — that the 90-day truce with China began on Dec. 1, not Jan. 1.
Go deeper