The takeaways from President Trump's sit-down with "Fox News Sunday"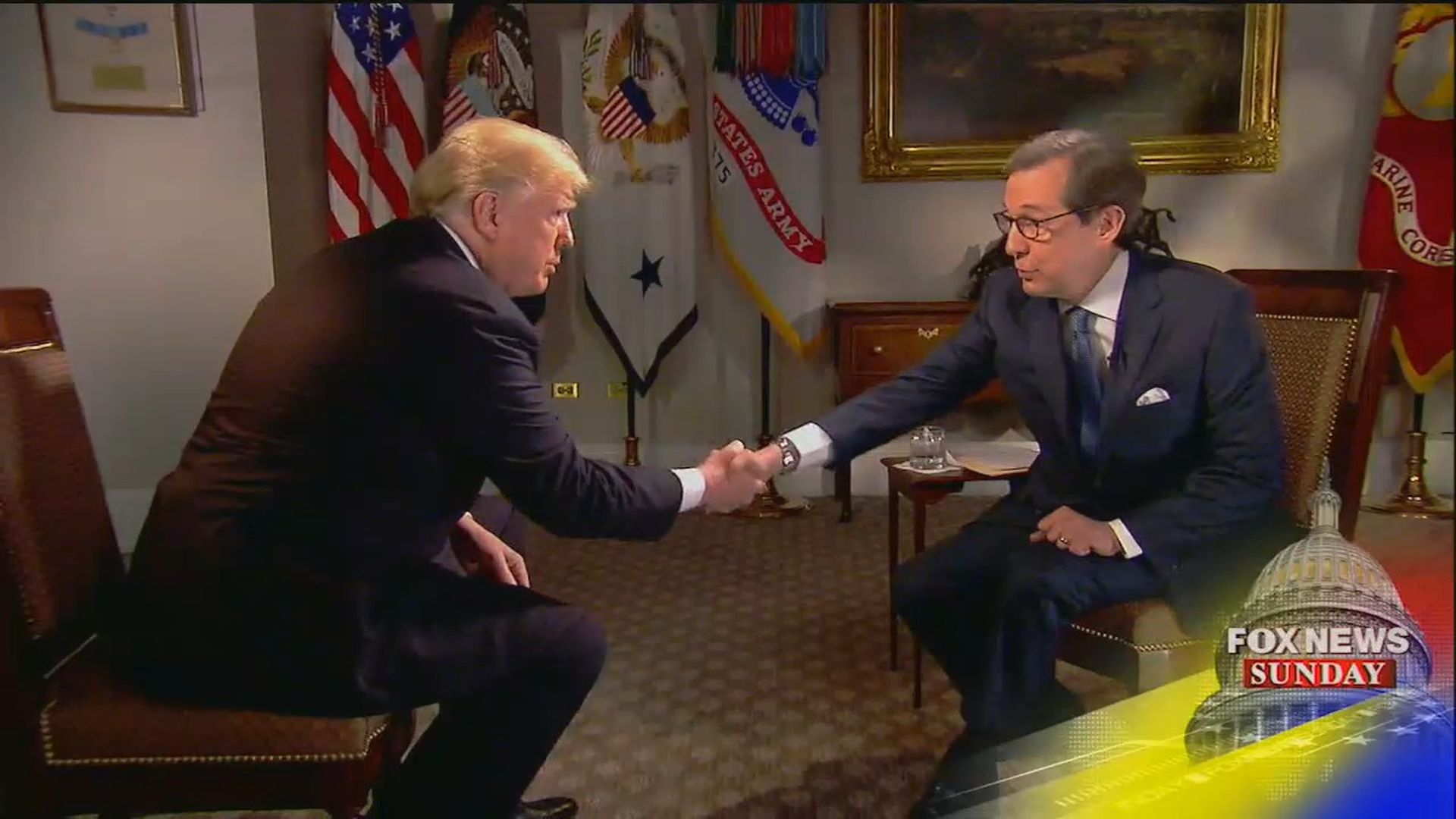 In an interview with Chris Wallace for "Fox News Sunday," President Trump talked about some of the biggest topics of the day — from the murder of journalist Jamal Khashoggi to his fiery press rhetoric to the palace intrigue engulfing his own White House.
Driving the news: Trump was hesitant to discuss the prospects of two of his most at-risk advisers, Chief of Staff John Kelly and DHS Secretary Kirstjen Nielsen, damning both with faint praise while remaining noncommittal about their future in his Cabinet. He said, "Let's see what happens. I have not — look, I have three or four or five positions that I'm thinking about. Of that, maybe it's going to end up being two. Maybe, but I want to — I need flexibility."
On Nielsen: "I like her very much, I respect her very much, I'd like her to be much tougher on the border — much tougher, period."
On Kelly: Well, we — I wouldn't — look, we get along well. There are certain things I love what he does. And there are certain things that I don't like that he does — that aren't his strength. It's not that he doesn't do, you know, he works so hard. He's doing an excellent job in many ways. There are a couple of things where it's just not his strength. It's not his fault, it's not his strength."
The big picture: As Axios' Jonathan Swan reported last week: We still don't know when, or even if, Kelly is getting replaced. That's why Axios hasn't written a single story saying he's gone.
Trump addressed whether he thought Saudi Crown Prince Mohammed bin Salman played a role in the murder of journalist Jamal Khashoggi:
"Well, will anybody really know? All right, will anybody really know? But he did have certainly people that were reasonably close to him and close to him that were probably involved. You saw we put on very heavy sanctions, massive sanctions on a large group of people from Saudi Arabia. But at the same time, we do have an ally and I want to stick with an ally that in many ways has been very good."
He also said he hadn't heard the audio tape of Khashoggi's murder: "Because it's a suffering tape, it's a terrible tape. ... I know exactly, I know everything that went on in the tape without having to hear it."
Asked about criticism from retired Navy Admiral William McRaven, who served for more than 37 years and organized the Osama bin Laden raid, about his statements on the press, Trump turned fiery:
"OK, he's a Hillary Clinton backer and an Obama backer and frankly ... wouldn't it have been nice if we got Osama bin Laden a lot sooner than that, wouldn't it have been nice?"
Wallace pressed Trump on the fact that he hadn't yet visited American troops in war zones in the Middle East — something his predecessors had done.
"Well, I think you will see that happen. There are things that are being planned. We don't want to talk about it because of, obviously, because of security reasons and everything else. ... I've had an unbelievable busy schedule, and I will be doing it. On top of which you have these phony witch hunts. On top of which — I mean, we've just been very busy. But I will be doing that."
Trump graded his presidency thus far, citing his North Korea summit as a breakthrough achievement.
"I would give myself, I would — look, I hate to do it, but I will do it, I would give myself an A+, is that enough? Can I go higher than that?"
Go deeper:
Go deeper