Shunned by Amazon, the heartland fights to stay relevant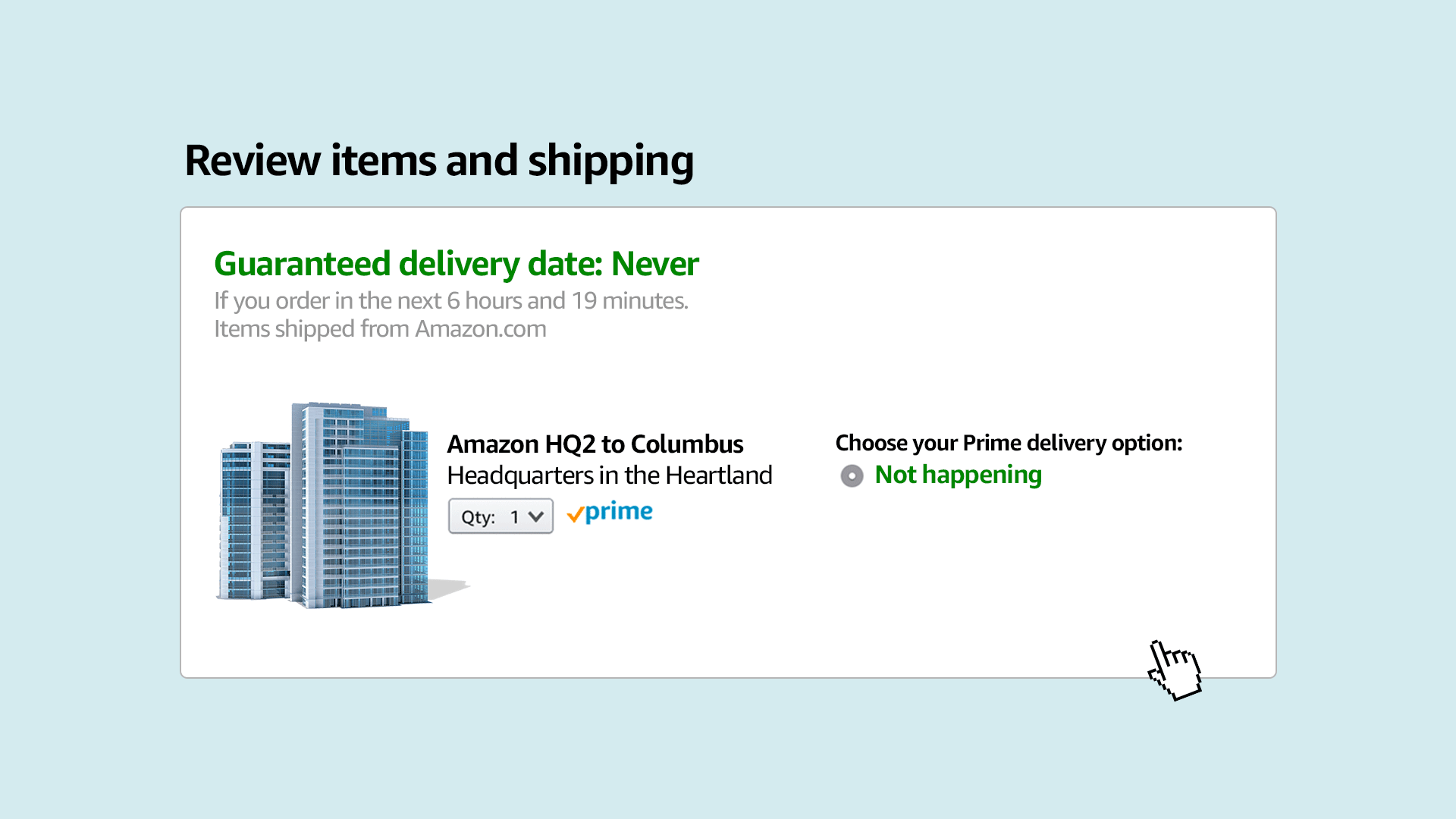 COLUMBUS, Ohio — When Amazon began its nationwide search for a place to house its second headquarters, choosing an up-and-coming city in the Midwest seemed to a lot of people like the perfect option: At a time of much scrutiny of Big Tech, Amazon would earn political points. And amid much worry about economies in the heartland, a city on the rise would get a top-notch anchor employer.
What really happened: HQ2 finalists from the heartland never had a chance.
Driving the news: Amid the more than 200 also-ran cities with broken hearts, there are places like Columbus — the beneficiary of giant economic strides by its own efforts over the years, but retaining the stubborn, starry-eyed hope of one day capturing one of the big fish.
Yet experts tell Axios that a big message of the Amazon sweepstakes is that middle-size U.S. cities should look elsewhere for an economic lift.
"The higher productivity arising from the dense concentration of very high-skill programming talent in San Francisco, New York City and D.C. cannot be matched by smaller markets such as Columbus," Joseph Gyourko, a professor at UPenn, tells Axios. "They have to be attractive on other margins, and a much lower cost of living with a good set of urban amenities is how they must do it."
"As a country, we'd be much better if the cities were not competing to hand out checks to the biggest companies in the world," says Jay Shambaugh, director of The Hamilton Project at Brookings.
The big picture: Amazon's announcement yesterday that it would build new headquarters complexes in suburban D.C. and New York revealed a stark divide — on one side, East Coast superstar cities running away with all the talent, infrastructure and wealth, and on the other, the rest of the country.
Despite the chasm, mid-sized cities persist in looking to a tech behemoth as an economic lifeline, experts tell Axios.
Here in the capital of Ohio, businessmen incessantly cite the cautionary tale of Wisconsin and Foxconn:
The state promised Foxconn $4.5 billion for 13,000 jobs — about $346,000 per job.
As a comparison, Virginia will pay Amazon about $22,000 a job for HQ2.
The 2017 Foxconn deal is now widely seen as an exorbitant gamble.
A number of experts call Columbus a model for how a middle-size city can navigate the new economy. For two years, Harvard has hosted a course on the city, called The Columbus Way. Columbus has established startup incubators and redeveloped neighborhoods, attracting shops, restaurants, bars, theaters and art galleries — the sort of amenities that keep talent around, including graduates of Ohio State, a 66,000-student campus. The city has sought diverse businesses so as not to rely on one sector:
Root, the city's first unicorn, is an insurance company.
Retail chains have turned Columbus into a laboratory for the future. It is home to L Brands — owner of Victoria's Secret, Bath & Body Works, and Lane Bryant — along with new spin-out retailers.
Jan Rivkin, the Harvard professor who teaches the course on Columbus, tells Axios that a differentiating factor for the city is the level of civic engagement.
For example, when Columbus won a national contest for a federal smart cities grant in 2015, the government gave it $50 million, then local private companies added an additional $525 million.
At a time when trust in leaders and institutions around the world is cratering, "the heart of what they do [in Columbus] is cross-sector collaboration, and that requires trust among sets of individuals that have quite different interests," Rivkin says.
Columbus officials say — not entirely convincingly — that they don't want to be a superstar city like San Francisco, New York or Los Angeles, but instead to dominate the second tier. One of its big promises to companies considering the city is a high quality of life in a cheap part of the country.
The bottom line: Between 2000 and 2009, Columbus added 12,500 jobs. From 2010 to the present, it has added 158,000.
"The hardest problem is getting people on the plane" to the city, says Mark Kvamme, a former partner at Sequoia, in Silicon Valley, and now founder of Drive Capital, a venture capital firm based in Columbus. "We have an almost 100% batting average once they're here."
Go deeper