Lack of security is "significant impediment" to U.S. help on Ebola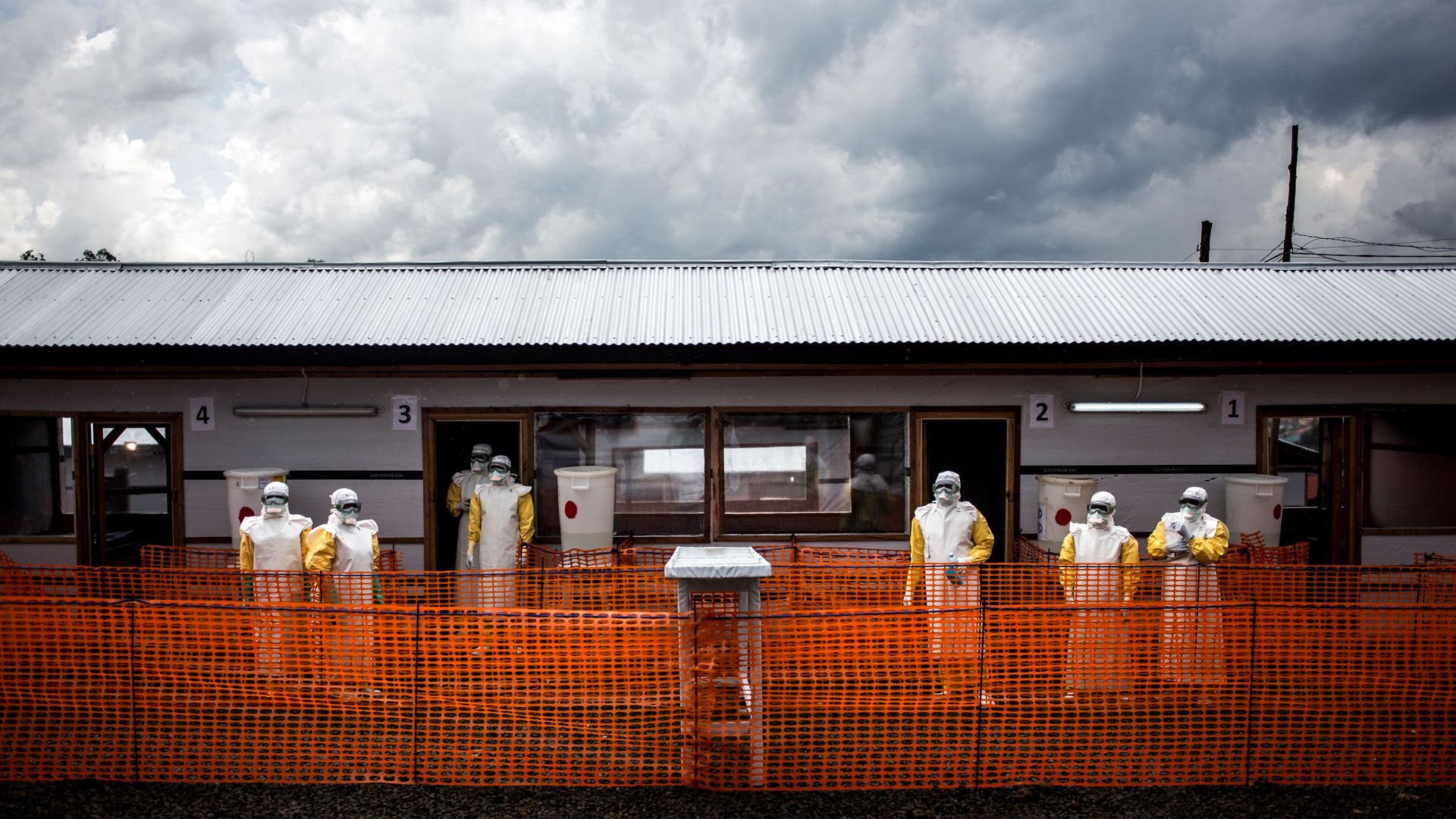 The U.S. is facing a "significant impediment" to its overall plan to help the Democratic Republic of the Congo bring its deadly Ebola outbreak to an end, as inadequate security continues to plague the region near Beni, the epicenter of the outbreak.
Why it matters: The DRC is currently dealing with its worst-ever outbreak of Ebola, and the epicenter is in an area where there's been civil unrest for decades. There's also concern the outbreak could last for years, due to a deadly combination of the virus, pockets of community distrust of health and government workers, and periodic violent incidents that keep forcing the need for quarantines, vaccinations and treatment regimes.
"This is a very insecure region and the security situation is not getting any better."
— A senior Trump administration official speaking on background at a Wednesday briefing.
But while U.S. officials say they are "looking at options," there are no current plans to provide military assistance like the U.S. did for the 2014 Ebola outbreak in Liberia.
U.S. involvement so far: Among other personnel, the U.S. sent a disaster assistance response team (DART) to the area of the outbreak at the end of September, but officials said that they had to pull out and move to capital of Kinshasa for security reasons. Just this past weekend there was fresh violence in the region, they said.
DART, which is an elite team of disaster and health experts, continues to coordinate U.S. response efforts from Kinshasa and elsewhere, with constant evaluations of Beni.
They hired 3 doctors with experience from the West Africa Ebola outbreak to work in Beni to support international efforts.
Due to growing concerns that Ebola will be transmitted beyond DRC borders, an official said they are increasing their response activities on the borders of Uganda, Rwanda, Burundi and South Sudan.
Apart from providing expertise from Kinsasha and at the borders, the U.S. has trained hundreds of African health workers who are on the ground as well as offered technical and financial assistance, the officials said.
Yes, but: There have been growing calls for the U.S. to send experts to work directly on-the-ground.
"Quick action is needed to affirm U.S. leadership in eastern Congo, better understand the specific security threats at play, and come up with practical solutions that permit the safe deployment of a small U.S. expert contingent into the center of the outbreak, where seasoned U.S. talent is most needed."
— Center for Strategic and International Studies,
Nov. 1 report
Meanwhile, a World Health Organization official predicted Tuesday that the outbreak would last at least another 6 months due to rampant security concerns and what he called "tradi-modern" health centers — makeshift places offering traditional and modern treatments where he believes many are spreading the infection, the AP reports.
By the numbers: Since the beginning of the epidemic on Aug. 1, the DRC's Ministry of Health reports that as of Nov. 12 ...
339 people were infected with Ebola, including 301 confirmed and 38 probable.
212 people died from the disease, including 174 confirmed and 38 probable.
29,560 people in the DRC were vaccinated since the start of the vaccination campaign on Aug. 8. Merck, which has been supplying the vaccine (currently called V920) on an experimental basis, is taking steps to file for regulatory approval in 2019, STAT reports.
More than 145 people have received experimental treatments after being infected, and officials confirmed that treatment trials should start soon.
Go deeper:
Go deeper