Media deals become Trump's political targets — again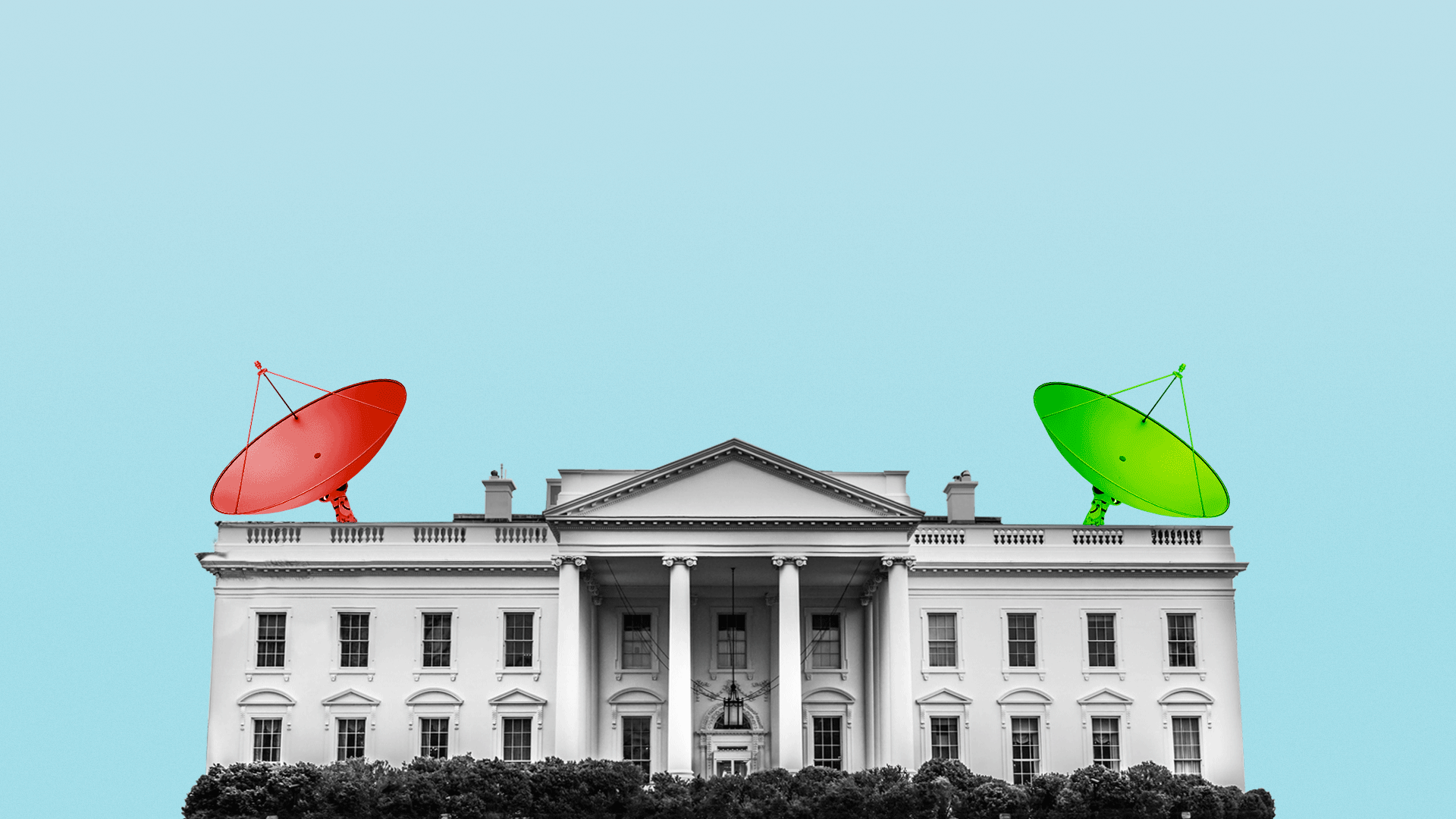 Mergers are central to media companies' strategies for competing with tech giants like Google and Netflix, but the merger review process has suddenly become a political football between President Trump and congressional Democrats.
Why it matters: Trump continues to comment on antitrust matters related to media companies he doesn't like, and experts worry the resulting political fray could hinder the Justice Department's ability to independently evaluate mergers. Media companies looking to merge amid an already difficult economic climate now have to consider this reality as a part of their business decisions.
What's happening: Consumer groups are raising red flags about both the AT&T/Time Warner merger that was approved this summer (after the Justice Department tried to block it) and the Comcast/NBCUniversal merger that was approved in 2011 during the Obama administration.
Be smart: "There is a strong basis for enforcing these laws regardless of the White House's statements, but those statements in no way help the DOJ do its job effectively," says Gene Kimmelman, president and CEO of Public Knowledge, a consumer protection advocacy group, and a former Justice Department antitrust staffer.
Not everyone sees it that way. "I certainly was very happy to see the president focus on this issue," ACA President Matthew Polka tells Axios.
The big picture: These issues become even more convoluted as the DOJ faces a leadership crisis of its own.
The resignation of Attorney General Jeff Sessions has some policymakers concerned that his acting replacement Matthew Whitaker, a Trump loyalist, will push the president's agenda — renewing fears that the DOJ's antitrust division isn't independent from the White House.
Between the lines: Many of the alleged anti-competitive behaviors are related to outlets that Trump has attacked.
NBC: The president has now vocally supported probing Comcast's behavior after its merger with NBCU in 2011. He's also attacked the network's broadcast licenses in the past, even though those are controlled by local affiliates and Trump can't take those away.
The Washington Post: The Post is owned by Jeff Bezos, who also owns Amazon. The president has attacked the Post for being "fake news" and has simultaneously said he is looking into Amazon's dominance and has reportedly gone after the company's U.S. postal rates.
CNN: CNN is owned by WarnerMedia (formerly called Time Warner), which was acquired by AT&T in June. The president vowed to break up AT&T's merger with Time Warner on the campaign trail. The DOJ tried to block the deal but lost the case in court. Trump criticized the deal's approval.
Democrats allege Trump impacted the DOJ's decision-making.
"It is very squarely within our responsibility to find out ... (whether Trump used) the instruments of state power to punish the press."
— Incoming House Intelligence Committee chairman Adam Schiff in an interview with Axios' Mike Allen
Reality check: Schiff's comments carry weight because of his prominence in the Democratic party. But Schiff's committee doesn't have oversight authority on antitrust matters. Democrats in Congress have already requested documents related to communications between the White House and DOJ about the AT&T deal.
The bottom line: "The changes that take place here are going to be measured in years, not in months," Andrew Schwartzman of the Communications and Technology Law Clinic at Georgetown Law said of the debate over antitrust law.
Go deeper: How Trump's media obsession could collide with regulation of it
Editor's note: This piece has been corrected to state that President Trump tweeted about a letter written by the American Cable Association — not a lawsuit.
Go deeper