U.S. needs tactical shift in North Korea talks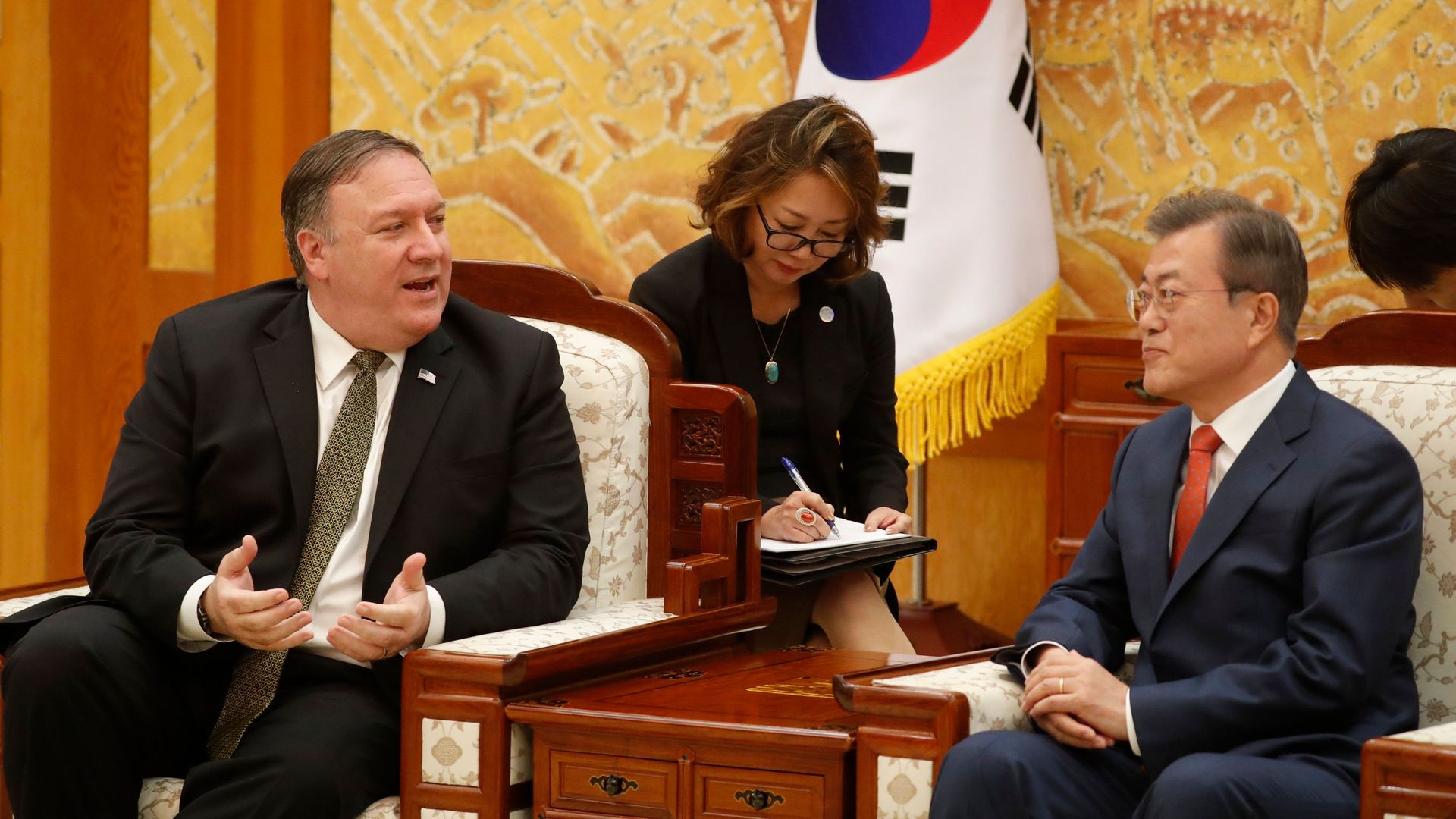 In the past week, North Korea made two moves that undermined nuclear negotiations with the United States. On Friday, the regime vowed it could resume "building up nuclear forces." And this week, Korean negotiators reportedly didn't get on their plane to meet with Secretary of State Mike Pompeo in New York, furthering a trend of ignoring U.S. diplomats just under the president.
Why it matters: If talks fail now, Pyongyang will have weathered some economic pressure, but also enjoyed a year of producing missiles and nuclear warheads, collecting praise from the U.S. president, and building new diplomatic ties with Moscow and Beijing. Missiles that have been flown only once would likely be tested fully, while South Korea's successful arms-control process would stagger on without an allied partner.
A shift in tactics is needed to prevent collapse and break the impasse. Negotiating limits on the North Korean arsenal may not lead directly to complete disarmament, but it could reduce the threat to U.S. and allied territory:
Codifying the nuclear and missile test freeze as well as disabling or dismantling the large new reactor at Yongbyon could together limit the regime's ability to design, produce and support more threatening weapons.
Limiting conventional arms on the peninsula could reduce the risk of war and build momentum toward deeper agreements, as Seoul's efforts have proven.
Negotiators must present a plan for phased sanctions relief and other incentives. Insisting that real incentives wait until after complete disarmament is effectively standing in the way of a whole range of advantageous agreements.
To accomplish these goals and prevent future snubs, the president would have to start credibly delegating authority to his diplomats, which he has never fully done.
The bottom line: Seeking achievable limits in exchange for real incentives is the last chance to limit North Korea's nuclear arsenal. Now, it's also the only chance to keep the talks from complete collapse.
Adam Mount is a senior fellow and director of the Defense Posture Project at the Federation of American Scientists.
Go deeper